Reading Time:
4
minutes
BARRY McCANN takes a look back at Hammer's The Legend of the Seven Golden Vampires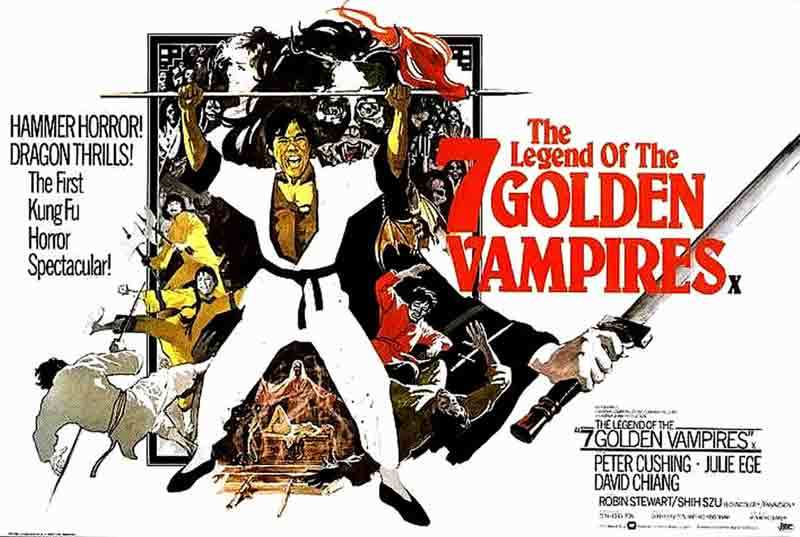 TITLE: The Legend of the Seven Golden Vampires
YEAR RELEASED: 1974
DIRECTORS: Roy Ward Baker, Chang Cheh
CAST: Peter Cushing, John Forbes-Robertson, David Chiang, Robin Stewart, Julie Ege
The year was 1974 and Hammer films were facing a crisis. After seven outings as Dracula, including two contemporary pieces, Christopher Lee finally said "no more" and meant it.
High profile roles in The Three Musketeers and the upcoming Bond film, The Man with the Golden Gun, convinced the actor that he had finally broken from type and could move away from the fanged one.
Thus, Hammer's plans for a third contemporary outing, The Insatiable Thirst of Dracula, were scuppered.
Martial arts merged with horror!
Meanwhile, the craze for martial arts movies had been dealt a blow with the untimely death of Bruce Lee, leaving the Hong Kong studios that produced them up against a similar brick wall. One solution was to start joining forces with western studios and marry kung fu up with other genres for a more international appeal.
Thus Hammer and Run Run Shaw came together for a projected series of six co-productions, beginning with a reboot of the Dracula franchise, taken back to a 19th century setting and pitting Peter Cushing's Van Helsing against a newly recast Count.

The film opens in Transylvania, 1804, with a lone Chinese figure, Kah, travelling to Castle Dracula and summoning the vampire from his tomb.
He introduces himself as the High Priest of the Seven Golden Vampires in rural China, explaining that their power is fading and they need the Count to restore their former glory.
Dracula accepts, but on condition that he takes over Kah's body to accomplish the task. Once this is done, Kah speaks with the voice of Dracula and sets off for China.
A hundred years later, Van Helsing (Peter Cushing) is lecturing at Chung King University about legends of ancient China.
In particular, a village that becomes cursed by vampires each year during the seventh moon.
The students are sceptical except for one, Hsi Ching (David Chiang) a descendant of the village whose family have pledged to destroy the vampire curse.
Van Helsing and Ching set up an expedition with finance provided by Vanessa Buren (Julie Ege), and also comprising Van Helsing's son Leyland (Robin Stewart), Ching's six brothers (Fong Kah Ann, Chen Tien Loong, James Ma, Liu Chia Yung, Liu Hoy Ling, Bao Kwei) and his one sister Mai Kwei (Szu Shih).
As they reach the village, many of the siblings perish in the various battles with the vampires and their zombie servants.
Vanessa ends up bitten by a vampire and, in turn, bites Ching who destroys her with a stake which he then impales himself on.
Mai Kwei is captured by the last remaining vampire and taken to the temple where Dracula awaits.
Leyland pursues and tries to rescue her, his father following and despatching the creature with a stake through his heart.
Dracula discards Kah's form and returns to his real self for a climatic confrontation with Van Helsing. The Professor impales Dracula on a stake and he turns to dust.
Opinion divided over Legend of the Seven Golden Vampire
Legend of the Seven Golden Vampires still continues to divide opinion, with many regarding it as a stand-alone from the official Dracula series.
Partly due to the absence of Christopher Lee, and partly because its timeline does not sit with the previous films.
According to Seven Golden Vampire, Dracula is in China as Kan from 1804 -1904, contradicting the 1958 original movie in which Van Helsing initially encounters him in 1885.
However, continuity was not a strong point of the previous films, given that Dracula AD 1972 opens with Van Helsing's final duel with the Count in 1872, thirteen years before they first met!
Despite this flaw, the film remains an enjoyable mash up of martial arts action and traditional Hammer horror.
In fact, it was the last of the studio's traditional gothic productions, and scores with some lush photography, vivid use of colour and lighting, and the bonus of far eastern locations endowing a more lavish look than usual.
The titular vampires are memorably decrepit Nosferatu figures who, in a nice touch, are more successfully warded off by the image of Buddha.
Peter Cushing performs as commandingly as ever, while Robin Stewart satisfactorily fulfils the British romantic lead, complimenting David Chiang's eastern warrior.
However, John Forbes Robertson as Dracula is another divisive point. Previously considered for the part in Scars of Dracula, he does greatly resemble Christopher Lee in presence and stature.
However, this was undermined by a makeover to have him resemble the 1920s stage Dracula, Raymond Huntley, a touch lost on modern audiences.
Restricting his appearance to just two scenes also deprived the actor of the chance to make a fuller impact, a decision presumably taken to road test Robertson's Count with audiences.
Although successful at the UK box office, the distributor, Warner Bros., shelved its U.S. release for a number of years before unleashing a recut version with the insipid title, The Seven Brothers Meet Dracula.
American audiences can only be thankful they didn't go mad and call it Seven Vampire Brides for Seven Brothers.
Follow-up that never happened
Despite this curious attitude, Warners offered to back a follow up set and filmed in India, financed by a stock of rupees the Hollywood studio had tied up there.
Kali – Devil Bride of Dracula would have a prequel depicting Van Helsing's supposed first encounter with Dracula in 19th century India, thus confirming the post Lee films as existing in a breakaway timeline.
Cushing was set to reprise his role as the vampire hunter, while House of Hammer magazine announced the actor lined up to play Dracula would be a "big surprise."
Sadly, we never got to be surprised. An economic downturn prevented the promised rupees from being released and the film made.
Given it was to continue the timeline set by Seven Golden Vampires, one can only speculate speculate whether this would have seen a new cycle of Dracula films with international locations. With contemporary occult horror becoming all the rage, perhaps it wasn't the right time.
Tell us your thoughts of The Legend of the Seven Golden Vampires 1974 trailer
Watch The Legend of the Seven Golden Vampires 1974 trailer