TRACY MONGER recounts the supernatural history of Long Melford, Suffolk
During the coaching era coaches from London, Bury St Edmunds and Norwich passed through Long Melford, so it is no surprise that the area is a hive of supernatural activity.
Queen Elizabeth I stayed at Melford Hall as a guest in 1578, as she had granted the manor of Melford to Sir William Cordell. During the plague epidemic of 1604 between the months of May and September, 119 men, women and children were registered as being buried there.
Long Melford's The Bull Hotel dates back to the mid 1400's and it is also interesting that The Bull Hotel was the watering hole for the well renowned Harry Price. The hotel has reported paranormal activity since 1648, poltergeist activity includes china and bottles being thrown across rooms, phantom footsteps heard in the hall and corridors and dogs behave strangely when in the property and refuse to enter certain places.
The culprit of the activity is thought to be Richard Evered who was murdered in 1648, he was stabbed after an argument about politics. Richard was laid out in the hallway and when people returned after running to get help, his body had disappeared.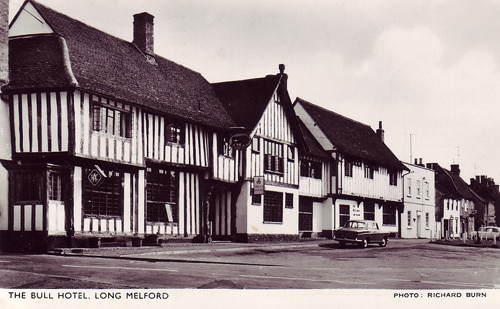 In 1935 the 100-year old outside brickwork was pulled down and the timberwork was exposed. In the lounge they discovered a carving of a mysterious being, assumed to be a Wildman or Woodwose – the carving was believed to ward off evil spirits throughout the middle ages.
The churchyard has a local legend which suggests that two skulls residing there, talk to each other after dark. Another legend is at Wimbell Pond, Acton Place; the site of a large mansion. The pond is close to a crossroads, known as Nursery Corner and during the Roman era, a savage battle was fought. An iron chest was hidden in the pond, filled with gold and silver coins. The legend says, if a stone is thrown, you would hear it hit against the chest and a little pale figure would appear, saying, "That's mine".
Kentwell Hall is haunted by Countess Rivers, the story goes that she jumped from a bedroom window to escape the noise of a party and drown in the moat. Conflicting evidence suggest she died in St Osyth, Essex or she fled to Bury St Edmunds and later was imprisoned in London for debts and died a pauper.
By the moat, beside the walled garden, a mother went to look for her daughter called Amy, as she had been gone all day. When Amy appeared, she told her mother that she had been playing with a friend behind the walled garden. On the final day of staying at the Hall, the mother went to meet Amy's new friend but the mother was told that Amy spent the day playing on her own, a little girl is often heard calling for Amy.