---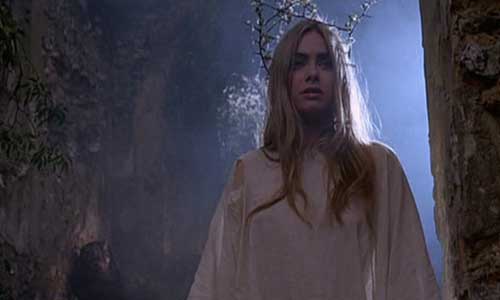 TITLE: Blood on Satan's Claw
YEAR RELEASED: 1971
DIRECTOR: Piers Haggard
CAST: Patrick Wymark, Barry Andrews, Linda Hayden and Michelle Dotrice
PLOT: The unearthing of Satan's earthly remains turns the younger generation against the old as the Great Beast attempts to make a comeback.
FUN FACT: Patrick Wymark is the father of Jane Wymark who, as DCI Barnaby's wife in Midsommer Murder's, also faces ample amounts of rural mischief and murder.
BLOOD ON SATANS CLAW 140-CHARACTER MINI-REVIEW: Satan makes a return to rural Britain; one piece of skin at a time.
WIKIPEDIA ENTRY: Click here
IMDB ENTRY: Click here
BUY FROM AMAZON: Click here
---
REVIEWED BY CHARLIE ALBERTSON
---
With its cheesy, exploitation style title, you'd be forgiven for presuming this movie to be a typically tame low budget British affair.
Well, you'd be wrong.
This nasty little slice of Brit Horror is an intelligent movie that boasts tight direction, excellent ensemble performances and a haunting soundtrack.
It has few out and out shocks but has an all pervading sense of creepiness that persists long after the credits have rolled.
Originally conceived as a three part portmanteau movie, its episodic qualities can still be seen in the finished product as three stories are clearly dove-tailed together: that of the Priest and Angel, the young soldier and his bride and the ploughboy and the Judge.
Barry Andrews unearths a mysterious hairy skull and so visits the local magistrate to ask for his help.
The Judge, played by Patrick Wymark is the stereotypical, portly bon viveur who begrudgingly pays a visit to the village and stays at the house of an old flame.
Whilst watching one can't help but notice that early on the themes of conflict are skilfully established: town and country as represented by the Judge and the ploughman; rationalism and superstition as represented by the Judge and the village priest and the fear of the younger generation by the elders.
The backdrop to this first section is the story of a young soldier, Simon Williams, and his bride to be who goes insane in the attic room. Watch out for the young girl's hand on the stair banister.
What transpires in the movie is, on an allegorical level, a total rejection by the teenagers of the belief systems and morality of their elders.
The movie explores, in a similar way to Lindsay Anderson's If, an attack on the older generation.
This is a movie that explores the hippy values of the 1960s and the emerging rebelliousness of the punk era as much as it does the threat of witchcraft to a god fearing community.
Commercially the film was a flop, having been filmed in 1969 and shelved by Tigon for two years; when it finally saw release its star, Patrick Wymark had died and was therefore unable to take part in any kind of publicity.
In recent years Blood on Satan's Claw has received renewed interest. It was described by Mark Gatiss on A History of Horror as being part of a short lived "folk horror" cycle that includes also The Wicker Man and Witchfinder General.
---
Guest writer CHARLIE ALBERTSON was born in Yorkshire but has lived in Northamptonshire for 24 years where he teaches Media Studies and English. Married with two children, obsessed by horror movies, prog rock and PS3, Charlie's own blog can be read here.
---
---