Reading Time:
7
minutes
SIMON BALL ranks his favourite British folk horror films, including classics and newer additions to the popular genre!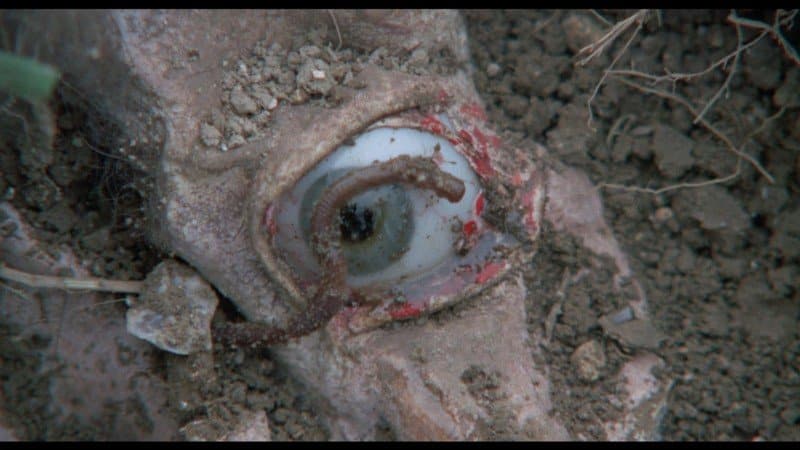 It was only in 2004 when director Piers Haggard coined the term Folk Horror to describe his film The Blood on Satan's Claw to Fangoria magazine.
Since then the genre has come to envelope a wide range of film, TV and literature that despite its often fluid outer boundary, is rooted deep within the folklore and traditions of the British and Irish countryside.
While some 'folk horror' items may have supernatural elements to them they are far from compulsory, sometime traditional country folk and their ways are enough, with perhaps just a hint of rooks cawing in the background.
So on with my own personal Top 10 British Folk Horror Films:
1.) The Blood on Satan's Claw (1970)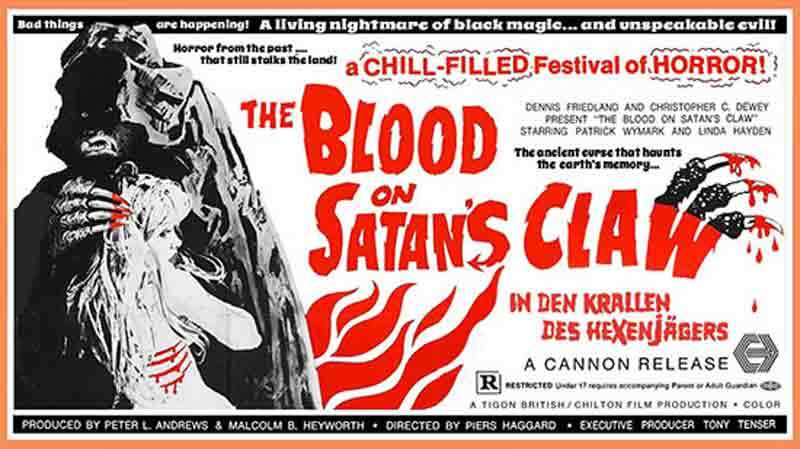 One of Folk Horror's genre defining unholy trinity.
Haggard's film is set in the 17th century and opens with a ploughman unearthing a deformed skull from which an eye peers out.
The ploughman reports the find to the local judge (Patrick Wymark), but when they return to the field the skull is gone.
Is that the end of it?
Of course not, soon the local children are running wild playing bizarre sexual Satanic games and the townsfolk are growing random patches of hairy skin on their bodies.
Better call that judge back to sort this mess out!
Trivia: The village priest, Reverend Fallowfield is played by Anthony Ainley who would later play the Master in Dr. Who. Another Dr. Who connection is Wendy Padbury who took the role of the raped and murdered Cathy in order to get away from her prim image as the Doctor's human computer assistant Zoe. There's also an unaccredited role for Geoffrey Yates (Onslow from the sitcom Keeping Up appearances) as a beer swilling yoke).
Read more about The Blood on Satan's Claw here.
2.) The Wicker Man (1973)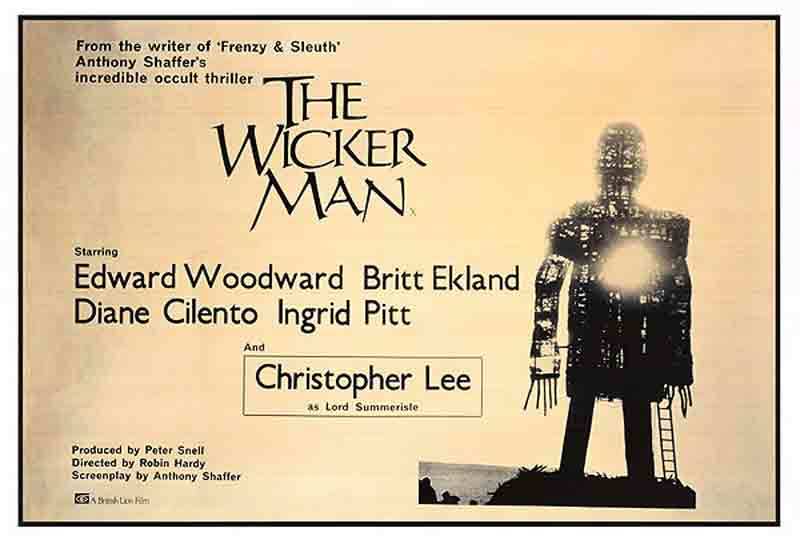 The second of Folk Horror's unholy trinity sees uptight Christian fundamentalist copper Sergeant Howie (Edward Woodward) rock up at a remote Scottish island to investigate the disappearance of a child.
Howies's investigation reveals that everyone on Summerisle from the laird (Christopher Lee) downwards are members of an ancient pagan religion and it just so happens that they need a virgin sacrifice to return the fertility of the land. It's not the best of days for Sgt. Howie.
Trivia: There are now sing along performances of The Wicker Man, perhaps the ideal antidote to The Sound of Music!
Read more about The Wicker Man here.
3.) Witchfinder General (1968) AKA The Conqueror Worm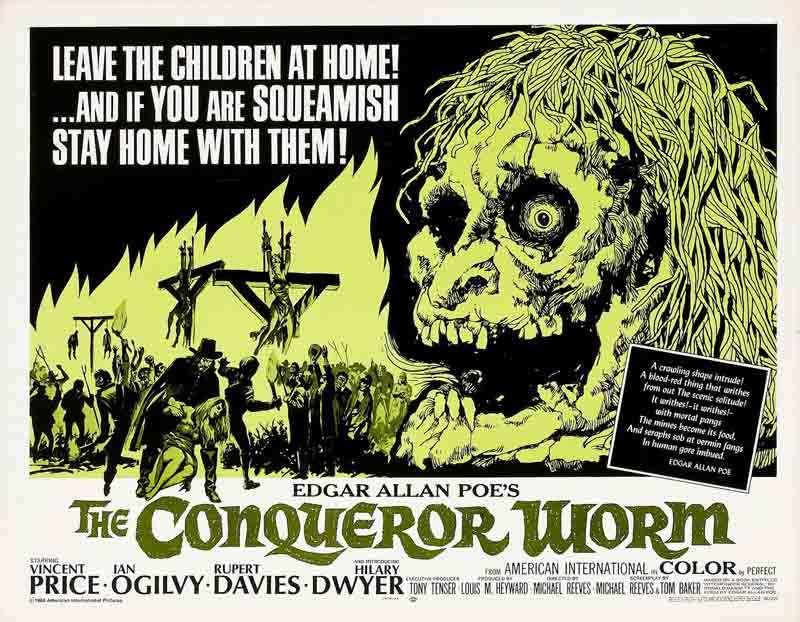 The final film in the trinity takes us to England in 1645 where the Civil War is raging. While all that is going on Ipswich lawyer Matthew Hopkins (Vincent Price) is waging his own war against East Anglia's witches largely through judicially murdering anybody who is accused of it.
To save her uncle from the hangman Sara (Hilary Dwyer) shags Hopkins only for him to betray her trust and go ahead with the execution, thus enraging Sara's Roundhead cavalry officer boyfriend (Ian Ogilvy), who comes after him.
It's pretty much a 17th century revenge Western.
Trivia: Watch out for old man Steptoe, Wilfred Brambell as Master Loach and Patrick Wymark as Oliver Cromwell
Discover more Witchfinder General trivia with Witchfinder General, 20 shocking things you never knew!
4.) Night of the Eagle (1962) AKA Burn, Witch Burn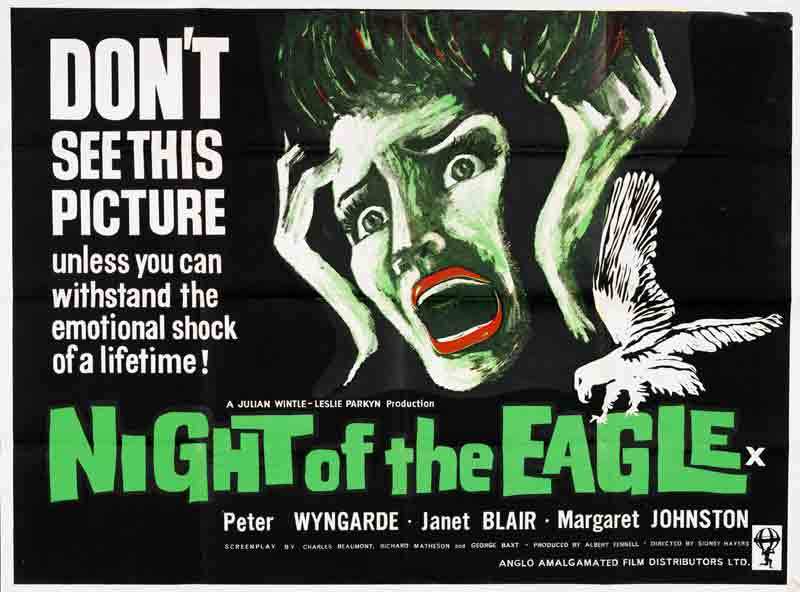 Based on a novel by American writer Fritz Leiber and with a screenplay by Richard Matheson Night of the Eagle sees rational psychology lecturer Norman Taylor (Peter Wyngarde) mocks his wife's belief in magic and makes her get rid of the charms she has been using to protect him.
Bad idea, soon Taylor finds himself at the center of a vicious black magic attack from a rival's wife.
Who knew college could be so competitive?
Read more about Night of the Eagle here.
5.) Crow (2016)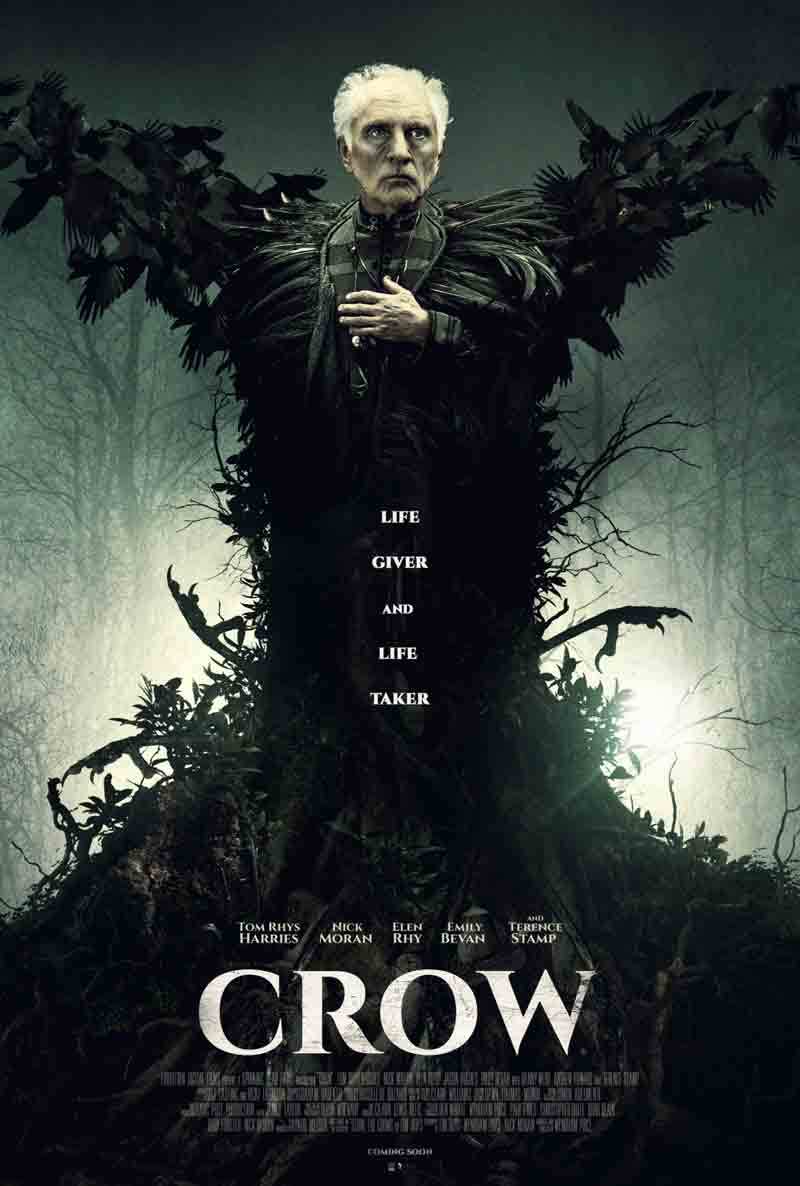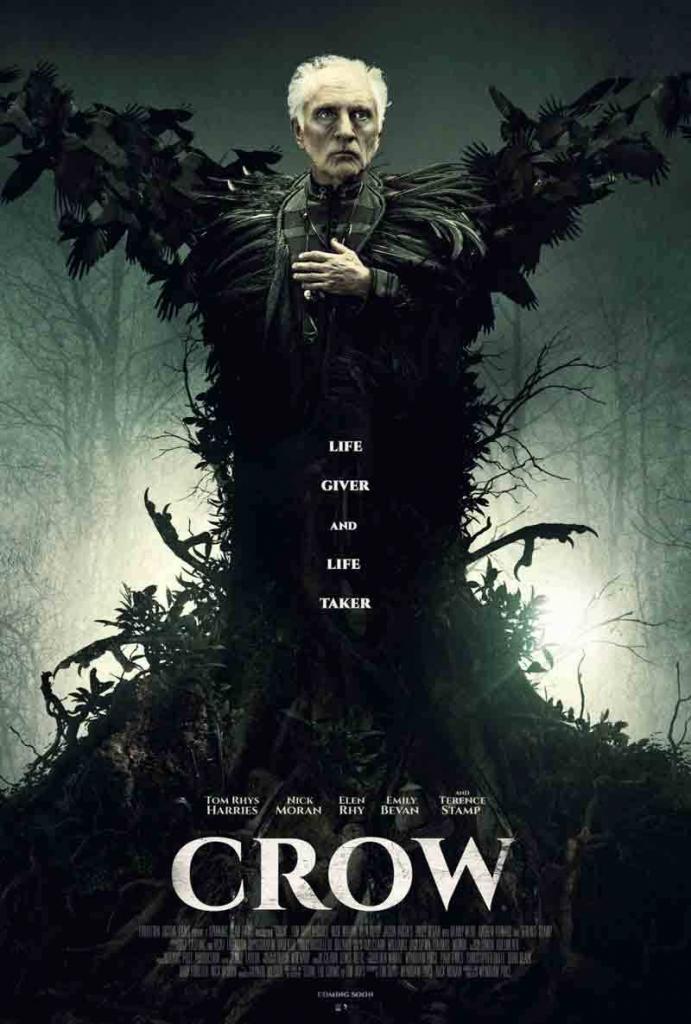 Tucker (Nick Moran), a vulgar nouveau riche property developer buys an estate and decides he is going to build his dream home in the middle of a woodland.
The only problem is there are a bunch of crusties living on the estate to whom the wood is sacred.
Tucker sends in the heavies to evict the crusties, but one of them, Crow (Tom Rhys Harries) escapes to the woods from where he exacts a terrible revenge with the aid of the Great Crow spirit who manifests every now and again as Terence Stamp.
It's a bit like First Blood meets The Evil Dead.
Trivia: Tucker's architect Millward is played by Jason Hughes (DS Jones from Midsomer Murrders)
6. Robin Redbreast (1970)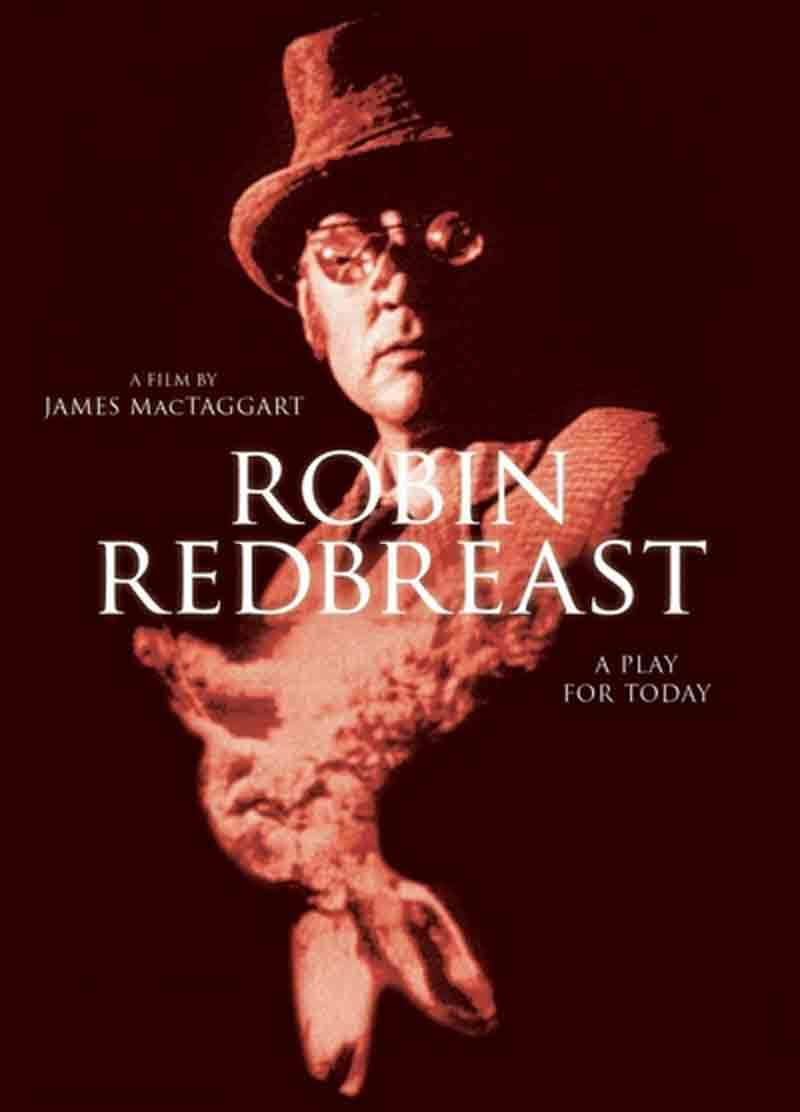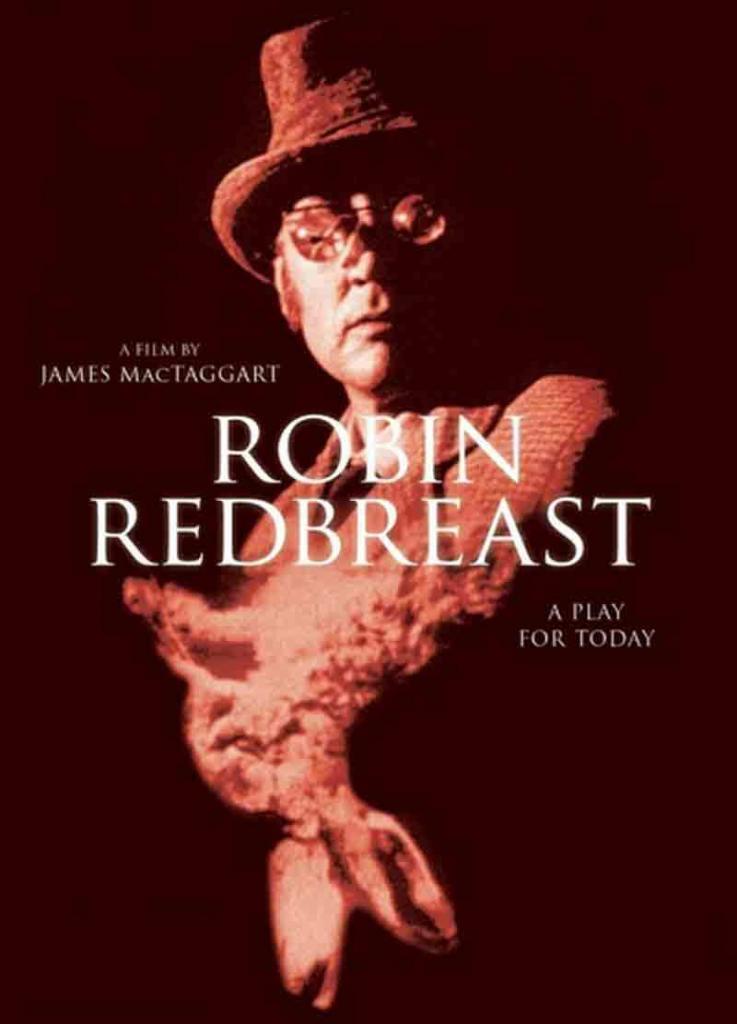 Norah Palmer (Anna Cropper) moves to a village in the country after breaking up with her boyfriend and gets pregnant by local handyman Edgar (Andrew Bradford) who is also known as Rob.
As Easter approaches Norah finds herself being cut off in the village as her car is tampered with and her phone cut off and suspects she is being lined up as a pagan sacrifice by the villagers.
She lets Edgar in as the villagers converge on the cottage, but when they break in they leave her alone and take Edgar instead as he's the Robin Redbreast, the pagan symbol of the town.
Read more about Robin Redbreast (1970)
7. Psychomania (1972) AKA The DeathWheelers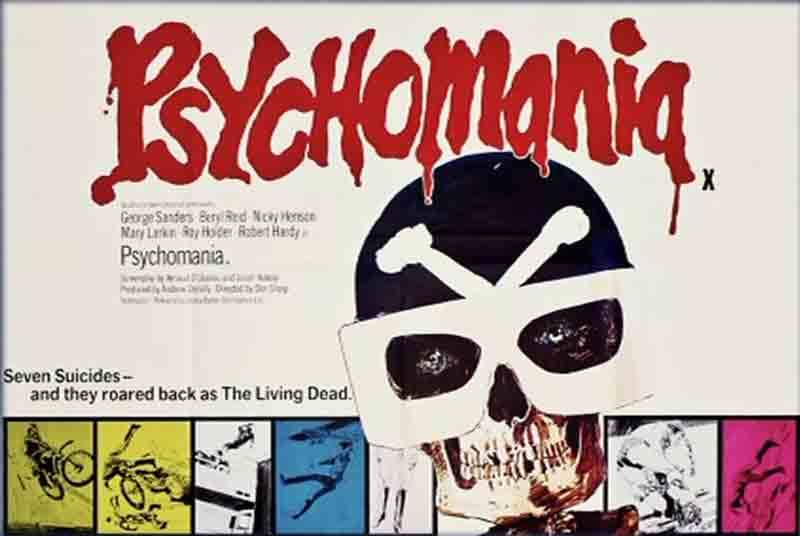 The Living Dead, a gang of motor cycle hoodlum led by Tom Latham (Nicky Henson) with the aid of his aunt (Beryl Reid) and her sinister butler Shadwell (Gearge Sanders) use black magic to come back from the dead and terrorise the town.
This film is moist notable for the burial of Latham sitting on his bike at a set of standing stones called the Seven Witches and his subsequent high speed emergence from the grave following the ritual, which inspired the Motorhead music video for Killed by Death.
Trivia: Yes, gang member Ann Michelle is the sister of Allo Allo's Vicki Michelle. This was also the last film George Sanders made before he committed suicide.
Read more about Psychomania here.
8. Outcast (2010)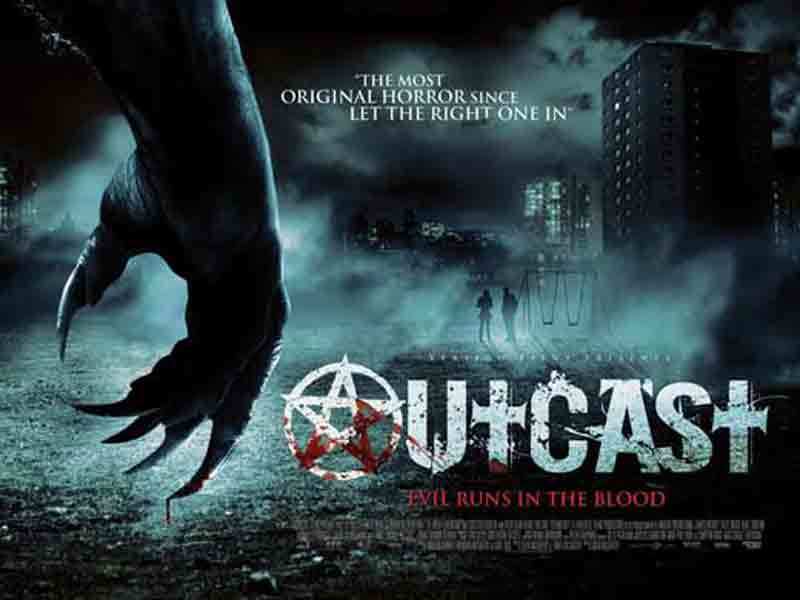 Witch Mary (Kate Dickie) flees Ireland with her son Fergal (Niall Bruton) and settles in an Edinburgh sink estate.
In the flat Mary daubs protective runes on the walls to keep them safe as Fergal is the shape shifting product of her union with a member of a clan of rival enchanters.
Then the seriously psychotic Cathal (James Nesbitt) and warlock Liam (Ciaran McMenamin) arrive in Edinburgh determined to hunt the pair down.
When Mary's charms frustrate Liam's ability to find her Cathal goes against the orders of Edinburgh's pagan Laird (James Cosmo) to use the only kind of magic that will override her sorcery.
Trivia: Karen Gillen makes a fleeting appearance as Ally one of Fergal's girlfriend's pals
Read more about Outcast (2010) here.
9. Amen Island (2011) AKA Unhappy Birthday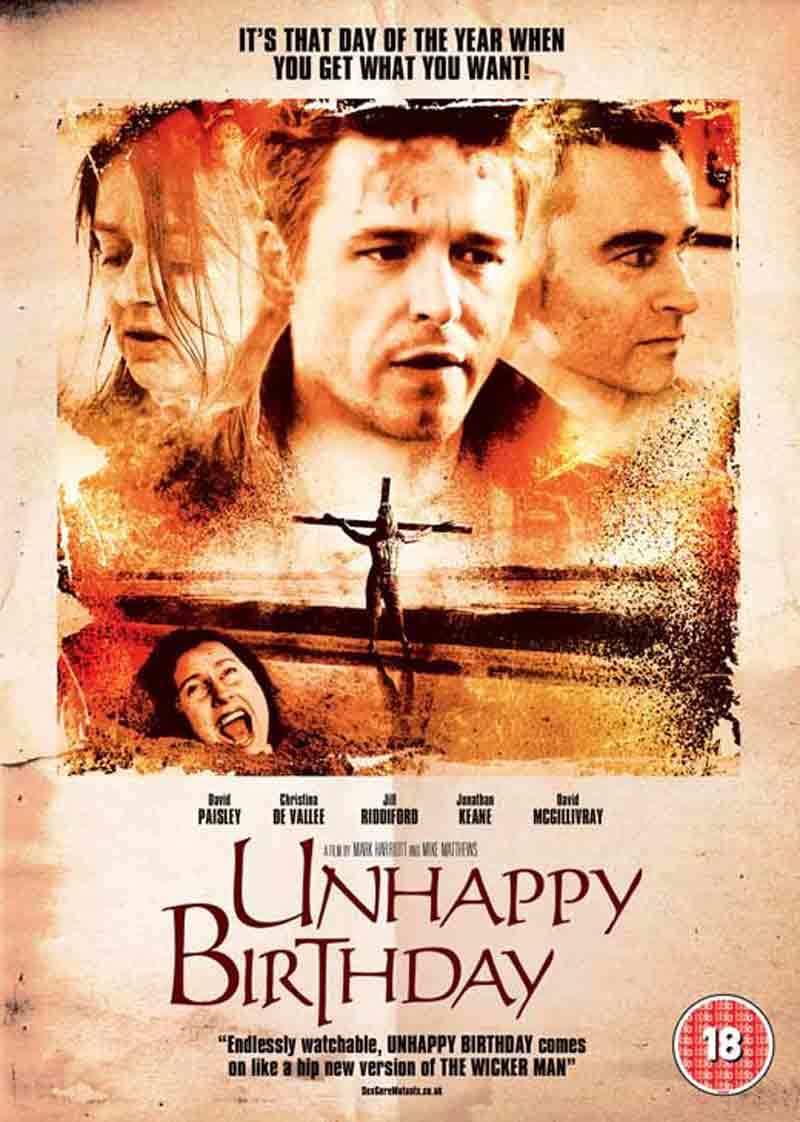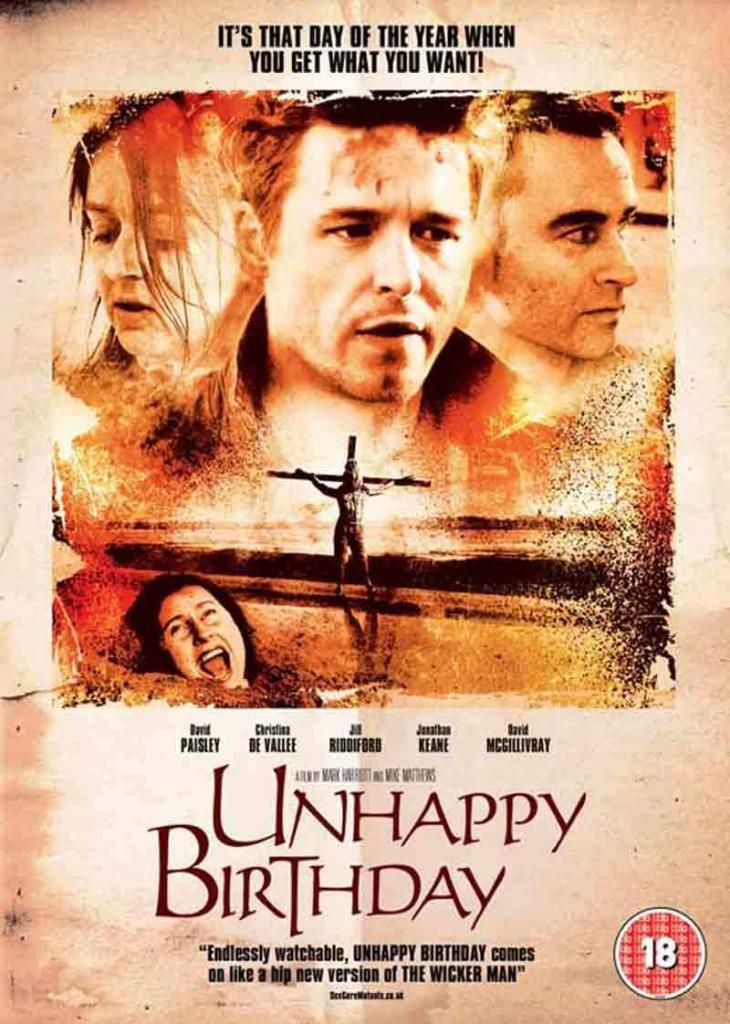 Rick (David Paisley) has a birhday surprise lined up for his girlfriend Sadie (Christina de Vallee).
Sadie was adopted and has no idea who her real family are, but Rick has discovered that Sadie has a sister on Amen Island, a remote place that is only connected to the English mainland at low tide.
Picking up Rick's best mate Jonny on the way they cross the causeway to arrive at Sadie's long lost sister Corinne's house..
Trouble is Amen Island is a bit strange: the locals wear hoodies all the time, grow all their own food to avoid contamination from the outside world, don't have telephones and are very religious in a don't like strangers, swearing, extra-marital sex or gays sort of way. So things don't look good for Sadie's birthday, especially as Sadie is secretly pregnant by Jonny, who is secretly also shagging Rick.
The islanders don't care much for secrets either, but hey what can possibly happen before the tide comes in the following day?
10. The Fallow Field (2009)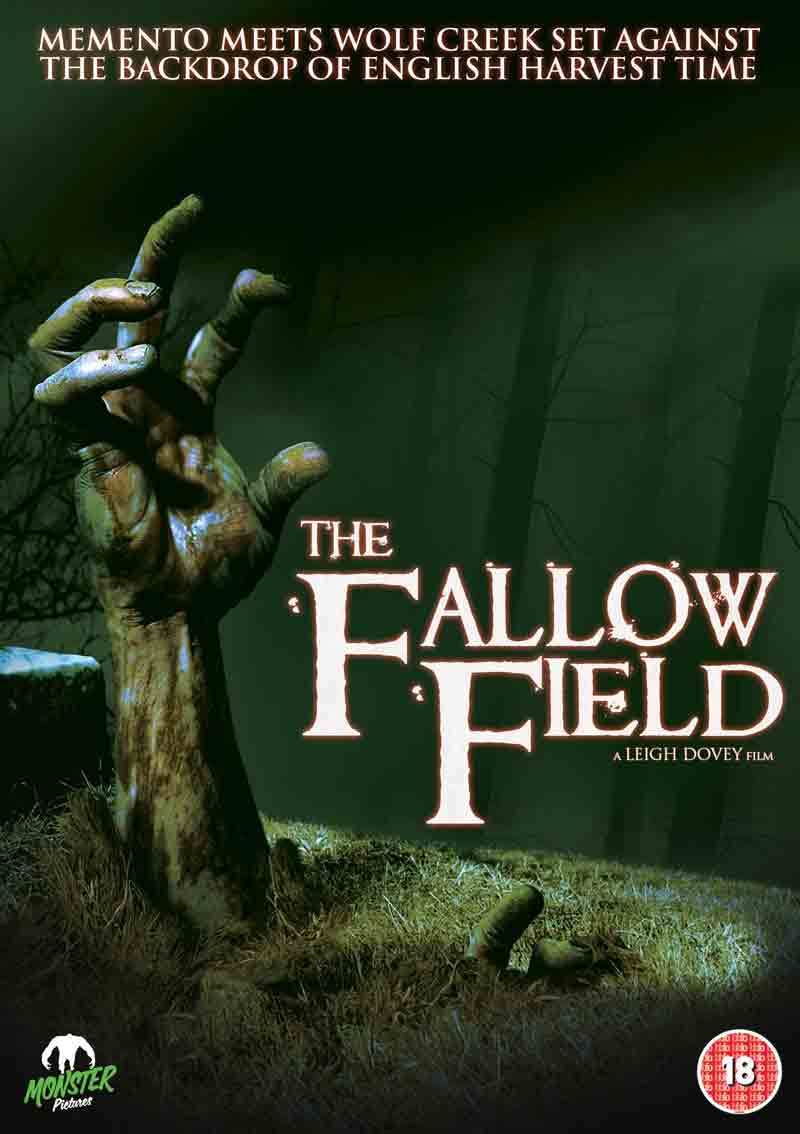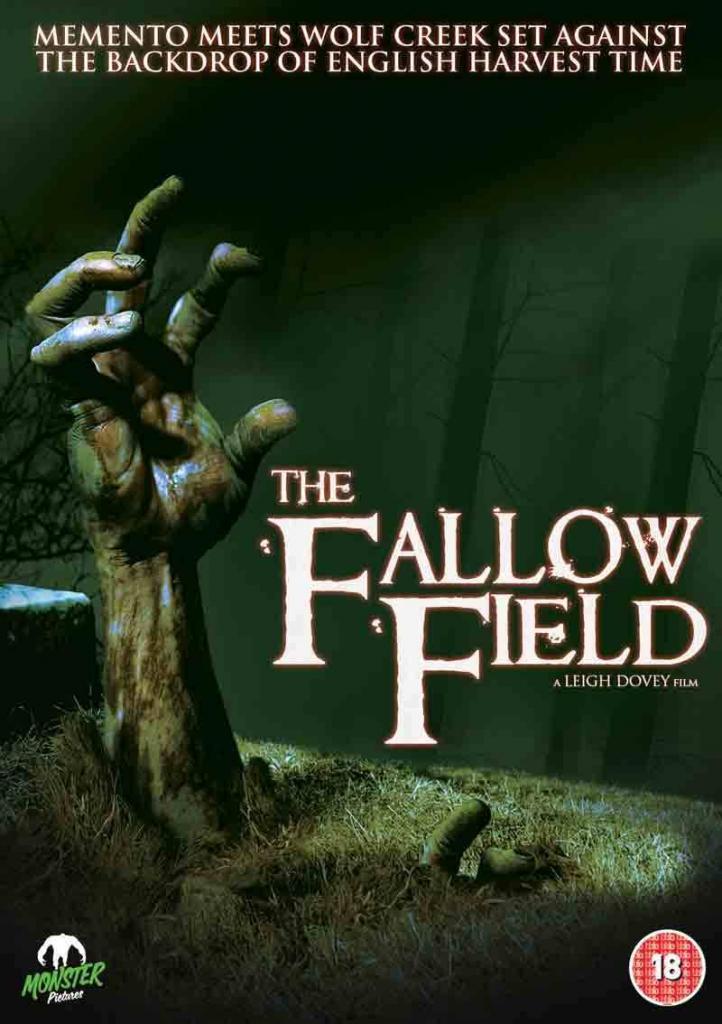 Amnesiac Matt (Steve Garry) wakes up in a field and can't remember how he got there, so he decides to go back and explore the area.
Meeting farmer Callum (Michael Dacre) he discovers that he has been to Callum's farm before, because that was where he was horribly murdered and buried in Callum's magic field that brings the dead back to life.
Problem is once it happens the second time you can remember what happened to you as Mat finds out.
What's more Callum has got rather addicted to murdering people and burying them in that field, so now that Matt has discovered his secret, Callum forces him to help abduct, murder and revive more victims.
It's rather like a whimsical Wolf Creek.
Other British Folk Horror Films worth exploring
Witchcraft (1964): Coven leader Lon Chaney takes on property developers who bulldoze his ancestor's graves.
The Witches (1966): Fleeing voodoo magic in Africa school teacher Joan Fontaine finds herself at the mercy of a coven in England
The Devil Rides Out: (1968): Christopher Lee takes on a coven led by Charles Gray
Cry of the Banshee (1970): Vincent Price massacres a coven only for their leader Oona to summon the vengeful sprit. (The film Siouxsie lifted the Banshees from).
Penda's Fen (1974): A teenager encounters demons, angels and the ghost of Elgar, which makes him question authority and his sexuality.
Kill List (2010): Two assassins take a job that leads them into a black magic ritual.
The Curse of the Witching Tree (2015): A recently bereaved mother and her kids move into a farm house close to a tree cursed by a witch accused of murdering her children.
Dogged (2017): Sam returns to the tidal island village he grew up in to become involved with it's dark underbelly of ritual and murder.
What do you think of Simon Ball's Folk Horror Film choices? Tell us in the comments section below!