Salford Hall Hotel, deep in the heart of Shakespeare country, is a Best Western hotel that is extraordinarily haunted, says RICK HALE
Salford Hall Hotel
Abbot's Salford, Evesham
WR11 8UT
Best Westerns are a giant chain of hotels that enjoy a reputation for clean rooms, friendly service and competitive prices.
The one thing that Best Westerns are not known for is being haunted.
However, in Stratford-upon-Avon, Warwickshire is a hotel that is an exception to that rule.
Salford Hall Hotel, is a member of the chain that makes up where the others lack in hauntings.
History of Salford Hall Hotel
Salford Hall Hotel was built in the 14th century as a living space for the monks of nearby Evesham Abbey.
The founder of the house, Abbot Richard Hawkesbury, believed in having the finer things of life.
Due to this he spared no expense in decorating and put on full display his desire for luxury living.
When Hawkesbury moved out a local Tudor family moved in.
When they left the house it was converted into a nunnery by a group of nuns that escaped from France during the Revolution.
Following their departure, the house sat empty for over a 150 years with the occasional caretaker seeing to the upkeep of the house.
The owner had some trouble finding people to sign a lease, because the house had a reputation for being haunted by some rather frightening ghosts.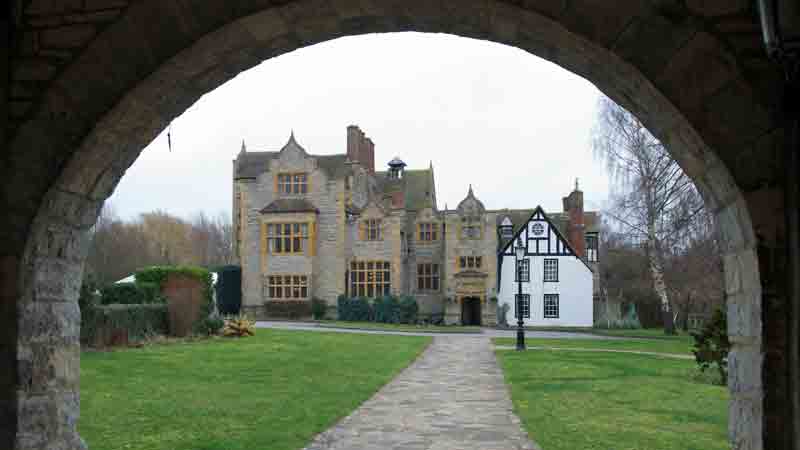 The Haunting Of Salford Hall Hotel
The haunting of this hotel is so well known, local ghost hunters include it in their list of favourite places to investigate.
The owners are all too happy to accommodate because they know just how haunted their hotel is.
The Nun
The most commonly reported spectre witnessed by both staff and guests is the apparition of a nun.
According to legend, in the 17th century, a young nun of noble birth was viciously attacked and murdered while reciting her daily prayers.
Her attacker never faced justice for the heinous crime. It's believed this is why her soul is unable to find peace, even centuries after her death.
Since her tragic death, the ghostly nun is consistent in her manifestation, appearing mostly on the lower floor.
She is often reported with a grief stricken look on her face and cheeks stained by tears.
Several guests have reported being awakened from their slumber by the mournful wailing of the nun.
The nun will forever be in misery until her killer is brought to justice.
The Stable Boy
The ghost of a stable boy, covered in mud and horse manure has been seen walking around the outside of the building.
No one is certain who he was in life or why he haunts the hotel.
However, when he vanishes, a foul stench is left behind and lingers in the air for a short time.
Ghostly Clergy
The ghosts of two monks have been known to abruptly appear and walk through the reception area before disappearing through a wall.
And the apparitions of two priests have been sighted by guests walking through the courtyard.
They appear to be involved in a conversation and vanish almost as abruptly as they appear.
The Shadows
Several staff members have reported the unnerving sensation of being watched by something unpleasant.
When they look around they are stunned to see shadowy beings quickly leaving the area.
The staff who have experienced these entities have reported a feeling of dread mixed with fear.
Why stay at haunted Salford Hall Hotel
Salford Hall Hotel offers comfortable, tastefully decorated rooms for their guests.
The Minstrel's Bistro, the hotel's restaurant, has an extended menu as well as a large selection of wines and ales.
The hotel is also licensed for weddings and can accommodate up to 130 guests for your special day.
The hotel is near the Cotswolds and several quaint villages, where you can shop and explore.
And for lovers of culture and literature, the hotel is located in Shakespeare country. Where you can go and learn about England's greatest writer.
Salford Hall Hotel, known for its many ghosts and its hospitality, is a lovely hotel in Warwickshire.