Reading Time:
4
minutes
Scrooge 1913 is a chance to see legendary British actor Seymour Hicks as Ebenezer Scrooge, a role he played thousands of times on the stage, writes BARRY McCANN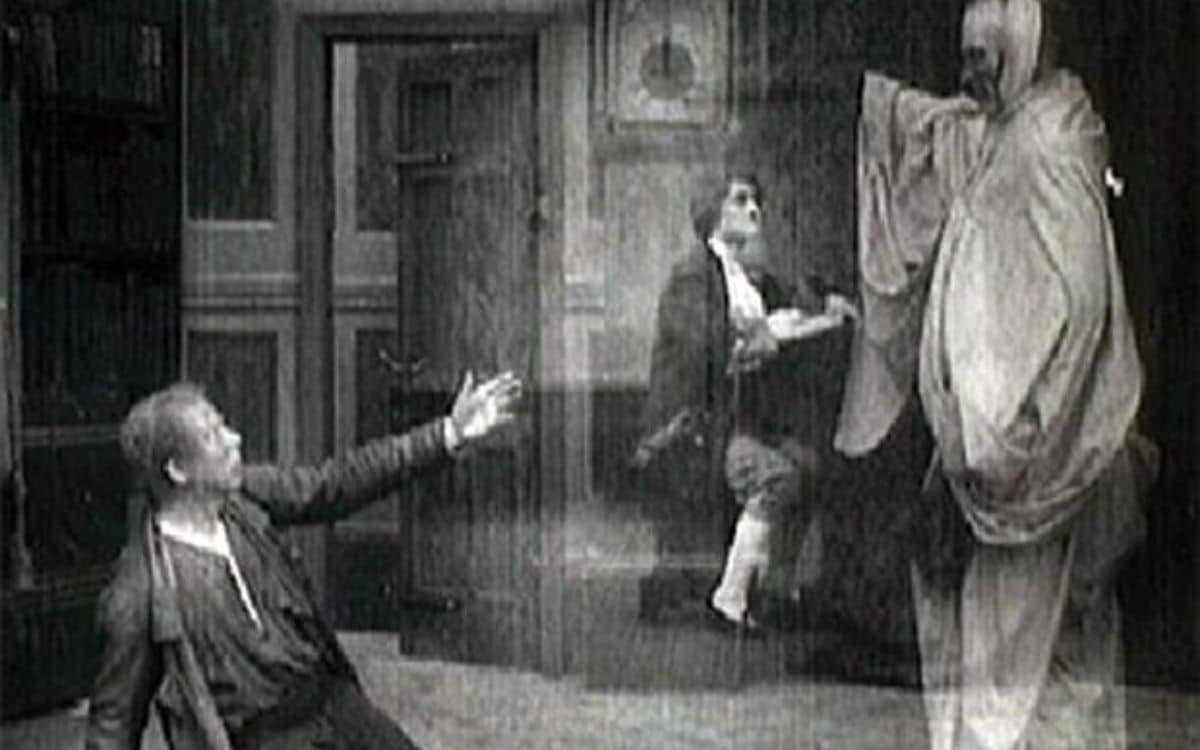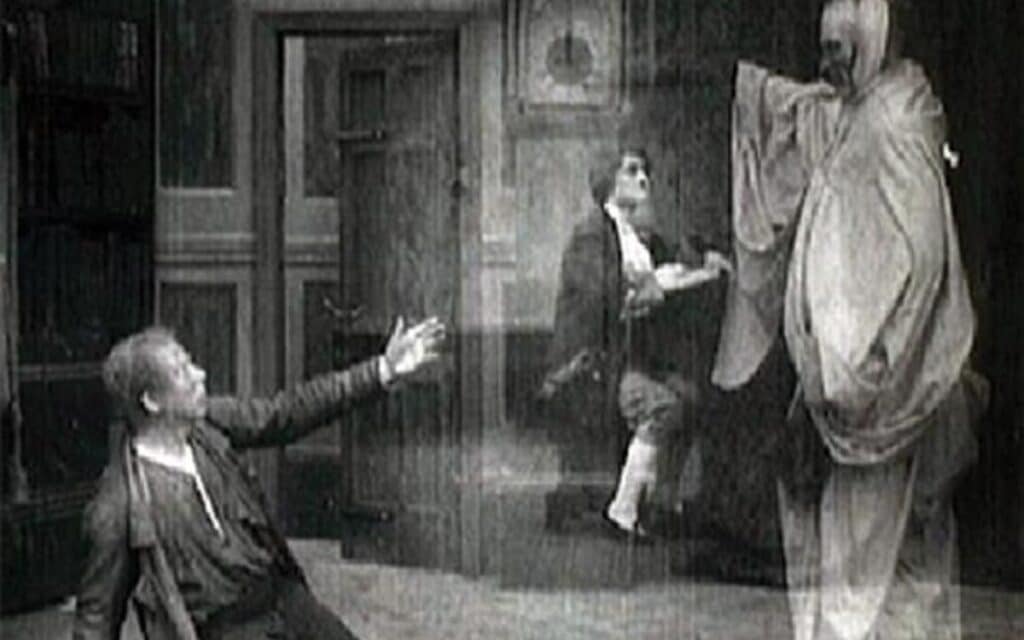 TITLE: Scrooge, aka Old Scrooge, A Christmas Carol
RELEASED: September 1913 (It was released in the US in 1926 as Old Scrooge)
DIRECTOR: Leedham Bantock
CAST: Seymour Hicks, William Lugg, Leedham Bantock, J. C. Buckstone, Dorothy Buckstone, Leonard Calvert, Osborne Adair, Adela Measor and Ellaline Terriss.
Review of Scrooge 1913
The 1913 screen version of Scrooge by the Zenith Film Company was the fourth movie adaptation of Charles Dickens's A Christmas Carol and the third oldest surviving, unless the 1905 outing with Thomas Ricketts ever turns up. It starred Seymour Hicks as the titular miser and was directed by Leedham Bantock, who had some scenes colour toned to give them an extra magic.
It was also the longest so far, running at 40 minutes which still meant aspects of the story needed to be condensed. And this rather stagey telling of the tale is a sound lesson in how to do it economically, with the action more confined to Scrooge's office and four ghosts reduced to one.
The film actually opens with Charles Dickens himself pacing his library while trying to come up with a new tale. The inter-titles then read: "The Cratchit family home in the story is a suggestion of the humble surroundings in which Dickens was born in the little town of Landport, England." With this germ of inspiration, he sits down and writes A Christmas Carol.
We are then introduced to Ebenezer Scrooge walking the streets of London to his office on Christmas Eve, the titles informing us: "No warmth can warm, no wintery weather chill him. No wind that blows is bitterer than he." This is contrasted with a shot of his nephew Fred giving money to poor children and Bob Cratchit carrying Tiny Tim on his shoulders and putting him down as they arrive at his place of work. Scrooge then shouts at him through the window, telling his clerk to get inside and get on with his duties.
A poor woman enters the office to beg from Scrooge, and it is to her he gives the speech about "Are there no workhouses?". When she informs him that the poor like her would rather die than go on the treadmill, he, of course, advises they had better do so and decrease the surplus population.
When Mr. Middlemark turns up that evening seeking assistance in making provision for the poor, Scrooge similarly sends him packing and demands to be left alone.
After grudgingly granting him Christmas Day off, Scrooge gives Cratchit a second hand quill saying: "Here: take this new pen as a Christmas present. It may help you do better work." After Cratchit has gone, he retrieves a hidden stash of gold coins and settles in an armchair with his treasure to sleep.
Scrooge is awakened by the visitation of the wraith like ghost of his dead business partner, Jacob Marley, who tells him "Now I come to you representing the ghosts of 'Christmas Past', 'Christmas Present' and 'Christmas Yet To Come'." Marley conjures up visions in the corner of the room, firstly of Scrooge's lonely boyhood past and childhood sweetheart, then the Cratchit household of now, followed by a projection a vision of Tiny Tim's death and Scrooge's own lonely tombstone.
Waking up from the night of visions, Scrooge is a changed man and throws money from his window to carol singers below pleading for alms. He also beckons in a passing boy and sends him for a large turkey to be anonymously delivered to the Cratchits. He then imagines himself joining the Cratchits for the Christmas feast and giving each of them a gift of money, before taking up Fred's invitation to dinner.
The next morning, Cratchit reports for work behind his time, for which Ebenezer plays the grim joke of pretending to scold him before revealing his joyously reformed character and promising to be a second father to Tiny Tim. 
Seymour Hicks obvious choice for Scrooge role
Seymour Hicks was an obvious choice for Ebenezer Scrooge as he had been playing the part on stage since 1901 (the very year the first screen version of A Christmas Carol was made) and had done so over a thousand times since, making the role very much his own in the public eye.
This first movie outing for Hicks was ground breaking at the time not just for its length but the greater longevity it would enjoy. In 1926, 13 years after its initial release, Pathé Pictures re edited and re-released it in America under the title Old Scrooge despite four further movie adaptations being made in the meantime. This also made it the last silent version to be released on the circuit, a short sound movie with Bransby Williams following in 1928.
It took until 1935 for the next sound film version to arrive and, at 78 minutes running time, the first feature-length adaptation. It saw Seymour Hicks return to the role of Ebenezer and now able to add a growly voice to his misery characterisation. The 1935 Scrooge film also took a more expressionist approach to the story while reflecting the depression hit times in which it was produced. 
However, for those seeking Seymour Hicks's first screen turn as Scrooge, the 1926 reissue of the 1913 original is available on a double bill DVD along with a 1923 version starring Russel Thorndike.
Tell us your views of Scoorge 1913 in the comments section below!
Watch Scrooge 1913 Video