A Christmas Carol 1910 is one of the earliest film adaptations of the Charles Dickens Yuletide favourite.
Title: A Christmas Carol
Year Released: 1910
Director: J. Searle Dawley
Cast: Marc McDermott, Charles Ogle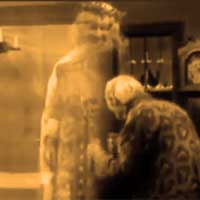 It stars Marc McDermott as the famous miser, Ebenezer Scrooge, who is visited spirits who show him the error of his ways.
Interesting for Spooky Isles fans, Charles Ogle plays Bob Cratchit. Charles Ogle's most famous role is the first movie Frankenstein Monster in Edison's 1910 silent, Frankenstein.
The silent film, released by the Edison Manufacturing Company on 23 December 1910, was directed by J. Searle Dawley – who also directed Ogle in Frankenstein.
Watch A Christmas Carol 1910