RICHARD PHILLIPS-JONES reflects on a double-role for Boris Karloff, starring in period chiller The Black Room 1935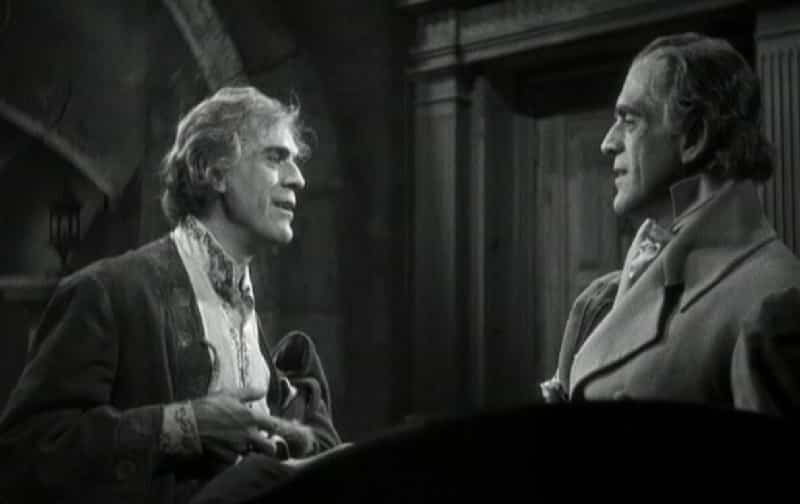 TITLE: The Black Room
RELEASED: 15th July 1935
STARRING: Boris Karloff (Baron Gregor de Berghman/Anton de Berghman), Marian Marsh (Thea Hassell), Robert Allen (Lt. Albert Lussan), Thurston Hall (Col. Paul Hassel)
WRITERS: Arthur Strawn and Henry Myers
DIRECTOR: Roy William Neill
According to a prophecy, it is said that Anton de Berghman will kill his elder brother, the Baron Gregor de Berghman in the mysterious Black Room of the family castle. Gregor, a nasty piece of work who is despised by the locals, thinks he can overturn the prophecy by striking first against the kind-hearted Anton. However, it gradually becomes apparent that it is not so simple to change that which has already been prophesied…
Giving the audience the then-novel gimmick of two Karloffs for the price of one, this was the actor's first horror picture for Columbia, and he rises to the challenge of his dual-role with greatly contrasting portrayals of the de Berghman siblings, perhaps being given more space to simply be an actor than his classic monster portrayals had allowed.
Karloff's turn as the gentler Anton might have been a surprise to audiences at the time, but his nasty Gregor certainly gives the crowd what they would expect, plotting to do away with his brother in the hope of assuming his identity and fooling the woman (Thea) whose hand in marriage he covets. Now, if Gregor can just master his mimicry of Anton's disability…
Roy William Neill (later to give us Frankenstein Meets The Wolf Man (1942) and several entries in Universal's Sherlock Holmes series) gives solid direction, and stylistically looks forward to the British Gothic horrors to come later. The basic story from Arthur Strawn and Henry Myers certainly seems indebted to a British influence, and might not have been out of place in Robert Louis Stevenson's bibliography. The final denouement is particularly satisfying.
With so much Karloff to enjoy in one go (it's arguably an unsung career highlight), The Black Room is one not to be missed.
TRIVIA POINTS:
The film was originally released in the UK as The Black Room Mystery.
The Black Room was reissued in the 1950's, with the earlier Columbia logo replaced with the better known logo design still in use today. It is this later version which is available on DVD.
Watch The Black Room 1935 Trailer
What did you think of The Black Room 1935? Tell us in the comments section below!