The Shout 1978 reviewed by SIMON BALL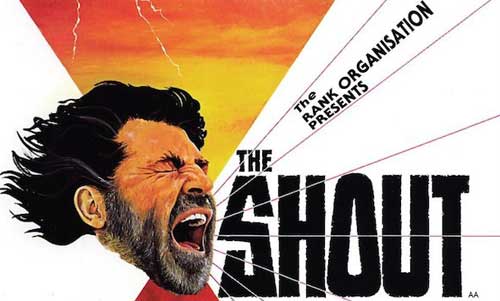 TITLE: The Shout
YEAR RELEASED: 1978
DIRECTOR: Jerzy Skolimowski
CAST: Alan Bates, John Hurt, Susannah York, Tim Curry, Robert Stephens
Based upon a short story by I Claudius author and war poet Robert Graves, The Shout opens at a cricket match in the grounds of an upmarket lunatic asylum. Robert Graves (Tim Curry) joins the mysterious Crossley (Alan Bates) in the scoring hut, where Crossley opens up and tells Graves a story.
Avant-garde composer Anthony Fielding (John Hurt) and his partner Rachel (Susannah York) live in a dilapidated farm house in North Devon. Their rural idyll is shattered by the arrival of Crossley (Bates) who has just spent 18 years living with the native people of Australia.
Crossley claims that an Aboriginal shaman has taught him how to project the legendary death shout. Anthony, whose work involves producing new sounds with random objects wants to hear this Shout, so Crossley advises to stop his ears with wax and takes him out for a morning walk.
True to Crossleys's word the killer shout downs a couple of gulls, some sheep and the local shepherd. Back at the house Rachel falls heavily under Crossley's influence and Anthony has to fight to get her back without getting shouted at naturally.
It's a pretty intense movie, as you might imagine with such a heavyweight British cast, which also includes a young Jim Broadbent as one of the cricketing patients. Bates is splendidly malevolent and Susannah York does a splendid job of turning from a strong sensible woman to Crossley's lustful and simpering plaything as she is drawn under his enchantment.
Evoking a similar eerie dreamy atmosphere to Nicolas Roeg's Aussie wilderness movie Walkabout from the North Devon sand dunes, The shout stays just on the right side of the then fashionable Australian mysticism not to descend into farce.
The soundtrack is by Mike Rutherford and Tony Banks of Genesis (No Phil Collins that would just have been too horrible).
The Shout 1978 trailer
What do you think of The Shout 1978? Tell us in the comments section!