5 Spectacular Dracula Films
---
Horror film historian STEPHEN JACOBS lists his top five Dracula films for The Spooky Isles on the 100th Anniversary of Bram Stoker's death. They are listed in order of release.
---
Abbott and Costello Meet Frankenstein (1948)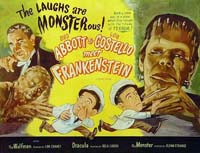 This film was my introduction to Lugosi's Count and it is a lot more fun than the star's original appearance in Dracula (1931).
In this film the Count (Lugosi) plans to replace the brain of Frankenstein's Monster (Glenn Strange) with that of a simpleton, Wilbur Grey (Bud Abbott). His plans are scuppered, however, when the Wolf Man, Larry Talbot (Lon Chaney Jr.), arrives and informs Wilbur and his friend Chick Young (Lou Costello) of the Count's true identity.
Lugosi proved that, 17 years after playing the count in Universal's first Dracula film he could still carry the role (despite being in his 60s). It seems a waste that the studio had not fully exploit Lugosi's potential in the part. This outing with Abbott and Costello was his second, and last, portrayal of the count for Universal.
Buy Abbott and Costello Meet Frankenstein (1948) on DVD
Related Posts via Taxonomies