Reading Time:
4
minutes
Horror film historian STEPHEN JACOBS lists his top five Dracula films (in order of release)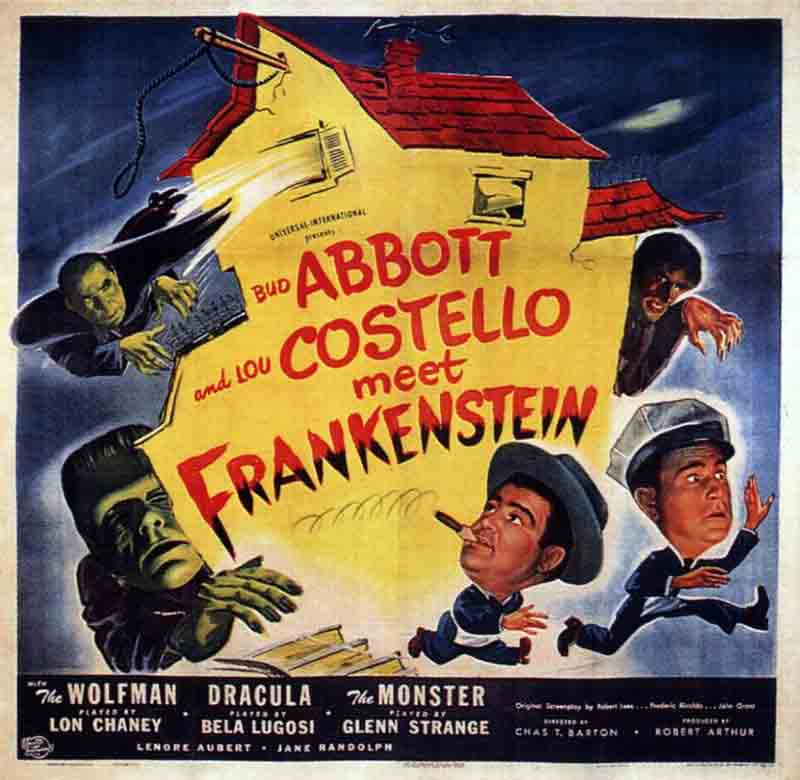 This film was my introduction to Lugosi's Count and it is a lot more fun than the star's original appearance in Dracula (1931).
In this film the Count (Lugosi) plans to replace the brain of Frankenstein's Monster (Glenn Strange) with that of a simpleton, Wilbur Grey (Bud Abbott). His plans are scuppered, however, when the Wolf Man, Larry Talbot (Lon Chaney Jr), arrives and informs Wilbur and his friend Chick Young (Lou Costello) of the Count's true identity.
Lugosi proved that, 17 years after playing the count in Universal's first Dracula film he could still carry the role (despite being in his 60s). It seems a waste that the studio had not fully exploit Lugosi's potential in the part. This outing with Abbott and Costello was his second, and last, portrayal of the count for Universal.
Buy Abbott and Costello Meet Frankenstein (1948) on DVD
Christopher Lee is, for me, the perfect and definitive Count.
To me Lugosi always looked as though he was fully gorged on the lifeblood.
Lee, however, looked lean and hungry, like a starved predator – and he looked all the more menacing for it. I
t remains a pity that Lee never got to star in a faithful big budget adaptation of Stoker's novel.
As an aside, this Hammer production resulted in producer Richard Gordon shelving his own planned version of Dracula.
It would have starred Boris Karloff as the Count (despite the fact that, by this time, Karloff was in his 70s).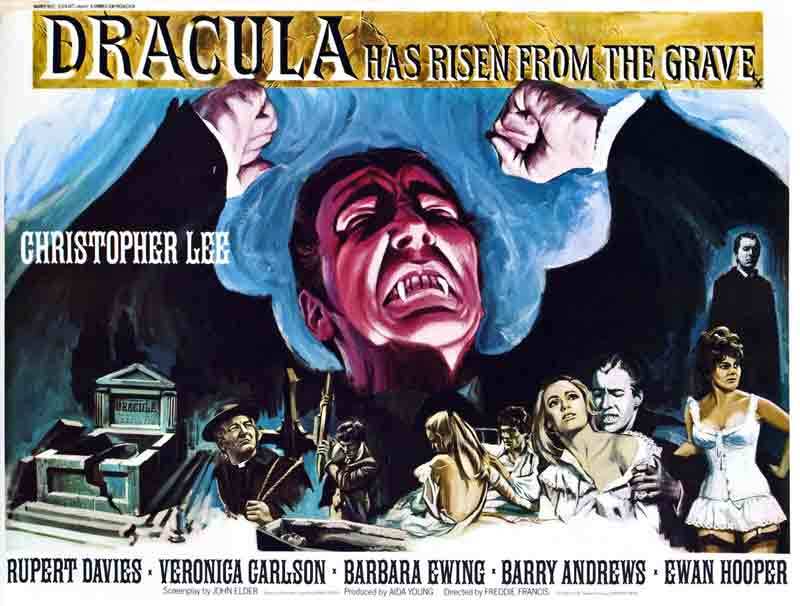 Lee's third outing as the Count for Hammer.
If you can ignore a few curiosities – How (and why?) did Dracula put his victim in a bell?
Why was the vampiric lore changed so that now only Christians can dispatch the Count with a stake?
Why did they use that annoying edge tinting whenever Dracula is on screen? – DHRFTG is an atmospheric period horror movie… with a great death scene for Lee.
Buy Dracula Has Risen From The Grave (1968) on DVD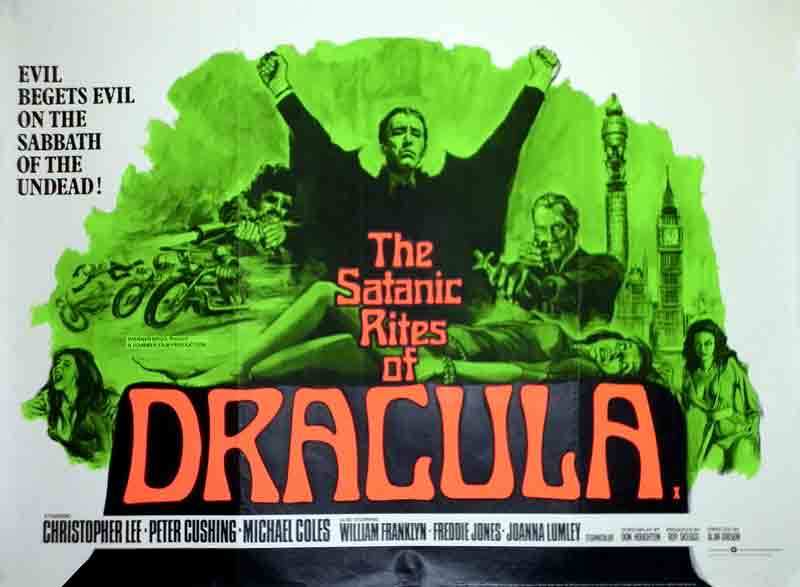 Lee's final Dracula film for Hammer and his second set in contemporary London.
This is a much maligned film but one I have always enjoyed – possibly due to the fact that it was, I believe, the first of Lee's Dracula films that I ever saw.
As a youngster the black and white portrait of the Count – owned in the film by Van Helsing's descendant (Peter Cushing) – was enough to give me nightmares.
It also contains another good death scene for the Count: Where Van Helsing dispatches his adversary (torn by a hawthorn bush, and wearing a 'crown of thorns') with a conveniently sharpened fence post.
In America, this is considered to be in the public domain resulting in many sub-standard copies being available.
Hopefully Hammer will give this film the respect I think it deserves if and when they release it on DVD and Blu-Ray.
Buy The Satanic Rites of Dracula (1973) on DVD
If you can ignore Dracula's disco bouffant and the love scene's lasers (a relatively new effect at the time) this is an under rated version of the story.
Updated to Edwardian England, Langella is very good as the count (recreating his Broadway role) and is well supported by Laurence Olivier, Donald Pleasence, Kate Nelligan, Trevor Eve, Jan Francis et al. The scene where Van Helsing (Olivier) confronts his vampiric daughter , Lucy (Francis) in the mine still retains its power.
It is a shame that the director, John Badham, had most of the colour drained from the picture for its release on DVD (he had originally wanted to shoot the film in black and white). Hopefully he'll listen of the film's fans and restore its lush colours when it (hopefully) comes to Blu-Ray.
STEPHEN JACOBS, who says he believes actor Jason Isaacs would be a perfect Count Dracula if cast today, recently won the Rondo Award for Book of the Year for his authorised biography Boris Karloff: More Than A Monster. His website is here.