Reading Time:
3
minutes
The Boogie Man Will Get You 1942 is a Columbia quickie which teams up two horror favourites, RICHARD PHILLIPS-JONES says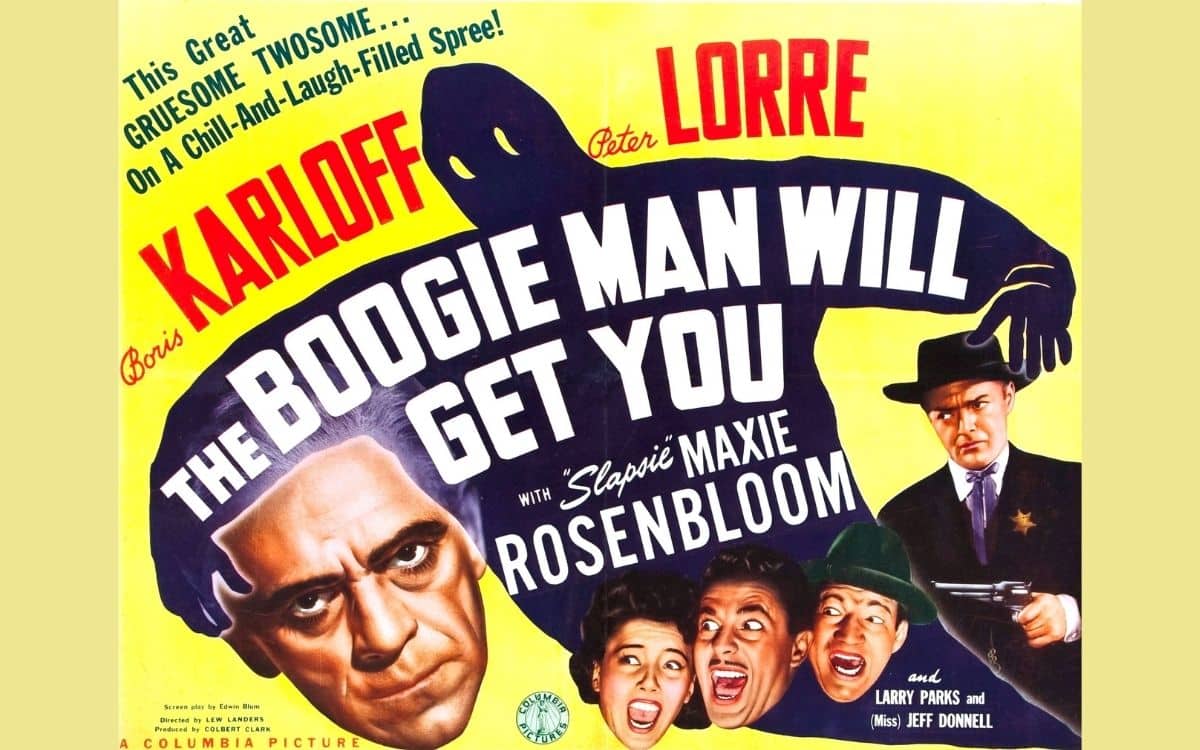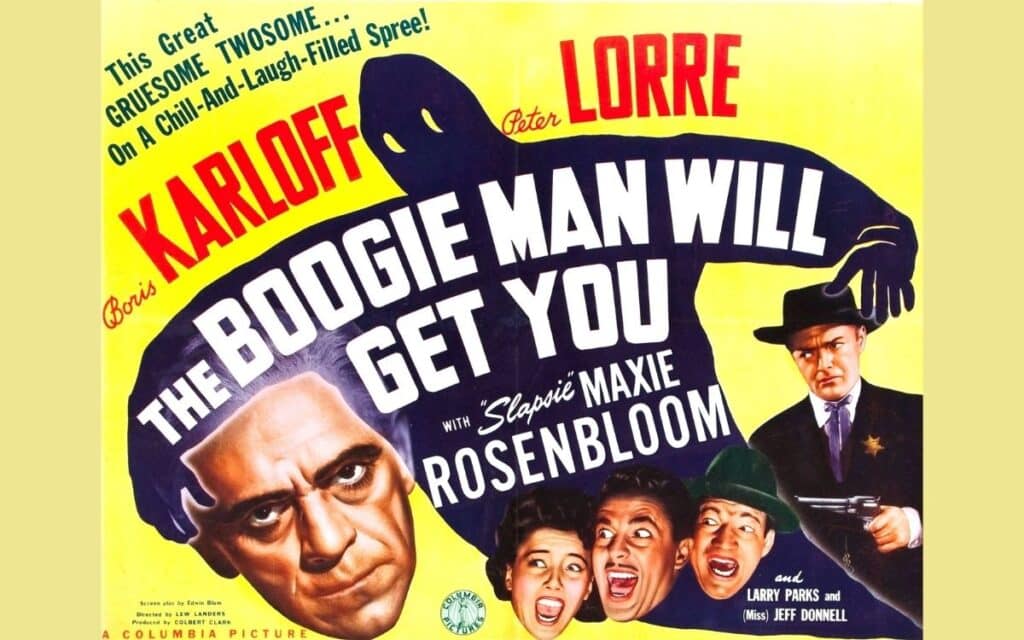 TITLE: The Boogie Man Will Get You
RELEASED: 22 October 1942
STARRING: Boris Karloff (Prof. Nathaniel Billings), Peter Lorre (Dr. Arthur Lorencz), Maxie Rosenbloom (Maxie, The Powder Puff Salesman), Larry Parks (Bill Layden), Miss Jeff Donnell (Winnie Slade)
WRITER: Edwin Blum (from a story by Hal Fimberg and Robert B. Hunt, adapted by Paul Gangelin)
DIRECTOR: Lew Landers
The Boogie Man Will Get You 1942 Review
A young divorcee buys a dilapidated old tavern with a view to reopening it but allows the current inhabitants to stay on.
However, she is unaware that Professor Billings (Boris Karloff) has been experimenting on travelling salesmen, attempting to create supermen for the war effort.
As his failed projects fill up the cellar, there's also the corrupt town doctor/sheriff (Peter Lorre) and various other oddballs to contend with, not to mention an Italian army escapee…
The title really has nothing to do with the film, a quickie attempt to cash in on the success of the stage play Arsenic And Old Lace, on which it is heavily modelled, with a dash of contemporary war-effort patriotism thrown in.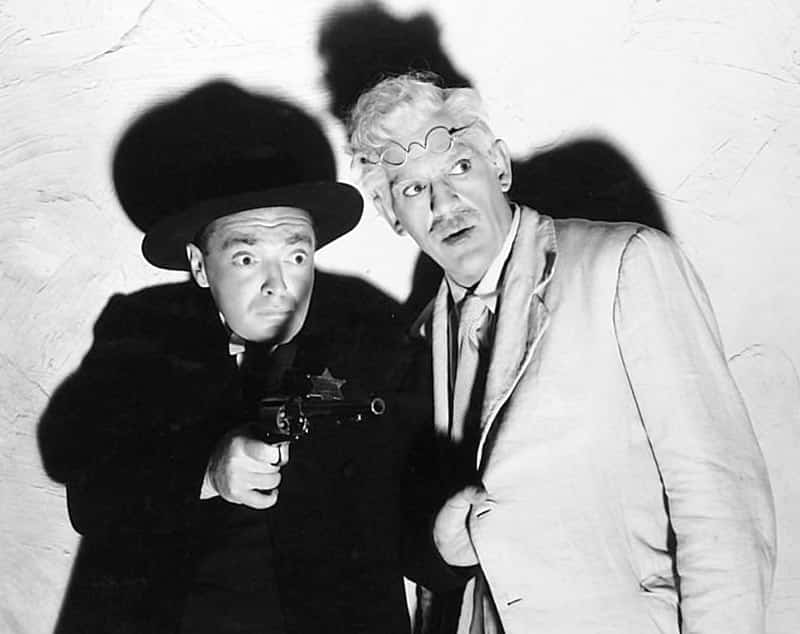 That play had itself been filmed by Warner Bros in 1941. Karloff was a great success in the stage version, but its continuing success meant he was unavailable for the film.
Meanwhile, WB was contractually unable to release their movie until the Broadway play ended its run, which would eventually go well into 1944.
Evidentally, Columbia saw an opportunity to make a quick buck…
Helmed by the incredibly prolific director Lew Landers, the horror elements end up taking something of a back seat to knockabout farce.
Evidently, Hollywood wasn't quite ready to make light work of the genre, and the hurried production renders much of the film somewhat muddled.

Still, Karloff and Lorre are always watchable and The Boogie Man Will Get You is an interesting curiosity.
If the end result is unsatisfactory overall, it's an intriguing failure – the mere pairing of these particular actors in something a little different for the time is laudable.
Comedy-Horror is a very difficult thing to pull off, and this does deserve credit for laying some groundwork for later, more successful attempts.
The two leads would fare much better with 1963's The Raven.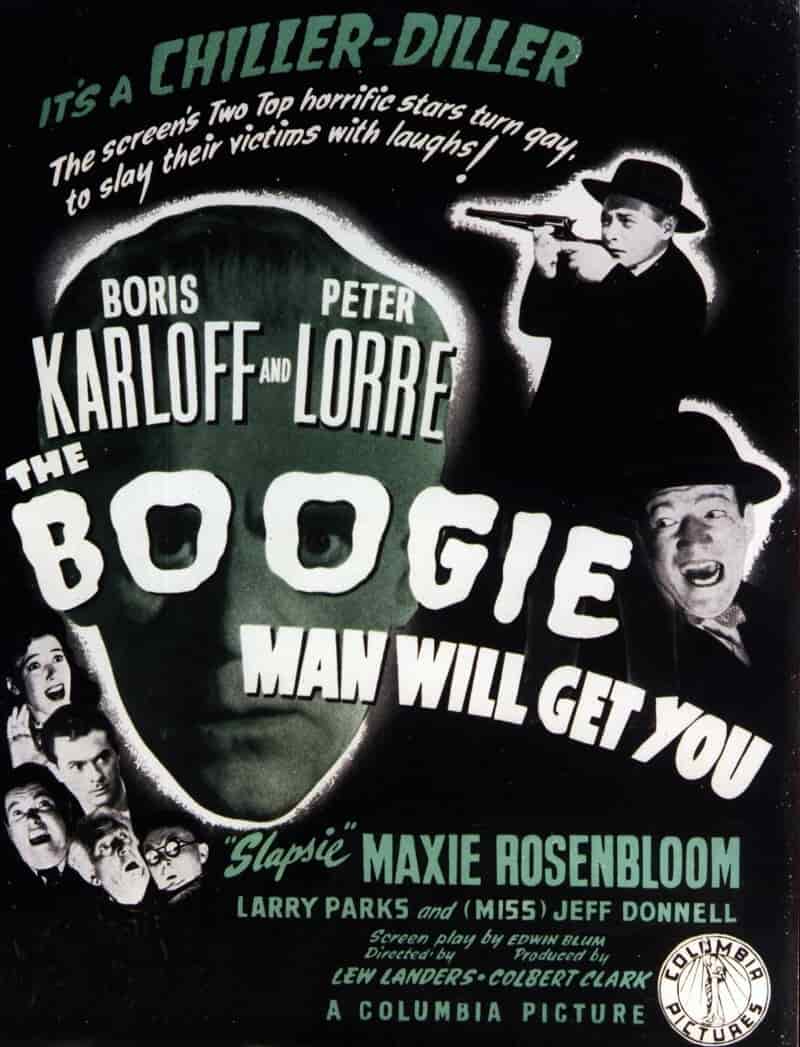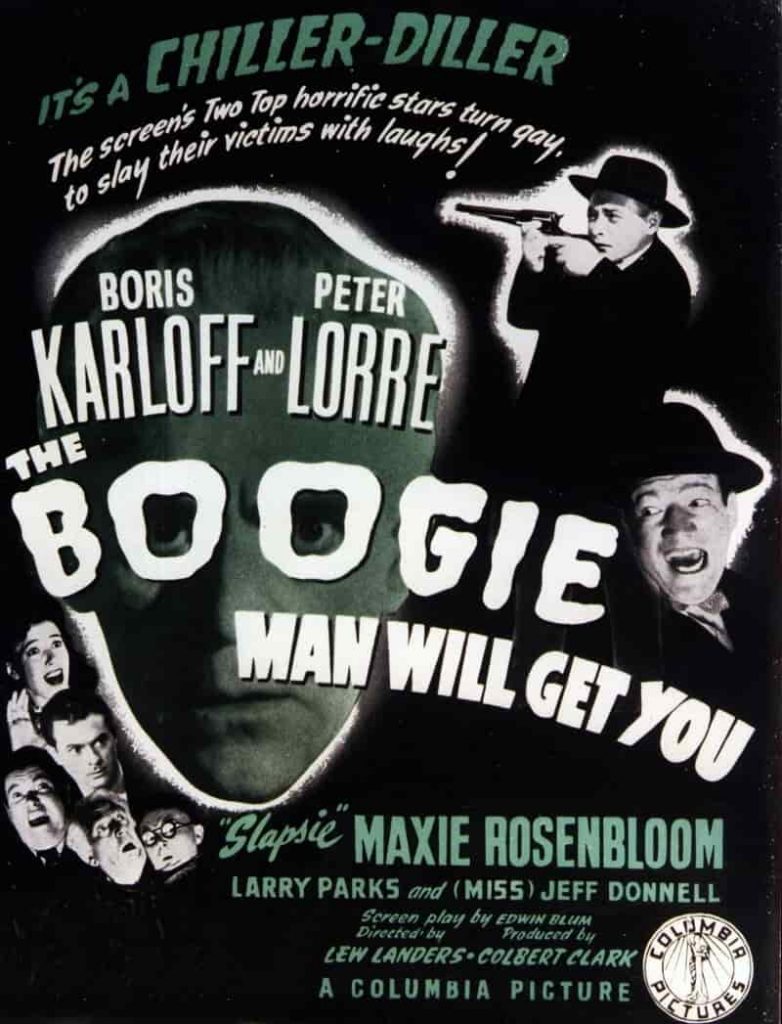 The Boogie Man Will Get You 1942: Trivia Points
This was the last film of a multi-picture contract Karloff had made with Columbia.
At one point, actress Jeff Donnell fluffed her line and referred to Professor Lorenz as Professor Lorre – the mistake remains in the finished film.
And yes… I expect the caption at the top of the film poster would be worded differently nowadays. Stop sniggering at the back.
Have you seen The Boogie Man Will Get You? Tell us about it in the comments section below!
Watch The Boogie Man Will Get You 1942