A three-part adaptation of Dracula starring Claes Bang, from the men behind 'Sherlock' is set to air on the BBC this winter.
From the teaser released last month, and from what creators Mark Gatiss and Steven Moffat have said in interviews, CHRIS NEWTON has figured out what we can expect from the count's latest incarnation…
Horror
Off the back of the pairs' 21st Century take on Sherlock Holmes, which itself followed Moffat's modernised version of another Victorian Gothic masterpiece – 'Jekyll' – I was braced for a revamped Dracula, and half expected the show's title to be 'Count'.
But it's easy to forget that, prior to Moffat's tenure as Doctor Who showrunner, he was famed as a Doctor Who writer for penning 'the scary ones'.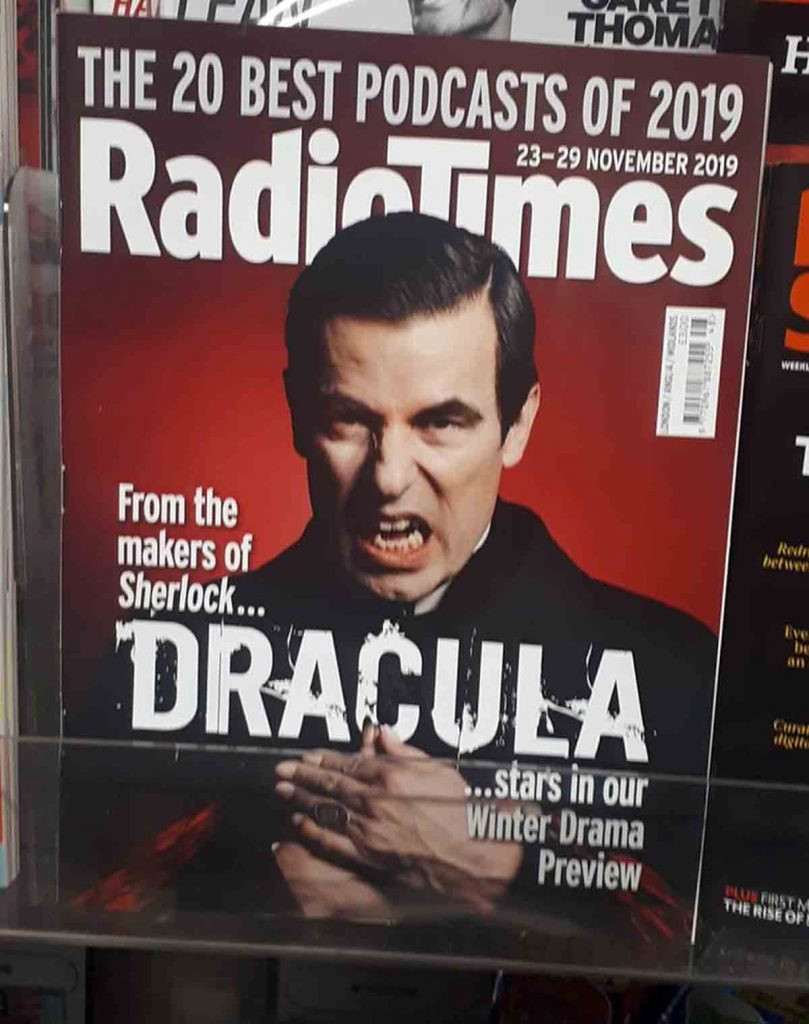 If you need remining of this, it's worth noting that my list of 10 Scariest Moments in Doctor Who features three Moffat stories (which put him on a par with the legendary Robert Holmes). Not to mention Gatiss' excellently atmospheric 2005 story The Unquiet Dead and the more genuinely frightening elements of The League of Gentlemen – particularly the Christmas Special, an Amicus style portmanteau episode which featured a fantastic vampire story.
Respect for the Subject Matter…
From the visual nods to Nosferatu (1922) in the aforementioned Christmas Special to Gatiss' incredibly in-depth A History of Horror documentary (part two in particular, Home Counties Horror, focuses on the Hammer Dracula films), the Sherlock stars' love of the genre – and the character of Count Dracula – are well documented.
My fears of a modern day Dracula were unfounded, as the 2019 iteration of the tale will remain in 19th Century Transylvanian shadows and Victorian London gloom.
Whilst the writers have been notoriously coy about exactly what makes their version unique, the teaser trailer afforded us glimpses of Renfield, The Demeter, Jonathan Harker and, of course, the red eyed, fanged count himself, so it looks as though it's staying fairly faithful to Stoker's novel. I'm personally praying to see Whitby onscreen. It was regular childhood holidays to the Yorkshire seaside town and its ruined abbey that sparked my lifelong love of vampires.
…And a healthy dose of irreverence
It was a great twist, over sixty years after the novel and following several screen adaptations, for Hammer's Dracula (1958) to begin by pulling the rug from beneath the viewer's feet with the early revelation that John Van Eyssen's Harker was, in fact, a vampire hunter come to kill the count in his own castle.
It surprised them further still by having Harker, a main character in the novel, killed off within the first quarter of the film. After all, if you're resurrecting a well known tale, it needs a certain amount of reinvigoration.
Gatiss has already described their version as "extremely faithful and entirely faithless at the same time."
The most notable difference that we know of being that Claes Bang's Dracula is going to be the main character in his own series.
It's certainly a gamble, as one of the things that makes the novel so chilling is the absence of its titular character.
Especially in London, Dracula is rarely glimpsed, but his oppressive presence is felt by everyone, which gives the story its inescapable atmosphere of dread. I always felt that Brian Fuller's 'Hannibal' never quite worked, primarily because he took the wonderfully peripheral, menacing and, while we're on the subject, not entirely un-Dracula-like Dr. Lecter and made him a protagonist.
Too immoral to be a hero, but defanged enough to lack the menace Anthony Hopkins brought to the same role. Interestingly, Hopkins was only onscreen for sixteen minutes in his Oscar winning performance in The Silence of the Lambs (1991), just as Christopher Lee was only in Dracula (1958) for seven minutes. Nevertheless, their characters presence seems to haunt every scene. Will Dracula work front and centre?
A soundtrack to die for
The music will be provided by David Arnold and Michael Price, who were also the composers on Sherlock.
Whilst you probably remember the series for its bombastic theme tune, the score was incredibly textured, with some beautifully maudlin and melancholy moments.
Series Two, especially. I recommend revisiting Irene's Theme and getting excited about these two doing gothic horror.
A Dracula for a new Generation
"It's like Bela Lugosi and Christopher Lee had a child." Gatiss said of Claes Bang. The Danish actor was their first choice for the role after they saw him in The Square (2017).
When asked what we could expect from his take on the iconic count, Gatiss and Moffat commented, tongues firmly in cheek, "vampirism, blood drinking, tallness, handsomeness, Danish-ness."
Of the character himself, Gatiss said, "He's the first Byronic vampire. He's the first one to set pulses racing." So it would stand to reason that tallness and handsomeness were top of their list. The trailer looked fantastic, full of gore and gothic delights, but Bang's brief appearance at the end was the only thing which left me with doubts.
Was that an estuary accent? It's a far cry from Lugosi's "children of the night", but then the writers have said they want to break away from the campy perception of the character and restore him to his terrifying roots.
Perhaps he will be to Dracula what Christopher Eccleston was to Doctor Who in 2005?
Time will tell. There have been so many interpretations of this character and his story over the last century. Some have become cultural icons, whilst others have faded into obscurity. As Van Helsing himself would remind us, "we learn from failure, not from success!"