Reading Time:
10
minutes
Belfast is full of ghosts and hauntings. ANN MASSEY reveals her 30 most haunted Belfast locations.
Belfast is the Northern Ireland capital city and is founded on a site dating back to the Bronze Age.
It was given city status by Queen Victoria in 1888 and lies between the counties of Antrim and Down.
With a documented bloody history from the Middle Ages to recent years, as well as being at the heart of the Industrial Revolution and the shipbuilding era including The Titanic, it is little wonder Belfast is full of the ghosts of the past!
Friars Bush Graveyard, Belfast BT9 5AA
The historic burial ground sits right in the heart of the University Quarter.
It centres on a 19th century mass grave for hundreds of cholera victims and ghostly figures are seen walking through the graveyard.
A tunnel runs beneath Friar's Bush connecting university buildings.
Many using the tunnel have felt the grip of unseen hands and have been left chilled to the bone.
Smithfield Market, Belfast BT1 1JE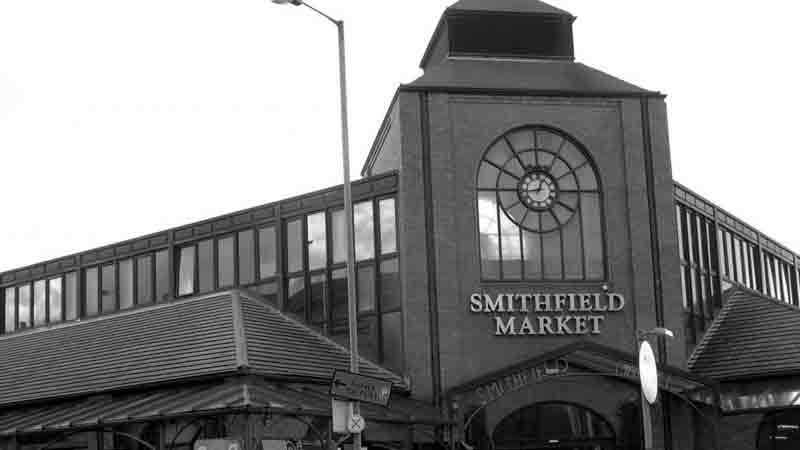 Biddy Farrelly was a former lover of a wealthy local businessman.
She was abandoned so he could seek his fortune in Dublin and Biddy turned to drink.
When her ex-lover died he left her a sum and she duly drank herself to death. She is still seen wandering the market, looking for her man.
Read more about Haunted Smithfield Market in Belfast here.
Crumlin Road Gaol, Belfast BT14 6ST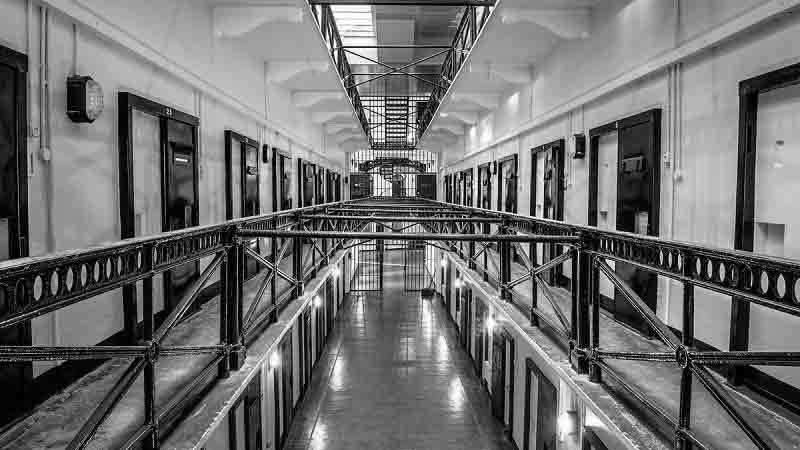 This Belfast prison held some of Ireland's most notable criminals and was the site of many an execution.
The subject of many accounts of paranormal activity, hauntings include the spirit of an American hanged despite his innocence, who walks the prison wings and the screams ring out at night of a young condemned lad who killed himself rather than face the noose.
Read more about Crumlin Road Gaol in Belfast here.
Belvoir Park Hospital, Belfast BT8 8JP
Although no longer in use, the former fever and radiotherapy centre is still maintained for the purpose of being a quarantine unit should the need arise.
Security guards have reported shadows and eerie sounds and makeshift shrines and mutilated animal corpse have been appearing around the hospital grounds.
Grand Opera House, Belfast BT2 7HR
This 125 year old Victorian building is a place where not just musical notes linger.
Actors have said they have been watched by a mysterious figure as they leave the dressing rooms and many believe they have been followed on stage.
Musicians have seen ghostly figures sat in the auditorium as they rehearse and a former manager who died of a heart attack in the 1920s is said to haunt the foyer.
Grand Central Hotel (Castle Court Shopping Centre), Belfast BT1 1DD
This old hotel was knocked down to make way for the city centre shopping mall.
Scottie Shoe was a gas fitter who died on site and took to haunting the corridors.
The British Army commandeered the location during the First World War and they were terrorised by Scottie's ghost as he appeared with his legs through the floor.
HMS Caroline, Belfast BT3 9DT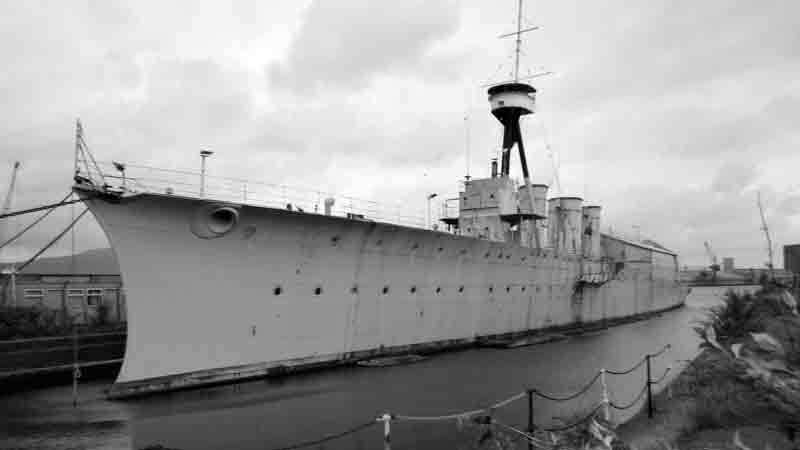 The former war vessel has seen massive changes since her days in the Battle of Jutland.
Now a museum, it is said to be haunted by a phantom stoker who took his own life on board the ship.
George Best Hotel, Donegall Square South, Belfast, BT1 6JH
Currently being renovated, this boutique hotel is set to open in the summer of 2019 in the former Scottish Mutual Building.
It is a listed landmark overlooking City Hall and named after one of Belfast's most loved sons.
Built in 1904, it replaced a former linen warehouse of the 19th century.
Paranormal enthusiasts have warned the new hotel owners that there have been recordings of supernatural occurrences and of course, George Best himself may check in on progress!
York Road Railway Station, Belfast BT15 1JA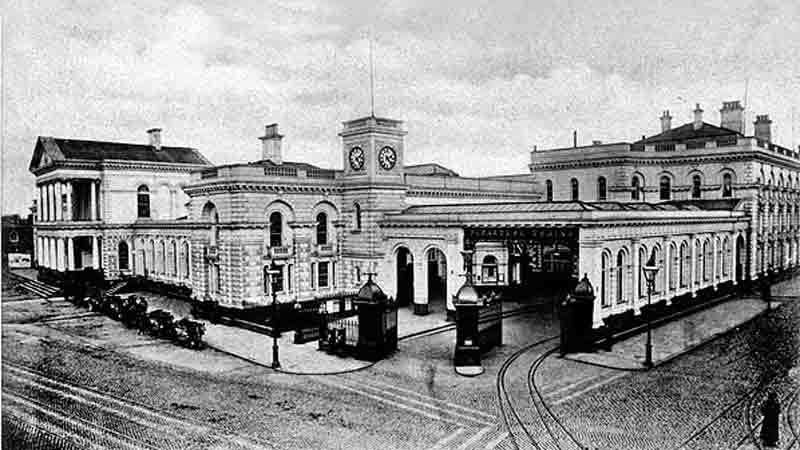 The former terminus was operational from 1848-1992.
It sustained serious bomb damage during an air raid in 1941 and a worker was killed in a botched robbery in the mid-1970s.
Travellers would see the spectre of a man sat in a locked canteen at night and staff would regularly hear footsteps in empty locations.
Queens Bridge, A2, Belfast BT1 3BF
This mid-19th century bridge was opened by Queen Victoria and provides passage across the River Lagan.
There have been numerous sightings of a mysterious cloaked dark figure on the bridge who just disappears.
In 1910 startled workers returning home from the nearby shipyard raised the alarm, convinced the spectre had thrown themselves into the murky waters below!
Cave Hill, Belfast BT15 5GR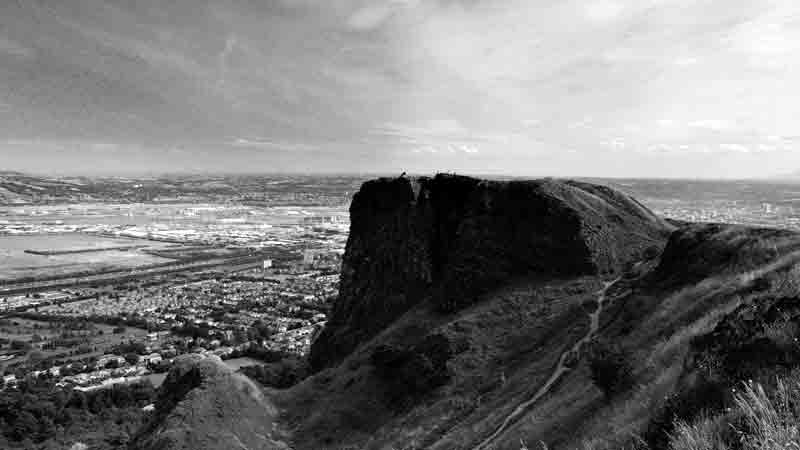 This location of natural beauty looms over the city of Belfast.
Stories dating back hundreds of years tell of petrifying spectral figures being sighted and alarming echoes sounding out through the dead of night.
Reports date back of a man seen floating through the mist until a skull was found by a hiker in the nineteen twenties.
The bones were then discovered of a local man who had killed himself and he received a proper burial after which the floating form was seen no more.
Read more about Cave Hill in Belfast here.
Old John Street (Royal Avenue) Belfast, BT1 1DD
Now Royal Avenue, the street was haunted by the angry spirit of an old lady whose poltergeist activity included throwing china and furniture around as well as creating a whirlwind of destruction in the back yard.
Her apparition was also seen pacing the floor and muttering.
Workers renewing pipework in the late 19th century discovered a female skeleton which was subsequently exhumed and reburied in the Union Graveyard.
Clifton House (Workhouse), North Queen Street, Belfast, BT15 1EQ
Having been approved as a poor house for 36 'inmates' and 24 hospital beds, Clifton House was opened in September 1774.
In 1800 the chief medic for the facility was granted permission to experiment with vaccination on children and housed those deemed insane.
Former employees say footsteps were heard in empty corridors, shadowy figures seen during times of imminent patient death and the basement had an eerie, evil presence to scare off the hardiest of workers.
Good Shepherd Convent, Ballynafeigh, Belfast BT7
This old convent had been host to a myriad of poltergeist activity and the sound of disembodied screams for centuries.
The ghost of a young woman known as Ellen was also spotted.
The teenager reportedly was scalded to death after falling into a giant vat of boiling water.
Lucifer's Match Factory, Millfield Place, Belfast
Employees of the ominously named place of work refused to call it by its correct title of Lucifer's Match Factory in case it brought the power of hell down on them.
On 15th December 1882, a horrendous fire broke out, and four children filling matchboxes succumbed to the inferno.
After it was rebuilt, locals were terrorised by piercing screams and cries of fear after hours, which continued until Lucifer's Match Factory was demolished.
St. Patrick's Church, Drumbeg, Belfast BT17 9LE
James Haddock died in the 17th century and left a will.
The executor married James' widow and doctored the will to his advantage. The ghost of the deceased man haunted a friend repeatedly whenever he passed the church until a court case took place.
The spectre of James Haddock appeared as a witness and justice was done.
He is buried in the churchyard and his gravestone will not stay standing.
Read more about the ghost of James Haddock here.
The Giant's Ring, Belfast BT8 8LE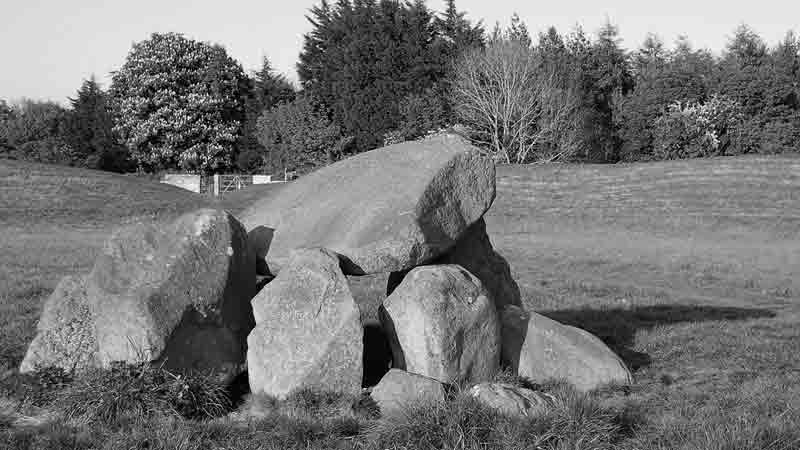 This Neolithic gem has been the subject of dark Pagan ritual for centuries and it is believed that sacrifices and dark rituals took place.
There are reports of a mist suddenly surrounding the site and no matter what direction witnesses tried to leave, they found themselves back at the centre Dolmen.
Hill Street, Cathedral Quarter, Belfast BT1 2LB
Hotel staff have reported the sight of a spectral figure when leaving after a shift.
Female workers have been terrified by the sight of a strangely dressed man in black, smoking a cigarette and walking across the cobbled street by the famous Harp Bar before fading into nothing.
Steam Mill Lane, Belfast BT1 3AL
A cart accident in the lane in 1928 led to a local woman being crushed to death.
In the days following her burial, the distraught family received several visitors who swore they had seen the woman walking in the direction of Steam Mill Lane.
Jennymount, off York Road, Belfast BT15 3HE
This former mill location was home to Galloper Thompson.
In some accounts he is a Victorian traveller who would take horses to explore and return them weary.
He stated if there was no place in heaven for him, the weary explorer would haunt his former abode on a stolen spectral steed.
In other accounts he was a former worker at the mill who was decapitated and roams the street, mutilated head tucked under his arm.
Ardilea Street, formerly Savage Row, Belfast, BT14 7DG
Also known as Ardilea Street on the Bone, Savage Row was named after John Savage, a mill owner who constructed houses for his mill workers.
Savage was a wealthy young man who made his fortune from the linen trade, before committing suicide.
He is said to haunt the same paths as Galloper Thompson.
Tram Route, Belfast
Jubbie was a cheerful dog regularly walked by his aging owner in the local park.
When he was let off his leash he would playfully chase the trams that went by until one day, Jubbie ran under a moving tram and was shorn in two.
His distraught owner picked him up and took him home.
For some weeks after, the spectre of the mutt was seen until locals noticed his owner had not been seen.
Authorities broke in to discover the man dead for some time, cradling the remains of Jubbie.
College Park, Botanic Avenue, Belfast BT7 1LP
Formerly College Square East, this was the birthplace of William Thompson in the early 19th century.
That name may not be familiar; however the mathematics professor went on to become Lord Kelvin, due to his work in thermodynamics and the creation of the 'Absolute Temperature Scale' and 'Absolute Zero'.
His statue stands with pride in the Botanic Gardens and it would appear after nearly dying as a child here and with the death of his mother and siblings, not even his lead lined coffin stops him returning home.
Queen's University, University Road, Belfast BT7 1NN
Opening in the mid-19th Century, the former Queen's College was deemed a counterpart to Trinity College in Dublin.
Previous alumni members include former Irish President Mary McAleese, poet Seamus Heaney and actor Liam Neeson.
Students in the library feverishly studying for last minute exams have been distracted by an elderly gentleman checking on their studies before walking through the wall at the end of the stacks.
Craigavon House, Circular Road, Belfast BT4 2NA, UK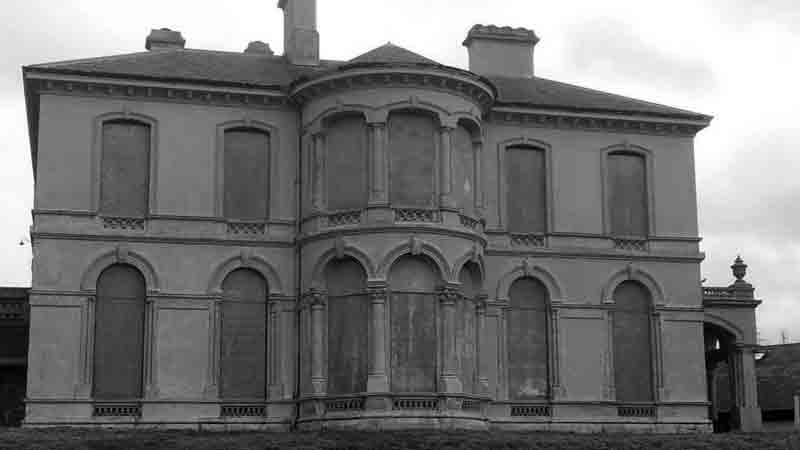 The grand mansion was built for James Craig, a director of the Dunville Whiskey Distillery in 1870.
James was a staunch Orange Man and the headquarters of the Ulster Volunteer Force was transferred to his home.
In 1915 the grand house become the UVF hospital.
Paranormal investigations onsite have heralded claims of bearded gentry reflected in surfaces and the ghost of a matron who used to serve in the UVF hospital.
Crown Liquor Saloon, 46 Great Victoria Street, Belfast BT2 7BA
Formerly known as the Crown Bar, this public house had its first renovation in 1885.
The Grade A Listed Building is restored to original glory and is used for period filming.
In the heyday of the Crown, it was listed as one of the finest Victorian gin palaces of all time.
Hauntings include the original renovator, Michael Flanagan and a prostitute called Amelia who break her neck falling down the stairs of the establishment.
Royal Courts of Justice, Chichester Street, Belfast BT1 3JF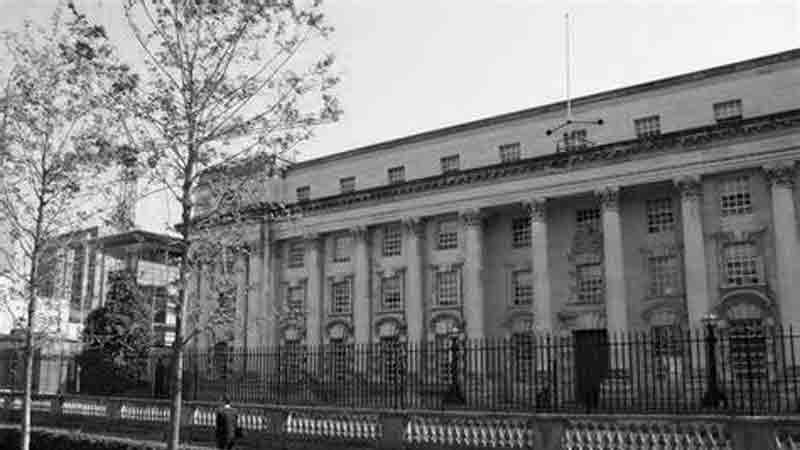 The courts founded at the start of the 20th Century comprise the Court of Appeal, High Court and Crown Court for Northern Ireland.
It sustained bomb damage in in 1990 but underwent sympathetic restoration and remains a landmark.
Officers guarding the court have reportedly seen the ghostly spectre of a woman in Victorian dress sternly descend the staircase and vanish through the solid walls of the building.
Horseshoe Bend, Crumlin Road, Belfast
The location is a very steep incline in the shape as the name suggests, on the Crumlin Road.
It was the former main road to the International Airport in Belfast.
From the early 1970s until very recently, motorists have described slowing down for a hitchhiker on the bend, only to have him evaporate in front of their very eyes.
Perhaps he now uses the newer M2 route to the airport!
Jaffe Memorial Fountain, 2-6 Victoria Square, Belfast BT1 4JW
Daniel Joseph Jaffe was a British civil engineer turned politician and philanthropist.
The businessman founded Jaffe Brothers in Bedford Street with his sons, including Otto who went on to become Mayor of Belfast.
The memorial was originally founded on the site of the Jaffe Warehouse and Martin, Otto's older brother purchased a plot in the City Cemetery which went on to become the Jewish Cemetery.
Even after being restored and moved to Victoria Square, the monument and the Jaffe headstones in the cemetery continued to be vandalised.
The outraged spirits of Daniel and his brothers patrol, watching for vandals in their midst.
Belfast Waterworks, Belfast
The Herdman family were wealthy mid-19th century linen merchants with a mill in Smithfield that moved to the Crumlin Road.
While walking through the Waterworks with a female companion, John Herdman was accosted by his cousin William, who demanded a moment of the gentleman's time.
John dismissed him and continued with his companion Ms Thompson, when shots rang out.
The lady was unarmed but as she turned, she realised John has been fatally injured.
It transpired William blamed his cousin for not receiving an inheritance he thought was due him.
William surrendered to police and was sentenced to hang. His defence team brought a plea of insanity, which together with family money had his sentence reduced to life in an asylum.
Both are said to haunt the area of the Waterworks.