Reading Time:
6
minutes
KEITH COLEMAN looks at 10 haunted Cornwall pubs, inns and hotels worth a visit!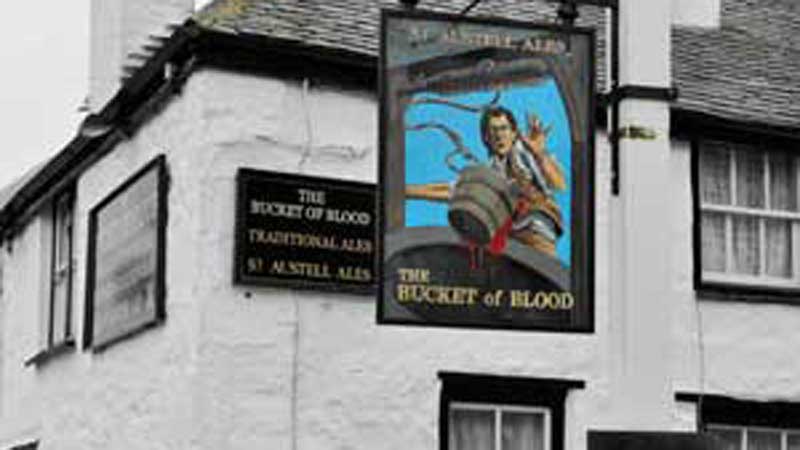 Haunted Cornwall pubs
1.) The King's Head, Five Lanes
Just north of the A30 lie the neighbouring villages of Altarnun, Five Lanes and Trewint.
In the second of these villages is an inn founded in 1623, which became a staging post for coaches going to and from to London in the mid 18th century.
The largest building in the village, it has had many names over the years, including 'The Indian Queen', 'The London Inn', and 'The Five Lanes Inn'.
Although it was a meeting place for both Royalists and Cromwellians around the time of the Civil War, its resident ghost comes from later, more peaceful times.
Peggy Bray is the ghost's name and she is a former landlady of the inn.
Her loved converted to Methodism and Peggy killed herself which seems a bit of an over reaction.
She revisits the place to make sure that it's being run according to her standards and some visitors sense her presence in a chilly spot midway down the long passageway upstairs.
Her footsteps are also heard echoing along this corridor. Nearby was another pub, 'The Ring o' Bells', scene of many a drunken marathon by local tin miners but now operating as the more genteel Maid Marion Stores.
2.) The Ship Inn, Mevagissey
The Ship Inn, in the Cornwall coastal resort of Mevagissey, is a mere 400 years old.  Like the King's Head, the Ship is blessed with a resident former landlady, Lil Barron, who ran the place from 1910 to 1947.
She too keeps an eye on her beloved bar, and it's a good job because the Ship has the unenviable title of 'Britain's Most Flooded Pub'!
It was inundated an incredible eight times in the space of just two months, back in 2012.
Some people blame the fact of this bizarre frequently flooding on the fact that Lil's picture was taken off the wall where it had pride of place.
The Ship had been flooded occasionally but never like it was in the period when her photo was absent.
When Lil's picture was displayed again, the incidents ceased. Lil's presence is felt in one of the guest rooms and is sometimes seen behind the bar.
3.) The Three Pilchards, Polperro
This pub is the oldest in the pretty south coast fishing village and takes its name from a trio of fish merchants who used to sell the local catch in the establishment.
Thankfully, there is no ghostly smell of fish within the walls, but there is sometimes an overpowering, baffling scent of violets that vanishes as mysteriously and quickly as it arrives.
Some drinkers (even sober ones) claim to have seen the ghost of a milkmaid and a cow at the rear of the premises.
But a more sinister ghost is that of a woman seen and heard upstairs.
She is probably the beaten wife of a publican who suffered here in the 1860s and has been reliving her domestic ordeal ever since.
The pitiful sound of her scuffling and trying to escape echoes around the old walls.
Read more about The Three Pilchards Pub here!
4.) The Crow's Nest, Darite
The Crow's Nest is tucked away on the edge of moorland, far from the hustle and bustle of modern life.
Perhaps this solitude has helped it maintain its complement of four ghosts.
What is it about former pub proprietors in Cornwall not knowing when to quit? This inn is home to long standing landlord Eddie Charles Murch.
He was the owner back in the early 20th century and died on duty, expiring behind the bar at the age of seventy-two.
This former publican, however, does not like modern occupants.
A recent landlady was subject to Eddie's invisible ire when a full pint levitated itself off the bar and onto the floor before her very startled eyes. It was only her second day in charge and someone clearly objected to her presence!
There is also a haunted clock on the premises that always runs ten minutes fast.
5.) The Crown Inn, St Ewe
Okay, this is getting ridiculous!
This 16th century village pub, a few miles up the road from Mevagissey, has yet another spooky ex-landlord.
How do they get publicans to run Cornish inns when the dead bosses refuse to quit? Anyway, the former manager here is allegedly Norman Jeffrey.
Not as openly hostile as Eddie at the Crow's Nest, Norman makes himself known by plunging the temperature at a table by the fireside – a neat trick.
Animals often sense him passing and although he has not been directly seen, his shadowy shape has often been detected here.
But there is also a ghostly dog within the pub, which is usually only sensed when customers with their own dogs come in.
6.) Bucket of Blood Inn, Phillack, near Hayle
How could a place name this not be haunted?
It used to have the mundane name of 'New Inn' but an owner changed it to the present colourful name because of this legend.
An owner many years ago went to his well to draw up some water, but got a nasty surprise when his bucket came to the surface.
You guessed it – instead of water, the pail contained blood.
Some nasty person had murdered a man and thrown his badly mangled body down the well.
Since that time, a drippy wet, mutilated form is sometimes witnessed in the public bar.
It is said that the building incorporates material from a 12th century religious foundation, which explains why a brown robed spirit o a monk is also seen here.
Oh and there are reports of a poltergeist here too.
Bucket of Blood beer was recently on sale here (not made with real blood).
Read more about The Bucket of Blood here!
7.) The Wellington Inn, Boscastle
The 17th century Wellington Hotel thankfully survived the remarkable Boscastle Flood in 2004.
Despite its venerable age, locals know the place by the familiar name of the 'Welly'.
It has at least three ghosts: a little old woman, a coach driver, plus a small girl.
Anyone foolhardy enough to go looking for supernatural thrills here is advised to book into either Room 9 or Room 10 (the little old lady ghost haunts here, sitting on the bed or walking through the closed doors).
The coachman has been witnessed flitting about the reception area dressed in 18th century apparel.
Another form, swathed in mist, is said by some to be the spirit of a jilted woman who threw herself off the hotel roof.
Room 9's 'other occupant' scared a human guest by creeping up to his bed in 2009.
8.) The Finnygook Inn, Crafthole
Crafthole is another small coastal village with a big ghost.
Silas Finney was a large character in life and he refuses to leave the premises which are named after him ('gook' is a local word for ghost).
The pub dates from the 15th century and was long a den for smugglers and criminals.
Old Silas was one of their number and all went well with him until he had an argument with some colleagues about a contingent of spirits, lace and tobacco and got murdered at Bliger's Well, on the hill between Crafthole and Portwrinkle, in the 18th century.
The hill is avoided by some locals at night time.
Another well is said to be concealed beneath the present kitchen, and here some say the corpse was stuffed, but hopefully old Silas's body has been removed.
It is rumoured that he was done in by a gang of cut-throats who he had caused to be transported from the colonies.
9.) The Dolphin Tavern, Penzance
This watering hole in Penzance has three ghosts, but sadly none of them is a pirate.
Number one is an ancient sailor in a three-cornered nicknamed George who stamps about in an upstairs room, causing no harm.
A lady of easy virtue from former times makes herself more known in the bar area, plus there is a younger, blond chap who sits at the bottom of guests' beds.
This place is another pub which is incredibly old; some say as much as 500 years old.
It was in this building that the naval hero Sir John Hawkins planned the defeated of the Spanish Armada with his Cornish associates in queen Elizabeth's time.
A later, more dubious guest was Judge Jeffries, who held some of his ruthless bloody assizes here.
Poor old George is reckoned to have been condemned by the Hanging Judge for some minor crime, or else he was a sea captain involved in illicit trade who has returned in search of his smuggled booty.
10.) The Crumplehorn Inn, Polperro
The Crumplehorn has only been a public house since 1972 and before then it served a variety of uses.
The series of buildings comprises an old mill, the separate Killigarth Mill and Crumplehorn Farm.
With such a complex history, the ghosts could have sprung from any phase of its history.
There are voices and noises heard in various parts of this building complex and shadows and reflections which should not be there.
One theory says that the primary ghost is the unhappy remnant of a World War I deserter who hid here from the authorities.
Another alleged manifestation here is harbourmaster Zephaniah Job.
His spare-time activities included him being a banker for the local smuggling fraternity.
Needless to say, he came to a sticky end, and he has been haunting the place ever since.
KEITH COLEMAN, a native of Dundee, lives and works in Cornwall. His research interests are folklore on Angus and Cornwall, plus legends of the Scottish kings. He also writes ghost stories and dark fiction. Follow him on Twitter @Gododdinman.