Ingrid Pitt had a wide and varied career, writes RICHARD PHILLIPS-JONES in his profile of the Hammer Glamour icon
NAME: Ingrid Pitt (Ingoushka Petrov)
BORN: 21st November 1937 in Warsaw, Poland
DIED: 23 November 2010 in South London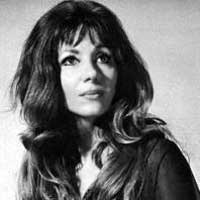 It says much for the power of the cinema that Ingrid Pitt is one of the iconic faces of Hammer horror, despite only making two films for the company.
Indeed, you could count the number of horror movies she made in the 1970's on one hand.
And yet… Ingoushka Petrov (as she was born in Poland in 1937) survived a harrowing childhood which included being held in a Nazi concentration camp.
Her acting career started on the East German stage, but ended abruptly when her outspoken nature attracted the ire of the authorities, and she had to flee the country.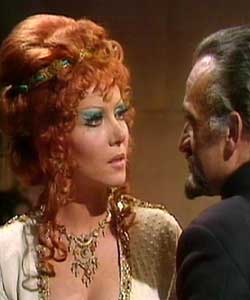 After studying under Lee Strasberg at the Actors Studio, she found herself in a rut of TV bit-parts until a key role in war actioner Where Eagles Dare (1968) caught Hammer's attention.
Figuring that her voluptuous features and eastern-European accent would suit their adaptation of J. Sheridan Le Fanu's Carmilla, she was subsequently cast in The Vampire Lovers (1970) and her screen immortality was assured.
Such was Pitt's immediate impact that rivals Amicus quickly cast her opposite Jon Pertwee in vampire segment The Cloak for The House That Dripped Blood (1970).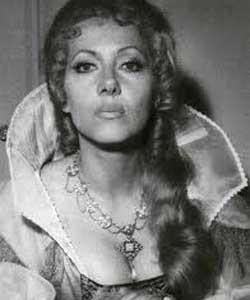 It was then three vampire flicks in a row, with a return to Hammer for 1971's Countess Dracula. The film was something of departure from the company's usual style, and was structured more as a thriller of political intrigue with horrific overtones.
Long considered something of a let down, it can perhaps now be better appreciated as an attempt to take a different approach to the genre.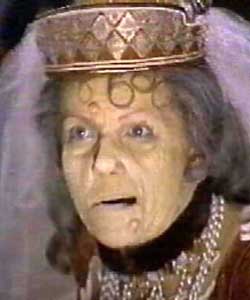 Inexplicably, Hammer chose to re-dub Pitt's voice this time around, whilst co-star Sandor Eles' was left untouched. Pitt was so incensed that she allegedly refused to speak to director Peter Sasdy again.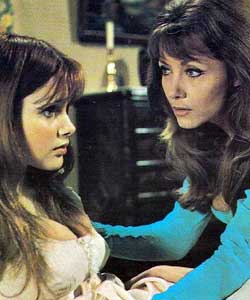 1973 saw Pitt appearing as the local librarian in the classic The Wicker Man. Behind-the-scenes disruption and studio politics may well have led to her role being drastically reduced in the originally released version. Tellingly, her character was missing entirely from the film's novelisation.
By the middle of the decade, Pitt had taken a sabbatical from the screen.
The 1980's saw her return in a variety of non-horror film and television roles. She also turned her hand to writing, and wrote a script entitled Osmosis for the proposed second series of Hammer House Of Horror.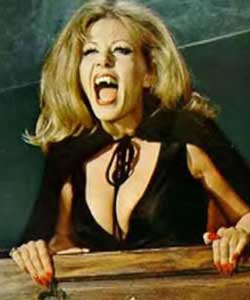 Despite the show's success, a change of management as ATV became Central Television saw it cancelled. Pitt's screenplay remained unmade.
Regardless, Pitt continued to pursue her writing career.
The thriller Cuckoo Run was later followed by The Bedside Companion For Vampire Lovers, which was successful enough to spawn follow-ups on Ghosthunters and Murder, Torture and Depravity.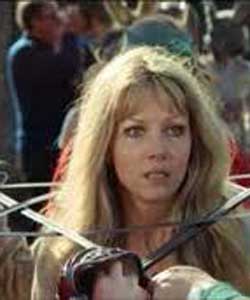 She also wrote on subjects ranging from cricket to motor racing for various publications, as well as on horror for Shivers magazine.
After shooting her last screen appearance for Hammer's tentative return to production, Beyond The Rave (released 2011), Ingrid Pitt passed away in 2010, just two days after her 73rd birthday.
Interviewed for the documentary Hammer Glamour (2013), her co-star in The Vampire Lovers, Madeline Smith said: "Ingrid always… on film and in life, was larger than life. Ingrid was an unafraid lady, unafraid to be herself… She was earthy, she was super, she was frightening, she was loving, she was beautiful."
Ingrid Pitt Horror Filmography