Reading Time:
5
minutes
Manchester has plenty of spooky places to visit if you are looking for ghosts, according to ELLIOT DAVIES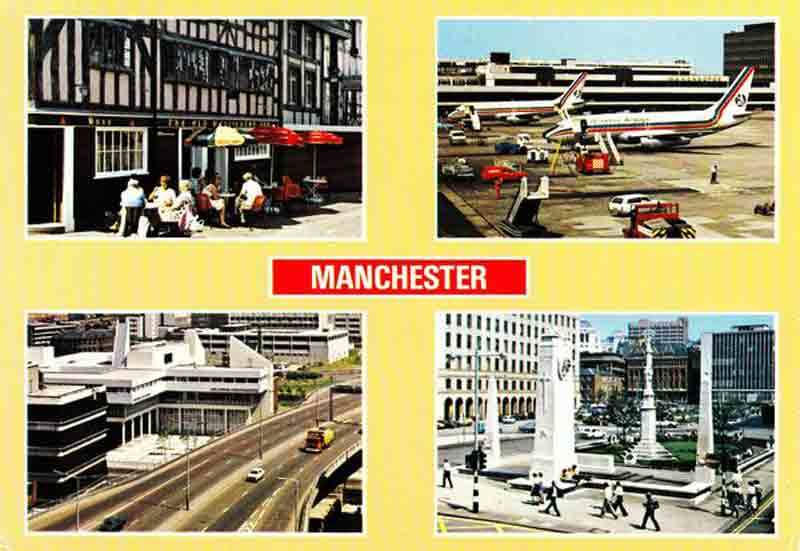 I studied History at the University of Manchester. They ran a module called "Manchester: A Victorian City". I will go to the grave regretting having not taken that course.
Beyond the tales of industrial progress, it apparently amounted to little more than a collection of ghost stories – complete with field trips to morgues, dissection chambers and graveyards.
That they teach the macabre at its university alone suggests that Manchester is a city seeped in ghostly history. Like with many English cities, when you walk through Manchester it's likely that you're never more than six feet away from a ghost. Here are five of the most chilling places to visit in Manchester.
Haunted Manchester: Wardley Hall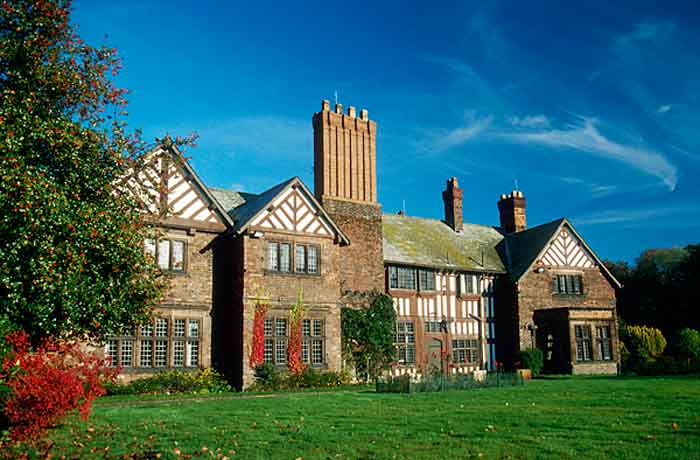 One of the only buildings in the North West to be mentioned in the Domesday Book, Wardley Hall is now the official residence of the Roman Catholic Bishops of Salford.
However, for almost 200 years the place went by the name of "Skull House".
Legend has it that Wardley Hall used to house a skull that stubbornly resisted all attempts to bury it. They tried throwing it in the moat, but this caused such tempestuous storms that the water had to be drained so that the skull could be retrieved and returned home.
Other stories suggest that, if you didn't grace the skull with the respect it deserved, it would bewitch you. And you really didn't want to get yourself bewitched.
The skull is popularly believed to have belonged to a royalist by the name of Roger Downes, an inhabitant of Wardley Hall in the late seventeenth century who was killed in a drunken brawl. Even though his coffin was exhumed in 1779 and his entire skeleton was found to be intact, we can still call the skull Roger, can't we?
Wardley Hall is located some six miles west of Manchester in the midst of a wooded estate in Worsley. As it now houses a psalter of bishops, it's advisable that you call ahead if you want to pay tribute to Robert. They're probably fed up with being asked about screaming skulls, though.
Haunted Manchester: Wardle Brook Avenue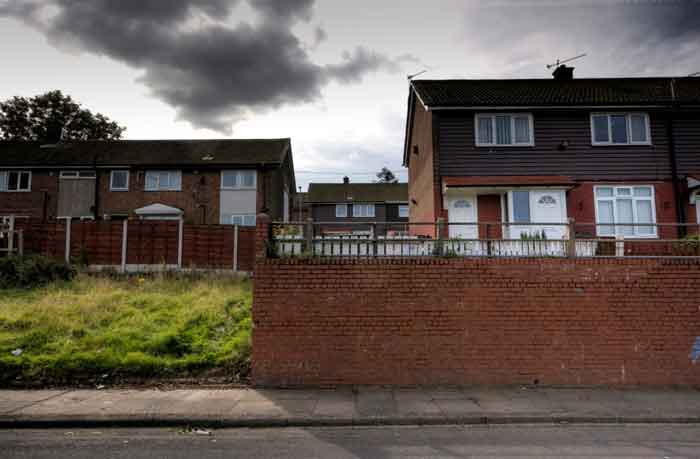 Located in the SK14 region (Hyde), the original house number 16 on Wardle Brook Avenue has now been demolished.
But if you fancy a particularly grim and completely inadvisable pilgrimage, Wardle Brook Avenue might still be worth a visit.
It was here that the Moors Murderers called home, and it was once reported that the sound of crying children could be heard in the months following their imprisonment.
Oh Manchester, so much to answer fo. Morrissey put it best:
We may be dead and we may be gone
But we will be, right by your side
Until the day you die
This is no easy ride
We will haunt you when you laugh
Yes, you could say we're a team
You might sleep
But you will never dream.

The Smiths – Suffer Little Children
Brannigans Nightclub, Peters Street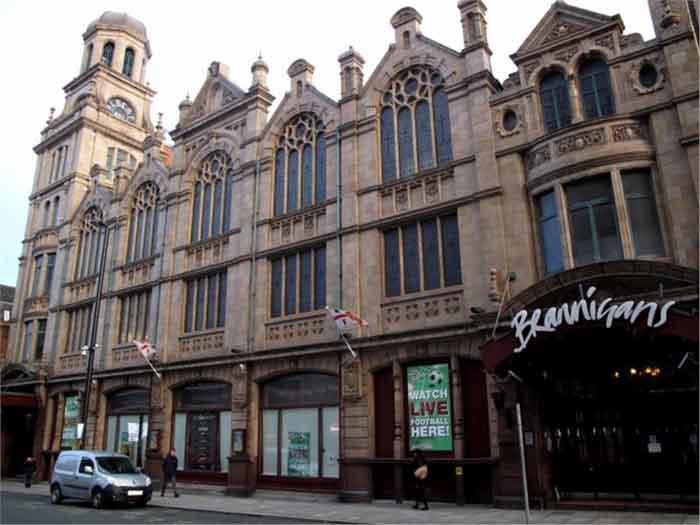 Unfortunately, it seems to be something of a trend that the most haunted establishments in any city must also be the worst. Brannigans was a horrible mess of a place infested by cheap drinks, polo shirts and the worst possible music.
As if the staff didn't have a hard enough time dealing with the deafening cheese, the blinding disco lights and the apocalyptic approach many of the revellers took to drinking, they also had a poltergeist to worry about. That's right: Brannigans is haunted by a ghost who seems to exclusively target staff. There have been reports of broken glasses, malfunctioning taps and even attempts at being pushed down stairs.
For better or worse, Brannigans closed its doors for good a few years ago. Whether it's since re-opened I wouldn't know; but one things for certain: It would take more than a cessation of business to rid the place of its malevolent spirit.
Manchester Cathedral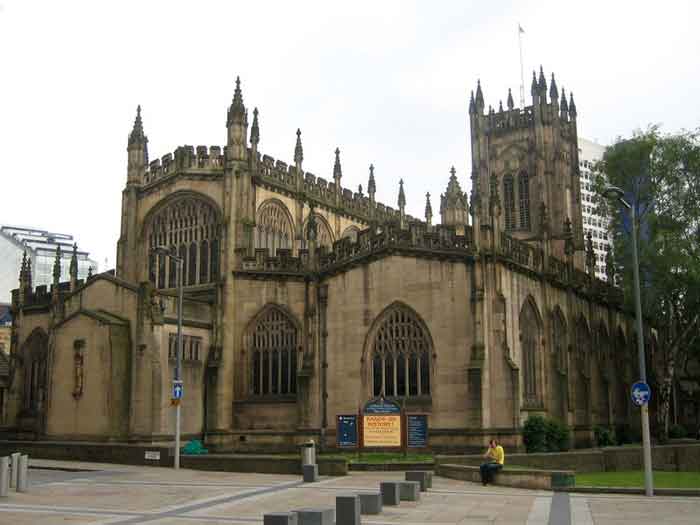 Manchester's Cathedral might not be as striking as that of some other cities, but it's undoubtedly a beautiful building with a remarkably ancient feel to it – even though much of it was renovated in the wake of World War II bomb damage.
It's a lovely, quiet, peaceful place to saunter, and I can heartily recommend that you make an effort to attend one of the poetry readings or live music concerts that take place here. Sound takes on such a rich gravity within the Cathedral that, in recent years, the place has attracted such big names as The Magnetic Fields, Elbow, I Am Kloot, Beach House, Grizzly Bear and Amanda Palmer.
But it's haunted. Very, very haunted. Here took place a decidedly by-the-numbers ghost story in the middle of the nineteenth century. A man caught sight of his sister Fanny stood in the nave. Having thought her to be many miles away at the time, this took him somewhat by surprise. He called to her, but she suddenly vanished. Of course, the next day the man would learn that at about the time of the sighting, Fanny had been involved in a fatal accident. Chilling! Just don't wander around the cathedral shouting "Fanny" in an attempt to summon her spirit. That wouldn't go down well.
The area surrounding Manchester Cathedral has also played host to some sightings of Black Shuck – that legendary giant hound whose spirit, interestingly enough, was once exorcised under a nearby bridge. In a curiously local spin on the story, the Black Shuck that haunts Manchester Cathedral is reportedly headless.
Underground Manchester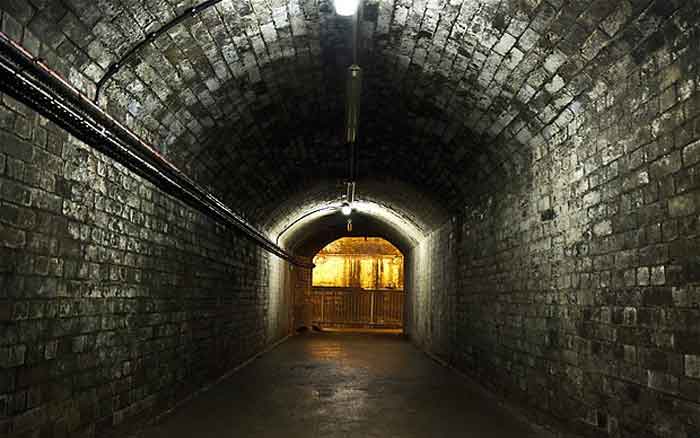 Perhaps Manchester's best-kept yet most popular secret is the network of tunnels that lay beneath the city streets. A complex labyrinth of World War II bomb shelters, ancient chambers and a forgotten underground canal, this is a world so mysterious that even those who conduct tours down there confess that they don't always know what they'll find.
For less than £10 per person, you can take one of two tours of Manchester's creepy underground. One takes in the tunnels beneath the Great Northern Goods Warehouse, but visitors to The Spooky Isles will doubtlessly be much more interested in the Haunted Underworld Tours.
Their site contains some of the most alluring sales copy I've ever read. In trying to sell your service to the public, what sort of mind would write the words "You'll need it to find the pig" without offering any sort of context or explanation?
I'll tell you what sort of mind. Exactly the sort of mind you'd want as your underground guide. They'd know exactly what to do.
Have you seen a ghost in Manchester? Tell us about it in the section below!
READ: The Ghosts of Manchester Airport, Tales of Flying Phantoms!