Title: Drakula Istanbul'da (Dracula in Istanbul)
Year Released: 1953
Director: Mehmet Muhtar
Cast: Annie Ball, Cahit Irgat, Atif Kaptan and Ayfer Feray
REVIEWED BY CHARLES E. BUTLER
Mehmet Muhtar directs this unseen cult favourite based on the story "Kazikli Voyvoda/The Impaling Voivode (1928)" by Ali Riza Sefi and "Dracula (1897)" by Bram Stoker. The screenplay is by Umit Deniz.
This Turkish re-telling of Stoker's story is set in modern times and is surprisingly faithful to the original source novel.
The story begins as Azmi, a lawyer, arrives by train to Bistric on a mission to house the mysterious Count – who is referred to by many names -Drakula/Drukala/Draquell/Dracula – in Turkey.
Azmi (Bulent Oran) is the no-nonsense Jonathon Harker clone who becomes disorientated by the events happening around him and wanders around the Count's very convincing, if sparsley decorated, castle.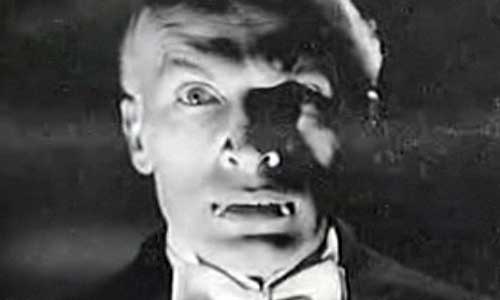 The castle is adorned with many suits of antiquated armour hinting at victories of a bygone time and there is a hunchbacked Renfield character housed within its walls.
In the first 37 minutes, Harker's scenes are played out very faithfully to their source material. Harker/Azmi finds a book on superstitious Rites in the Count's library whose writings of ghosts coincide with the innkeeper's fears for his safety.
It is the hunchback who warns Azmi not to fall asleep in strange places.
Azmi agrees but is rendered unconscious by gas that seeps through the live eyes of a portrait and then seeps through the very stonework of the castle itself.
The lawyer is then visited by a young girl who eagerly nuzzles at his throat causing the Count to lament that she would let him, "miss the best opportunity I've had in years!"
Drakula Istanbul'da has 'unrivalled energy'
Like all European productions with subtitles, the film displays an unrivalled energy.
The cast delivering a more forward balance of the story that is thrust straight at us and isn't trapped by the codas of the censor.
The onscreen stakings lack blood but are played out with grim purpose and intent.
The vampire girl is seductively stacked like a Stepford Wife and – in subtitles – the Count makes no secret of his homosexual longings for this strong young man!
And we have to remember that this is still only 1953!
Annie Ball gives three impressive dance sequences that call to mind the American musicals of Betty Grable or Vera Ellen.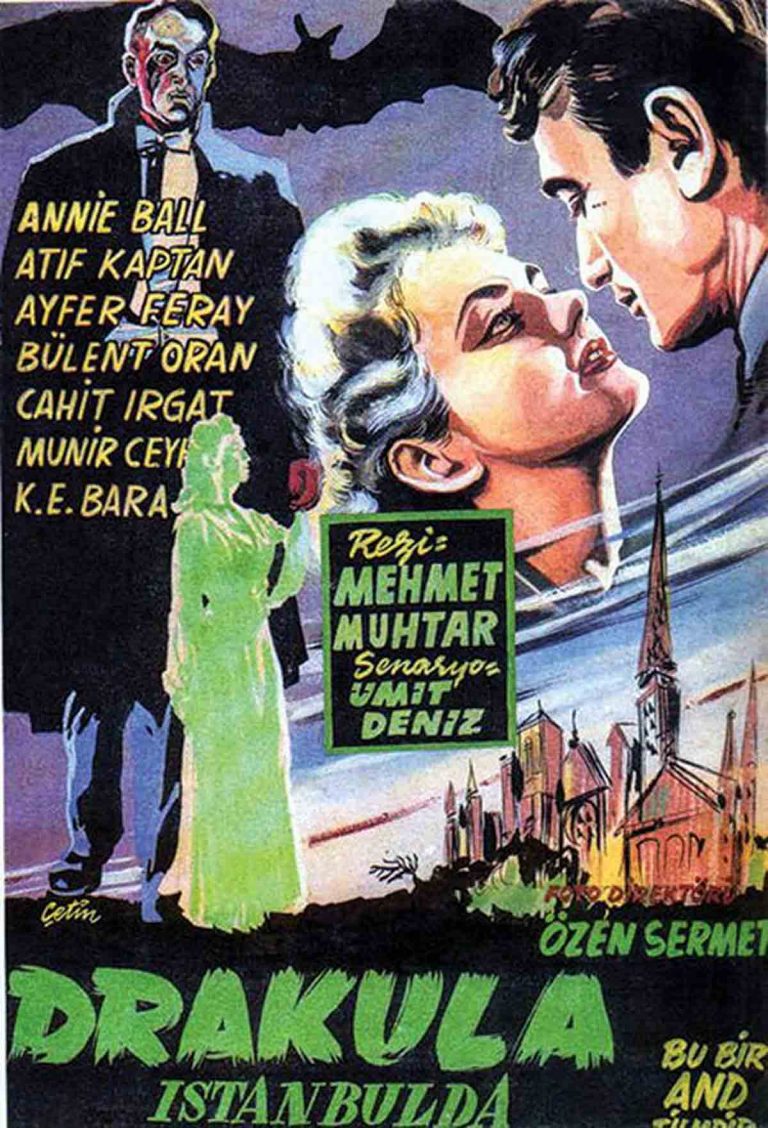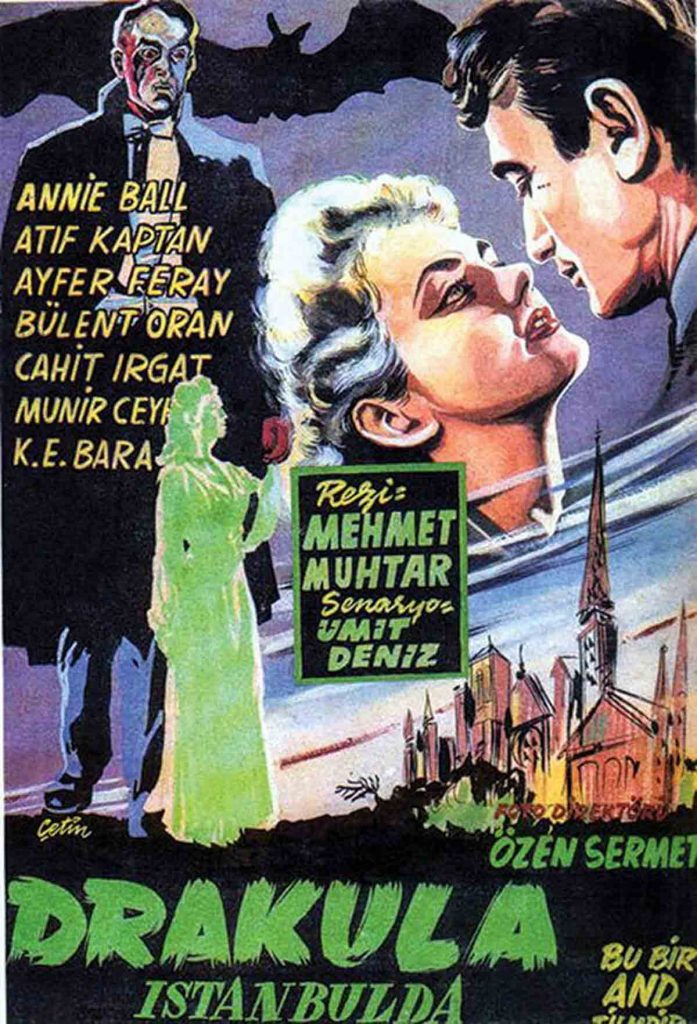 Her flimsy attire hiding no secrets as she enthusiastically throws herself into her routines.
The Count himself uses many of the powers that Stoker armed his own monster with.
Atif Kaptan is shorter than most Counts, but has a hypnotic stare and hungry retractable fangs – the first screen fangs since Nosferatu (1922),
He lays out his caskets neatly side by side in a very clean and well kept crypt.
He doesn't change into a bat, but wears a rather unconvincing bat-mask that is wisely kept in the shadows.
He attacks his servant unmercifully when the hunchback stops him from taking the blood of his sleeping visitor and is the first Dracula to scale his castle wall.
Promising to drain Gunzi, "drop by drop", he insists that she perform his own private lap dance.
Who was Atif Kaptan?
Atif Kaptan was born in Izmit, Turkey in 1908 and was, apparently, as big a horror star as Peter Cushing in his own land!
Billed fifth on the credits he gives an honourable performance as the fourth official Count Dracula. He died, still in demand on April 22nd 1977 aged 68. His last film being Toybekar, released in the same year.
Filmed on a shoestring budget with a generous nod towards cameraman Ozin Sermet for his atmospheric cinematography, the film doesn't disappoint and, after fifty eight years, was well worth the wait.
THE ROMANCE OF DRACULA by Charles E. Butler is available from Amazon UK here, Amazon US here and you can check out the Facebook Page for The Romance of Dracula here.