Reading Time:
2
minutes
Leave your brain at the door when you begin watching The Terror of the Tongs 1961, says TERRY SHERWOOD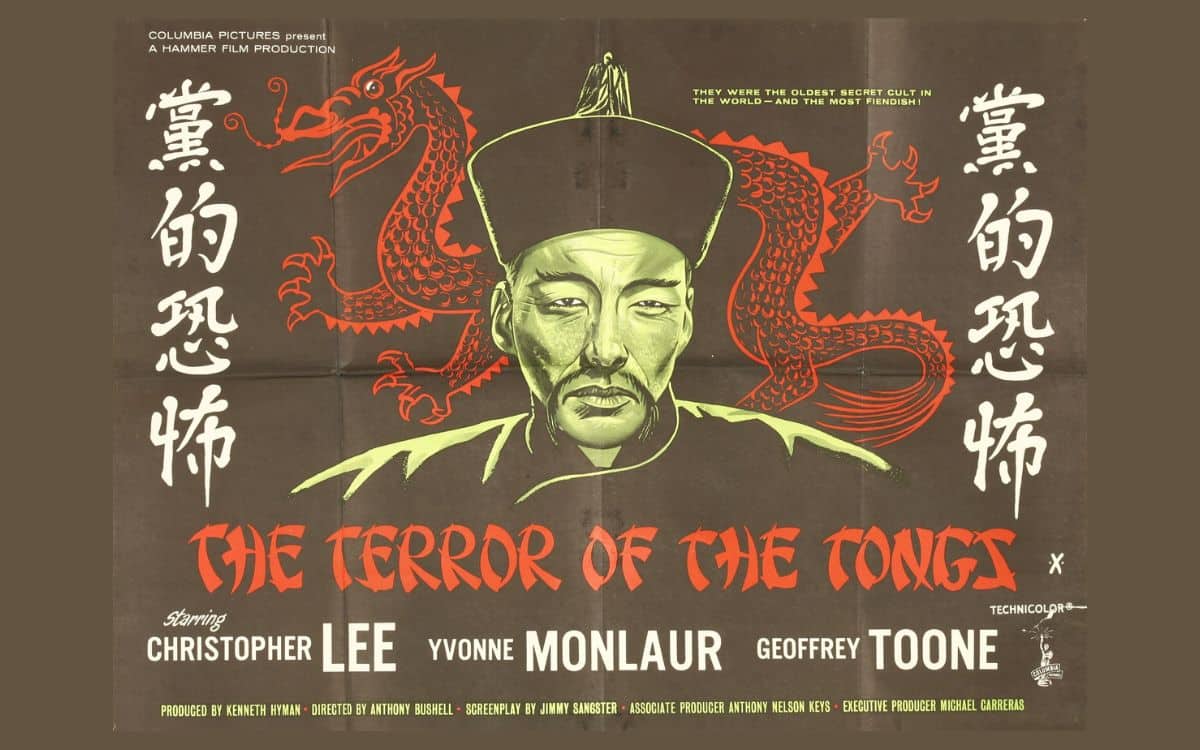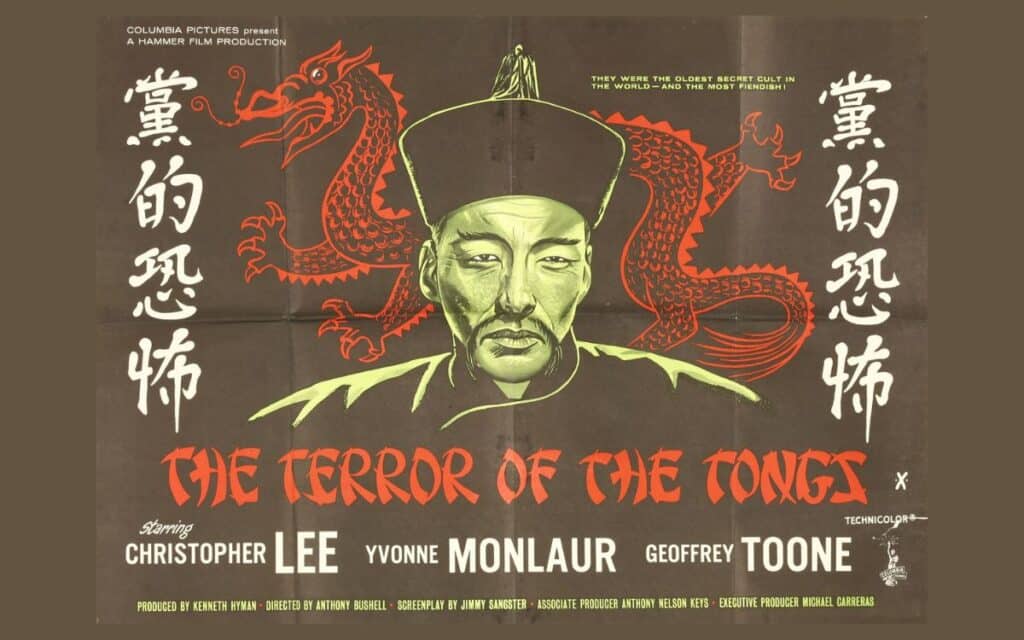 TITLE: The Terror of the Tongs
RELEASED: 15 March 1961
DIRECTOR: Anthony Bushell
CAST: Christopher Lee, Yvonne Monlaur, Geoffrey Toone
The Terror of the Tongs 1961 Review
The heady days were when villains were simply the ones dressed in black, had dark hair or in many cases different ethnicity.  If you put the mentality of a positive role model aside and move your mind to the time when authors like Sax Rohmer flourished then you can enjoy The Terror of the Tongs 1961. 
This is a halcyon day Hammer film, so one expects lavish sets done on a budget and sumptuous costumes which you do get. You have Christopher Lee in his pre-Fu Manchu Asian villain here called of all things, Chung King.  King is the leader of a criminal organisation, The Red Dragon Tongs, in Hong Kong circa 1910, The ruling British authorities and the local inept police clash over a scrap of paper with critical Tong Information.  The gang murder Helena Sale (Barbara Brown), the daughter of Captain Jackson Sale (Geoffrey Toone). The good Captain decides to take on the Tong himself.
The Infamous Cast System
It was a strong cast with some laughable casting that was of the time it was made. Clearly white actors being Asian stereotypes make this an example of exploitation film making that Hammer did to create new revenue.  Lady Lee (Yvonne Monlaur), complete with her French accent, becomes the compliant Asian female, who wants only to serve and falls in love with Jackson.
This is pulp-filmmaking or clearly second feature style entertainment. The action does move swiftly in these pictures as they are cut to be fast and usually have no rehearsal time and quick setup as the sets often have to be redressed for another scene. 
Who Goes There?
Christopher Lee is authoritative in presence and voice. Another cast member of note is Roger Delgado as a henchman. Delgado would go on to be the first actor to portray The Master in Dr Who with Jon Pertwee. 
The Terror of the Tongs 1961 is definitely for Hammer completists and what I call a rainy afternoon film, if you park your brain and enter the world of the 'evil foreigner'. 
The script by Jimmy Sangster is action-filled which is what it is supposed to be. I suspect it was an assignment for the normally competent, utilitarian Sangster to knock off as fast as possible which is what these films were all about.
Tell us your thoughts on The Terror of the Tongs 1961 in the comments section below!
Watch The Terror of the Tongs 1961 trailer