Reading Time:
7
minutes
JAY HOLLIS says Richard III has long been blamed for the murders of his young nephews but there's a question whether the Princes in the Tower were even killed at all!
Everyone knows the story of the Princes in The Tower. After the death of King Edward IV in 1483, 12-year-old King Edward V and his nine-year-old brother Richard of Shrewsbury were seized by their wicked uncle Richard, Duke of Gloucester, who imprisoned them in the Tower of London, made himself King Richard III and then had his nephews murdered. Their remains were discovered beneath a staircase at The Tower almost 200 years later in 1674, and their bones now lie in an urn in Westminster Abbey.
As I write this article, the rediscovered remains of King Richard III have just been reburied at Leicester Cathedral and the question of his guilt in this and other crimes is once again a hot topic. What really happened to the two princes? The short answer is that we do not know but I think Richard's guilt is in doubt.
On 9th April 1483 Edward IV died unexpectedly aged 41. He had deposed his cousin Henry VI in 1461 and seized the throne, but the rival factions of the Plantagenet family continued to feud and Henry was briefly restored to the throne in 1470 before being defeated again by Edward the following year and subsequently murdered.
Edward's death opened up even more family rifts. In 1464 he had secretly married Elizabeth Woodville, a widow five years his senior and her brothers and sons from her previous marriage were all elevated to positions of power, much to the disapproval of the royal court, including the King's younger brother Richard. However, Richard served his brother loyally throughout his reign and was the obvious choice to ensure the safety of the King's children in the event of his death.
Richard escorted the young King Edward V to London, where he was kept at the Tower to prepare for his coronation. The Tower of London was at that time a royal palace, not the grim prison it would become under the Tudors.
Whilst there, previously suppressed evidence was presented to the Royal council by Robert Stillington, the Bishop of Bath & Wells, that put into doubt the legality of the marriage between Edward IV and Elizabeth Woodville. After much debate it was agreed in Parliament that the marriage had been bigamous and that the children of that union were therefore illegitimate and unable to inherit the throne. Richard was therefore offered the crown and his right to rule was reconfirmed the following year by a formal Act of Parliament, Titulus Regius.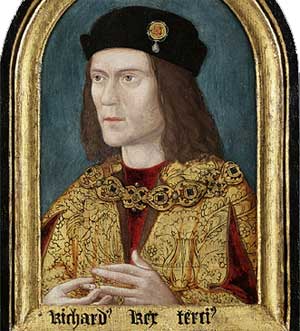 Princes in the Tower disappear
Sometime in June, Prince Edward was joined at The Tower by his younger brother and by the end of July they had both disappeared. Chronicles written years after the event, during the reigns of the Tudor monarchs, state that various rumours of their death soon followed but there is no actual evidence that they had been killed.
Evidence or not, surely it made sense for Richard to have his two rivals eliminated? Alive, they would always be a focus for potential rebellions, despite the Titulus Regius which could always be overturned. But there were others with rival claims to the throne that Richard should also have had killed, not least the Princes' own sisters who could certainly challenge his reign, especially if they were to marry powerful noblemen – Not for nothing did Henry VII marry Elizabeth of York, one of those sisters. Why have two rivals killed but leave the others alive?
We do not know how much Richard actually desired the Crown. His actions prior to Stillington's evidence show that he was committed to supporting his nephew's accession and it may be that he accepted the Crown reluctantly.
On the other hand, Henry Tudor was determined to be King of England no matter what the cost. Some believe it is more likely that the princes were still alive after Richards's death at the Battle of Bosworth and were murdered on Henry's orders.
It is possible that the rumour of the Princes' deaths may have originated, not in London but in France where Henry lived in exile. His claim to the throne was extremely tenuous and void if either of the Princes were still alive. He would certainly not have allowed them to live if they were found to be alive after Bosworth.
Others have been accused of the Princes' murder, including Henry Tudor's mother Margaret Beaufort and the Duke of Buckingham, but their disappearance from the Tower cannot be taken as evidence that they were murdered. Did Richard have them secretly moved to another location for their safety?
The behaviour of the Princes' mother, Elizabeth Woodville might give weight to this theory. She was a vociferous opponent of Richard and they despised each other, and yet in 1484 they seemed to have reconciled their differences and were on good terms. It is unimaginable that this could be the case if she thought Richard had murdered either or both of her sons.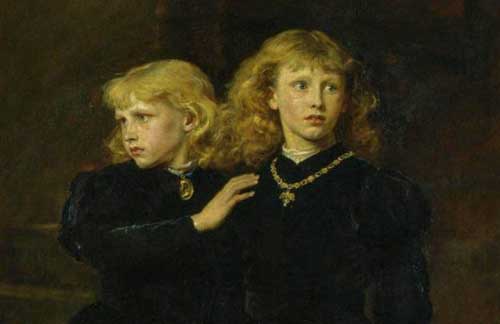 Henry Tudor's campaign against Richard hinged on the accusation that the Princes had been murdered by their uncle and yet, throughout his reign, Henry was troubled by pretenders to the throne who claimed to be one of the two Princes. The claimants were proven to be imposters but the fact that Henry had their claims thoroughly investigated suggests an uncertainty on his part as to their fate.
In 1487 Elizabeth Woodville supported the rebellion led by Lambert Simnell. Her daughter was now the Queen, so why would she risk all by supporting a rebellion unless she believed at least one of her sons was still alive? Henry defeated the rebels at the Battle of Stoke and stripped Elizabeth Woodville of her lands and titles. She spent the rest of her life in a convent in Bermondsey.
In addition to the imposters are a number of men who never claimed to be Richard of Shrewsbury but subsequent research in recent years has suggested that they may have been. One of these is Dr John Clement who married the adopted daughter of Sir Thomas More. The theory is based on a cryptic reading of a portrait of the More family painted by Hans Holbein in 1527.
But what about the bodies that were discovered at the Tower of London? Sir James Tyrrell fell out of favour in 1502 and, accused of Treason, made a full confession to the murder of the two Princes nineteen years earlier. He had done it on the orders of King Richard and their bodies were buried in secret at the foot of a staircase in The Tower. We know this because Sir Thomas More recorded it in his biography of Richard III, a work he abandoned before completion.
However, Tyrrell's confession is doubtful and disputed by his descendants to this day. Both he and his son were accused of treason but his son's life was spared. Did Tyrrell's confession to a crime that had nothing to do with the treasonable act for which he was arrested secure his son's life? Did he actually confess? No signed document was ever produced, we just have More's word.
In 1674 two bodies were discovered in a chest buried ten feet below a staircase that was part of a number of buildings being demolished within the precincts of The Tower (they were not discovered inside the White Tower, despite a plaque at the foot of a spiral staircase stating otherwise).
The bones were thrown onto a rubbish heap until their potential significance was realised a few days later, whereby they were retrieved by sifting through the rubbish. The bones appeared to be those of children, one smaller than the other, and as they were discovered under a staircase it was assumed they must be the missing Princes and that Thomas More was right.
But More also wrote that the bodies were moved from their original burial place, at the foot of a staircase, to a location more suitable for the children of a king. If that is true, then the bodies cannot have been those of the Princes. Nevertheless, Charles II ordered that the bones should be interred in Westminster Abbey and they are still there in a marble urn.
They were examined in 1933 and declared to be, without any doubt, the bones of the Princes and that those Princes were undoubtedly killed by their uncle Richard! It has never been explained how a simple examination of the bones can lead to conclusions that only carbon dating and mitochondrial DNA testing could hope to reveal. Westminster Abbey has not yet given permission for such tests to be carried out.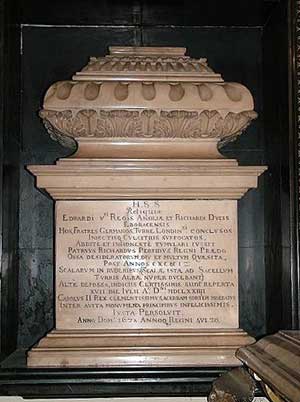 The bones discovered in 1674 are not the only ones to have been discovered at The Tower. Sixty years earlier a small bricked-up room was discovered containing two children's skeletons laid out on a table. Could this have been the 'more suitable' location?
Maybe, maybe not, but if any of these bones were proven to be those of the Princes, it cannot be proven that they died before or after the Battle of Bosworth, so King Richard's guilt cannot be established and it is likely we will never know what happened to the Princes in The Tower.
There is one footnote that might appeal to Spooky Isles readers. In the book Ghosthunter, by Eddie Burks and Gillian Cribbs, psychic medium Burks claimed that he was contacted by the Princes, after a visit to The Tower, who confirmed that their uncle Richard had already died in battle when they were murdered and buried at The Tower… but of course, the words of a medium should not be taken as evidence.