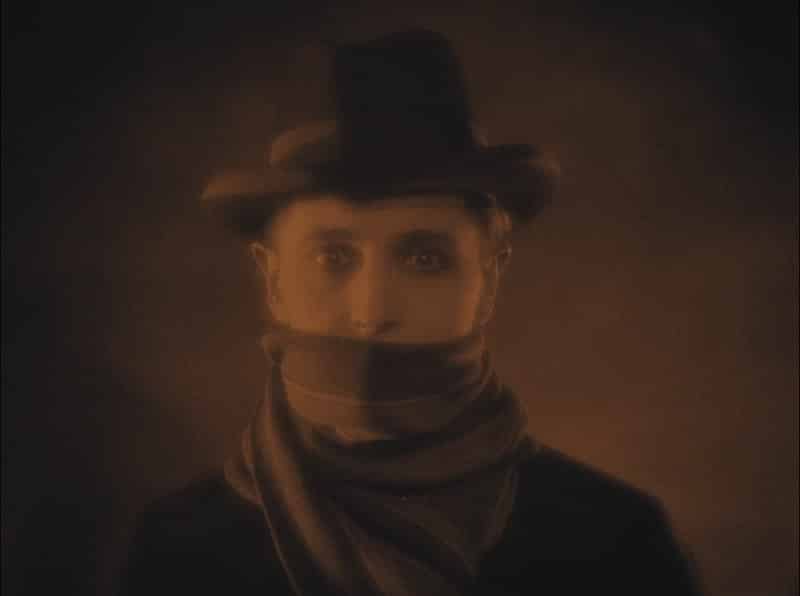 ERIC McNAUGHTON picks his top five favourite Jack the Ripper movies, in no particular order
---
The Hands of the Ripper (1971)
Hammer films never got round to making a film about Jack the Ripper as such, which is surprising really.
This is the nearest they came, with the Ripper himself appearing only in the pre-credits sequence.
Angahard Rees (who sadly passed away very recently) is wonderful as Jack's daughter who seems to have inherited a murderous affliction from her father.
This results in a number of gruesome and surprisingly gory murders (the killing of the maid and the stabbing of Long Liz with the hatpins are particularly shocking).
Eric Porter plays a Freudian psychoanalyst trying to help her, who for his troubles gets skewered with a big sword.
Wonderful lush cinematography and a wonderful score make this one of the better latter day Hammers.
The same year they also gave us "Dr Jekyll and Sister Hyde" which mixed Dr J with Burke and Hare and the Ripper murders.
The Lodger – A Story of the London Fog (1927)
This was Alfred Hitchcocks third film after a couple of commercial failures.
Based on Marie Belloc Lowndes story of a mysterious lodger whose comings and goings late at night arouse the suspicions of his landlord and wife.
Is he the mass murder terrorizing London? The story is left open ended, but when matinee idol Ivor Novello was cast as the titular character  the ending had to be changed!
No way was there going to be even a hint of doubt that the Lodger was innocent.
The theme of the innocent man wrongly accussed of a crime was to become a staple of Hitchcocks later films, but here it gets its first airing.
It is ironic to think that The Lodger is the only noteworthy silent horror film to come out of England.
It was to launch the career of perhaps the most famous director ever.
http://youtu.be/WoIeY6n90aU
A Study in Terror (1965)
This was the first time anyone had thought of pitting Conan doyle's fictional sleuth against the world's most famous real life serial killer.
Based on an Ellory Queen story, the film is exceptionally well made.
John Neville makes a wonderful Holmes, ably assisted by Donald Houston as Watson and there is a wonderful cameo by Robert Morley as Mycroft Holmes.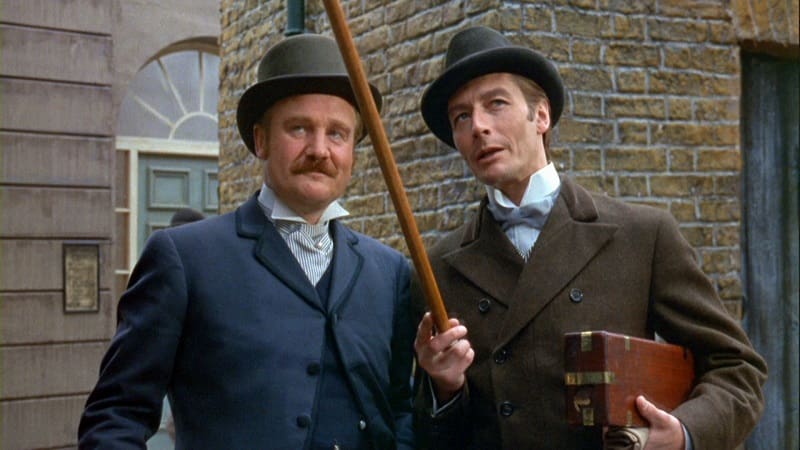 Frank Finlay plays Inspector Lestrade, a role he would repeat in that other Holmes/Ripper film "Murder By Decree".
In my opinion this is a cracking good film, with lots of action and suspense, and to my knowledge it was the first time the theory of the Ripper as an aristocrat was put forward.
A wonderful cast of talented actors, great colour and a great storyline make this essential viewing for Ripperologists and fans of Holmes alike.
http://youtu.be/ZGVlhyImLwE
Murder By Decree (1979)
Of the 140-plus Sherlock Holmes films made, Bob Clark's 1978 film Murder by Decree is by far the most intelligent and entertaining outing of Baker Street's famous sleuth.
The idea of mixing Conan Doyle's fictional detective with the historical figures and events of that Autumn of Terror of 1888 is an intriguing proposition.
Of course it, had been done before in 1965's A Study in Terror; where Murder by Decree differs is that to a large extent it is based on historical fact and pays close attention to the details of the Ripper murders.
As any Ripperologist knows, there are a hundred and one so called solutions as to the identity of Jack the Ripper.
All have their flaws. Murder by Decree uses the work of the late Stephen Knight for its plot emphasis.
Basically Knight's argument was that the murders involved a conspiracy by the Freemasons and implied complicity at the highest level of Government and into the very heart of the Royal Family itself.
In the real-life figure of the Ripper it seems that Holmes has an adversary as cunning and intelligent as himself.
But it would be wrong to assume that Murder by Decree is merely a cinematic version of Stephen Knight's Jack The Ripper – The Final Solution because the film is much more than that.
It takes Knight's theories, the Ripper murder facts and Sherlock Holmes' superior intellect, blends them all together and produces an exciting and entertaining film.
The film itself opens with the Ripper's third murder.
This is not a film about the Ripper per se.
As Holmes, Christopher Plummer shines in perhaps his greatest performance and in my opinion equals, if not betters any other portrayal of Holmes – yes, even those of Basil Rathbone and Peter Cushing!
Plummer's detective isn't merely a cold calculating figure, but can show real anger and emotion (not a trait usually connected with the character) as in the scene where he finally tracks down Annie Crook (played by Geneviève Bujold) in an insane asylum.
The supporting cast too are superb. James Mason, who was so often wasted in his later films, plays Watson as an equal to Holmes, and here Mason's portrayal lives up to what Ithink Conan Doyle would have wanted.
One of the outstanding features of the film are its impressive sets.
You can readily believe this is what the streets of Whitechapel must have looked like in that autumn of 1888 as the Ripper went about his savage work.
Jack the Ripper (1959)
I think of all the Ripper movies, this has to be my favourite.
I remember seeing it late one Friday night on Tyne Tees when I was a kid, and being really scared.
The script is by Hammer's own Jimmy Sangster and is loosely based on the theory put forward by one of the earliest Ripperologists, Leonard Matters, that the Ripper was a doctor out to avenge the death of his son who had contracted a 'social disease' from a prostitute.
The film had one of the most expensive publicity campaigns ever when a million dollars was spent on advertising, but it paid off and the film became a huge hit.
Although, like many early Ripper films, it is historically incorrect, it is a fast paced little thriller with lots of red herrings.
The film is in atmospheric black and white, but original prints turned blood red when the Ripper is killed at the end.
Well worth tracking down, I recently found a decently priced French DVD release, sadly without the colour ending.
"Are you Mary Clark?"
http://youtu.be/vGHmC0tkL_4
You may also like to read: