Reading Time:
3
minutes
STEPHEN MOSLEY waited 20 years to see Nothing But The Night 1973, was it worth it?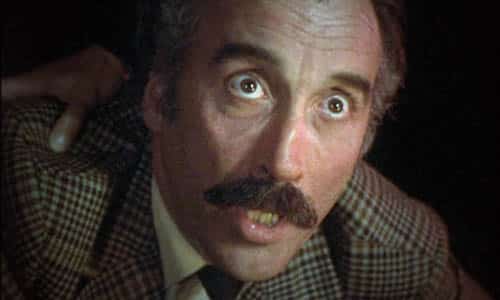 TITLE: Nothing But The Night
YEAR RELEASED: 1973
DIRECTOR: Peter Sasdy
CAST: Christopher Lee, Peter Cushing, Keith Barron and Diana Dors
Review of Nothing But The Night 1973
It's Saturday March 21st, 1992, and I am 10 years old. Believe it or not, there are two Peter Cushing and Christopher Lee movies on TV that night (those were the days!). ITV are showing The Satanic Rites of Dracula, and BBC 1 have opted for Nothing But the Night. As I've already got the Dracula movie on video, I set my VCR for the latter.
The following morning, as is my ritual, I rise early and creep downstairs to watch the recorded film. But, as I rewind and press play, images of Cushing, Lee and Keith Barron (!) flash up on the screen – but there is no sound.
Confound it! A faulty tape. The movie rolls on in silence, and I can only imagine what's going on without the dialogue.
Fast-forward 10 years, and I am in a video shop in Madrid. Looking at the horror titles on the shelves, I find Nothing But the Night. Finally, another chance to see the only Peter Cushing/Christopher Lee film I've never seen! I buy it, and hungrily ram it into my VCR – but it's dubbed into Spanish – and there are no subtitles. And, despite having seen more Paul Naschy and Jesus Franco movies than any young man should, I am still not well-versed in the language. Yet again, I am thwarted.
Since then, the film, to the best of my knowledge, has never turned up on TV or been given a Video/DVD release in Britain. Until now…
Spirit Entertainment Limited have finally given Nothing But the Night a belated UK DVD release, so was it worth waiting twenty years to see?
Well, it's nowhere near as fun as other Cushing/Lee films released in 1972 (Horror Express, The Creeping Flesh, Dracula AD 1972 – all of which are personal favourites), but any film pairing Cushing and Lee is always watchable, and the stars are never less than excellent.
Nothing But the Night is a markedly grittier affair than the aforementioned films, with a naturalistic air.
Based on a novel by John Blackburn, the plot is somewhat convoluted (orphanage trustees are being bumped off – could it be the work of possessed children?), but the cast is littered with familiar faces, including Kathleen Byron, Shelagh Fraser, Michael Gambon and Fulton Mackay (as policemen), Diana Dors (a delight as ever as a prostitute fresh out of jail), Duncan Lamont, and Georgia Brown.
Even though the production team worked on a low budget, with no second unit, there is some pleasing location work in Dartmoor (doubling as Scotland). And I especially enjoy shots of rain-strewn 70s London, where a profusion of elderly passers-by notice the camera and peer at it, wondering.
The film is produced by Hammer regular Anthony Nelson Keys, and has a further Hammer connection in its score, from Brides of Dracula composer Malcolm Williamson, which features a slow, drawling saxophone and endless refrains of 'Ten Green Bottles'.
Directed by genre favourite Peter Sasdy, the film is notable as the sole product of Christopher Lee's own Charlemagne production company, and as such is a game first effort. Despite a dry atmosphere, it builds to a genuinely chilling climax. And I, for one, think it a shame that Charlemagne bore no more fruit.
Did you enjoy Nothing But The Night? Tell us about it in the comments section below!
Watch Nothing But The Night 1972 Trailer
STEPHEN MOSLEY is an actor, writer, and musician. His book of strange tales "The Boy Who Loved Simone Simon" is out now, and was selected by Entertainment Focus as one of the 10 Best Books of 2011. He is one half of the music duo Collinson Twin, and he lives in a dungeon near Leeds.