NIA JONES reviews the 1966 horror Eye of the Devil, starring David Niven, Deborah Kerr and Donald Pleasence
Title: Eye of the Devil
Year Released: 1966
Director: J. Lee Thompson
Cast: David Niven, Deborah Kerr, Donald Pleasence, David Hemmings and Sharon Tate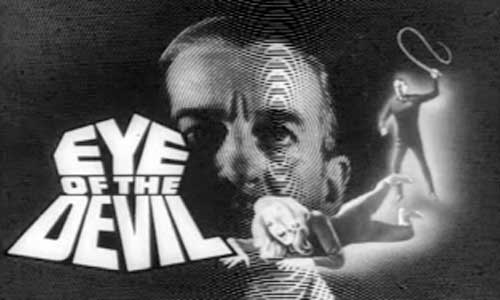 Plot: Due to the crops failing for a third year vineyard owner Marquis Phillippe de Montfaucon returns to his castle on the French continent, Bellenac. Against his wishes wife Catherine and children Jacques and Antoinette follow him there. Unknown to Catherine his family have been involved for centuries in Pagan rituals and the time has come for Phillippe to sacrifice himself. Even the village priest Father Pere Dominic seems to have a sinister agenda and it isn't long before his wife starts to notice strange happenings about the castle. These events mostly involve Christian and Odile de Caray, the mysterious and menacing twins who frequent the grounds.
Fun Fact: Kim Novak was originally cast as Catherine de Montfaucon but injured her back falling from a horse half way through the filming. Deborah Kerr was recast in the role and they had to start the shoot again from scratch.
Eye of the Devil Review
J. Lee Thomson's largely unknown atmospheric moody-dark British supernatural thriller Eye of the Devil is very much an overlooked treasure. Based on the Phillip Loraine novel 'The Day of the Arrow' the film narrative deals with themes of the occult and devil worship.
The film's black and white cinematography gives the film a forties enigma style nostalgia, it works surprisingly well. Wonderfully lit and set in a majestic castle with its surrounding vineyards, there is an inherent sense of evil in the dense and foreboding atmosphere created; the soundtrack does well to make pivotal screen moments that little more chilling. The most famous example is the disturbing scene featuring Deborah Kerr and Sharon Tate near the edge of the castle roof.
It is hard to imagine Eye of the Devil was made 46 years ago but it really does cast a spell and bewitches you to keep on watching. The plot is certainly intriguing, complicated and has an interesting premise; relying on metaphysical fantasy, using mesmerizing candlelight to illustrate the subject matter. Though the writing can be patchy at times due to the cramming in of story, it all becomes a little muddy and you occasionally need a moment to work out what's just happened; perhaps too much plot interweaving does not benefit a film of this genre.
The film certainly benefits from its glorious cast list, present and future stars grace the line-up. David Niven and Deborah Kerr are in the lead roles; mostly considered Hollywood veterans at that time, supported superbly by a fresh-faced Donald Pleasence, and young guns David Hemmings and Sharon Tate.
A first major film role for the beautiful Sharon Tate, she does a fantastic job as the eerie ice cold witch Odile de Caray. David Hemmings is her perfect match and they are believable siblings. There is an on-going debate whether her lines were dubbed in post-production, but never the less she certainly displays a screen presence and it is evident she actually did have acting talent and a glittering future ahead of her.
While watching Eye of Devil it is hard not to remember the sad fate of Sharon Tate. She is not usually remembered for her film performances but more for the details of her horrific murder in August 1969 at the hands of Charles Manson's followers. Oddly the promotional shots from Eye of the Devil were misinterpreted by the press soon after her death; they falsely claimed the pictures showed Sharon engaging in a satanic ritual which contributed to her tragic demise.
Now considered a cult classic Eye of the Devil does not have the best reputation and is perhaps not as superior as The Innocents or The Wicker Man, but if you take it for what it is and let the magic take you in it really isn't at all bad.
A must for any British horror fan, hopefully there will be a region 2 DVD release in the near future.