Reading Time:
8
minutes
Are you brave enough to visit Haunted London's most terrifyingly places? Here we list the capital's scariest haunts with ghost sightings…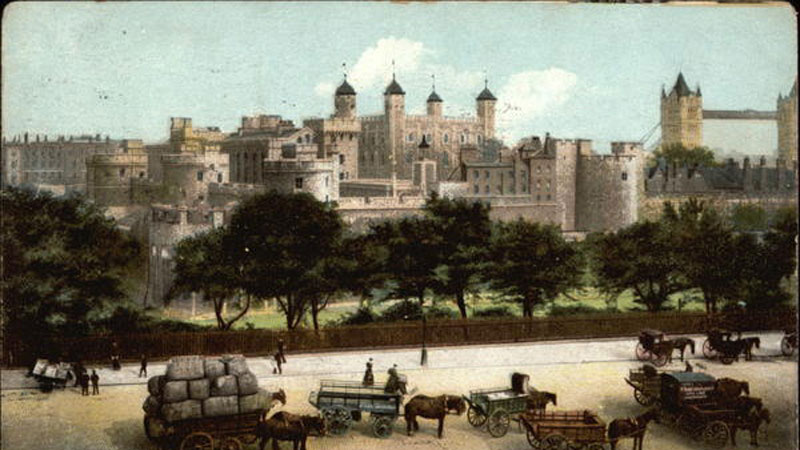 Here's haunted London with ghost sightings!
1.) 50 Berkeley Square
Mayfair, W1J 8HA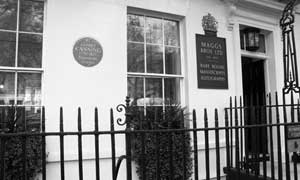 Sinister and terrifying evil lurks at 50 Berkeley Square giving it the reputation of being London's most haunted house. A maid, a captain and Charles Harper were all literally frightened to death; the maid died a day later after shrieking in fright "Don't let it touch me!" Read more about 50 Berkeley Square.
2.) Bethnal Green Underground Tube Station
Cambridge Heath Road, E2 0ET
All alone doing a night shift a member of staff went to his office to finish paperwork when he began to hear children sobbing and people screaming. Terrified, he ran from his office to the booking hall. He reported, later on, it sounded like people panicking. In World War 2, 173 people, including children, died in one night from asphyxiation after mass panic erupted during the Blitz. Here are London's 15 most haunted underground tube stations!
3.) Bleeding Heart Yard
Greville Street, Farringdon, EC1N 8SJ
Legend says the Bleeding Heart Yard gained its name from Lady Elizabeth Hatton. As she lay dying she was torn limb for limb with blood still pumping blood.
4.) Bruce Castle Museum
Lordship Lane, Tottenham, N17 8NU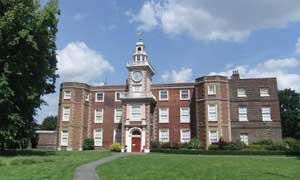 A lady haunts Bruce Castle Museum, she tragically ended her own life and that of her child after she grew more depressed after her husband had banished her to the tower. Her ghost has been seen staring out of a window on a cold dark November night.
5.) The Charterhouse
Charterhouse Square, EC1M 6AN
The terrifying spectre of the Duke of Norfolk shows himself on the stairs in this haunted London building, holding his head under his arm! The spooky image of a monk drifting discontentedly around the courtyard has also been witnessed. Read more about The Charterhouse.
6.) City of London Cemetery and Crematorium
Aldersbrook Road, E12 5DQ
Another one of our top haunted London place is the City of London Cemetery and Crematorium. Since the 1970s locals have reported a bright orange light radiate from a particular tombstone, paranormal investigators have tried to find rational explanation's but to no avail.
7.) Gloucester Drive
Finsbury Park, N4 2LE
Gloucester Drive has earned the title of being Britain's fifth most haunted street. Footsteps from an unseen pedestrian start outside number 7 and progress through front gardens. The sound of twigs cracking along with the footsteps has disturbed many residents.
8.) Greenwich Foot Tunnel
Cutty Sark Gardens, SE10 9HT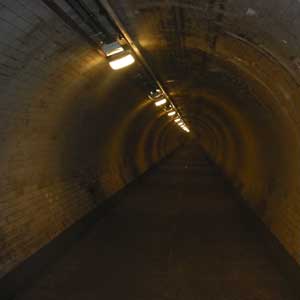 One of the creepiest underground walkways in Haunted London, Greenwich Foot Tunnel has its own spook. A couple in Victorian clothing has been seen wondering aimlessly by many witnesses over the years. Discover other haunted places to visit in Greenwich here.
9.) Hampstead Heath
North London, NW3
Hampstead Heath has an infestation of terrifying spooky apparitions. The ghost of a young girl, shuffling footsteps, the figure of a lady with red hair and a phantom waitress are a said few to haunt the whole of this very haunted area in London. Read more about Haunted Hampstead here!
10.) Hampton Court Palace
Hampton Court Way, East Molesey KT8 9AU
Three ghosts reside at Hampton Court Palace. King Henry VIII's fifth wife Catherine Howard has earned the name the Screaming Lady in the Haunted Gallery. Ladies have fainted in the Gallery and eerie feelings have all been felt. There is also a Grey Lady, Jane Seymour, a ghostly dog and the Skeletor ghost which was captured on CCTV in 2003 after doors inexplicably opened by themselves.
11.) Handel House Museum
25 Brook Street, Mayfair, W1K 4HB
The Handel House Trust called an exorcist in when refurbishments seemed to stir up more activity. Perfume and a heavy presence had been described. In the 1960s the musician Jimi Hendrix even reported seeing a ghost in his Haunted London property which is next door.
12.) Highgate Cemetery
Swains Lane, N6 6PJ
Karl Marx along with many other famous names are laid to rest in a very haunted London place. The Highgate Vampire was said to lurk but in recent times the description is a 7-foot-tall terrifying shadow with piercing red eyes. A floating nun, a crazy murderous old lady and a dark shrouded figure frighten the living daylights out of anyone who sees them.
13.) Hunterian Museum
Royal College of Surgeons, 35-43 Lincoln's Inn Fields, WC2A 3PE
No actual hauntings have been mentioned at the museum, but it deserves a mention for its very creepy and disturbing displays. Deformed bodies, preserved monkey heads, organs and many strange and wonderful specimens are on show for the unquenchable thirst of all things gory of the Great British public and tourists.
14.) Langham Hotel
1c Portland Place, Regent Street, W1B 1JA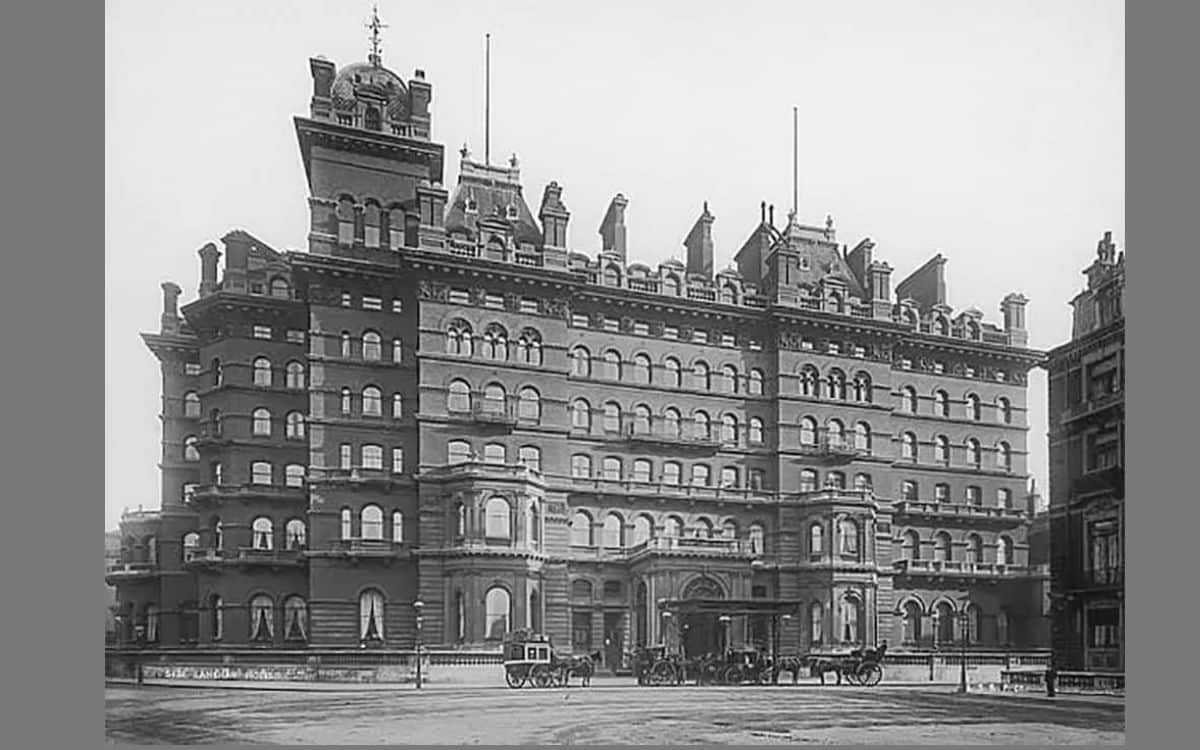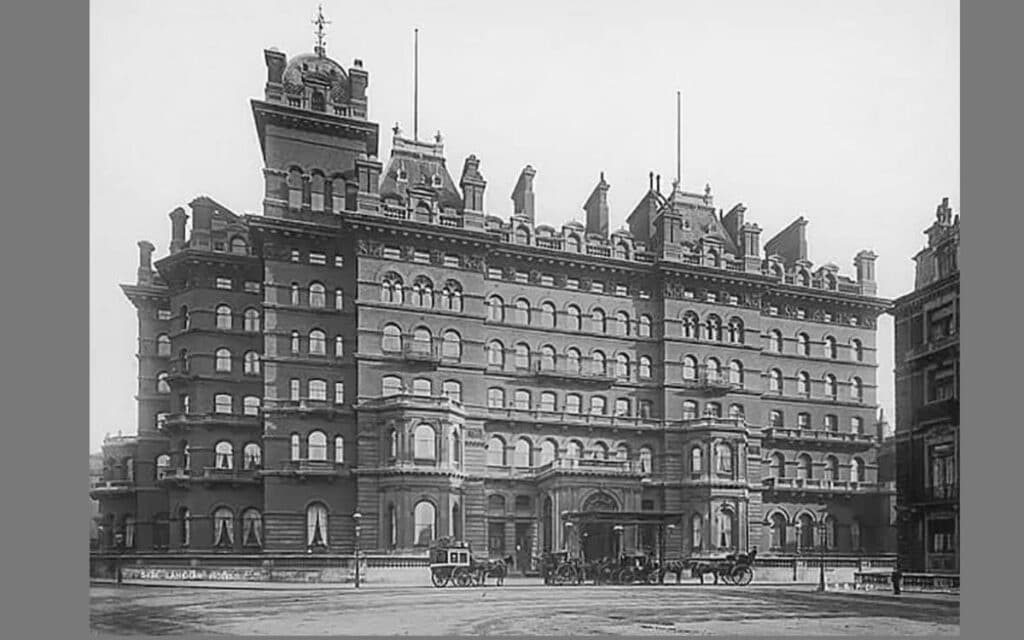 You might want to sleep with one eye open if you stay at this haunted London landmark, Langham Hotel. More than five ghosts are said to stalk the floors. A German prince likes to disappear through walls and doors along with a drop in temperature.
Room 333 is very haunted and a BBC newscaster was left shocked after seeing an apparition with missing legs, even his colleagues saw the spectre as he fled terrified. The England cricket team was left spooked and asked to change rooms after taps turn themselves on and problems sleeping.
15.) Payne's Wharf
Deptford, SE8 3JY
Abandoned and derelict Payne's Wharf looks downright creepy. With buildings left to rot it looks like a scene from a horror movie. Poor unfortunate souls have washed up on its shores giving it an, even more, spookier reputation.
16.) Queen Elizabeth Hospital for Children
Hackney Road, Bethnal Green, E2 8PS
Currently derelict and decaying the hospital was opened after a Cholera outbreak. The sad and desperate cries of children are said to echo the corridors.
17.) Sutton House
2–4 Homerton High Street, Hackney, E9 6JQ
Another haunted London building on our list is Sutton House with several resident spooks. An all-time classic white lady spirit, the sounds of dogs wailing and howling long into the night all haunt here.
18.) The Georgian House Hotel
35-37 St Georges Drive, SW1V 4DG
Laughing mischievous ghost children like to run around and bang the fire doors, feelings of not being alone and icy cold chills have all be experienced by members of staff. A member of staff was left upset when she awoke in the night to see an old man was sitting on the bed. She inquired as to why he was given a key when she found out that the only key available was the one she had.
19.) The Grange Blooms Hotel
Montague Street, WC1B 5BP
Described as 'home from home' the ghost of the eccentric Dr John Cummings spooks guests and staff. He liked to preach to about apocalyptic prophecies and was adamant he would live to see the end of the world. On a dark, cold, long winter night he has been seen in the lounge area. Is he still waiting for the end of the world?
20.) The Old Bailey
EC4M 7HS
A very sinister and terrifying ghost prowls The Old Bailey in haunted London called 'Black Dog of Newgate'. Reported to be a previous inmate who was starving to death. He was gruesomely eaten alive by his desperate cell mate.
9a St Thomas Street, Bankside, SE1 9RY
Some say the ghost of Florence Nightingale haunts here. Not to mention the poor souls who went through barbaric surgery without anaesthetic.
22.) The Queen's House
Greenwich, SE10 9NF
A terrifying and creepy image was captured in this famous haunted London building in 1966 by the Rev Mr Hardy. After hearing about the famous Tulip Staircase he began to take snaps, as all good tourists do. Only to capture the creepy image of a wispy white shrouded figure climbing the stairs. A poor Gallery Assistant had the shock of his life when he saw a figure dressed in white dress gliding through the wall. Was it the same spirit that the Reverend captured in his spooky photograph?
23.) Theatre Royal, Drury Lane
Catherine Street, Covent Garden, WC2B 5JF
Mischievous kicking and wig pulling is blamed on pantomime actor Joseph Grimaldi and well as the terrifying image of his head in full panto makeup floating.
A clog dancing routine of Dan Leno can still be heard from his dressing room as well as the smell of lavender. The most famous ghost at Theatre Royal is the Man in Grey, half of a cast acting in 1939 saw his ghost in the upper circle and watched him simply vanish.
He has been seen by all sorts of people over the years and in the area, he disappears, workmen discovered a hidden room, inside was male skeletal remains, grey cloth and a dagger in the rib cage. Read about Most Haunted's Visit to Drury Lane's Theatre Royal here.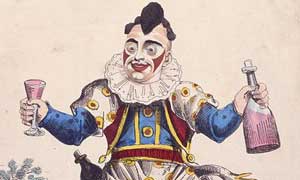 24.) Theatre Royal
18 Suffolk St, Haymarket, SW1Y 4HT
Here's another haunted Theatre Royal! The actor Patrick Stewart was left gobsmacked after he saw a ghost while performing on stage with Ian McKellen. When asked "what threw you?" he simply replied "I just saw a ghost." The spectre of a man dressed in a beige coat and twill trousers likes to appear when a comedy is showing. Would it be a laughing matter for you if you bumped into the comedy-liking spirit?
25.) Tower of London
Tower Hill, EC3N 4AB
Said to be one of the most haunted place in the Spooky Isles… sorry we mean the British Isles and London, the Tower of London has an absolute mass of ghosts terrifying anyone and everyone. Two ghostly children huddling together through fright dressed in night gowns, their voices, a white lady and even a bear has been reported.
Terrifyingly, guards have reported an awful crushing like sensation and one guard even described how he felt a cloak being thrown over him. Although invisible, he tried to fight back, the cloak was pulled back tightly around his throat by his unseen attacker.
26.) Nunhead Cemetery
Linden Grove, SE15 3LP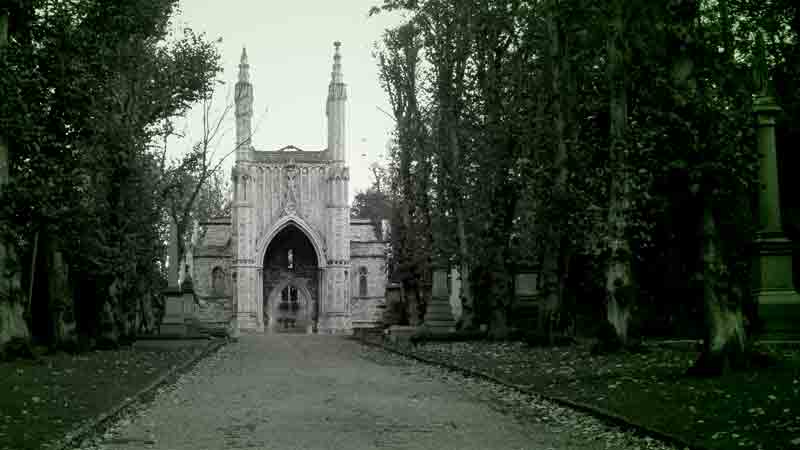 Another vampire story emanates around the same time as the Highgate Vampire. Or maybe is it the tall dark stranger wondering around with a large book said to be William Jenkins who likes to skulk about? A strange-looking figure has been captured standing among the graves.
27.) Old Cemetery
Barnes Common, Rocks Lane, SW13
Long since abandoned, our last haunted London place is the Old Cemetery complete with a floating nun! There's also a hideous ghoul, who scales the railings looking for an unsuspecting soul to terrify. Described as having pointed ears, glowing eyes and a large nose, it likes to pin its victims down.
Have you seen a ghost in Haunted London? Tell us about it in the comments section!
Read The Ghost Bus of Ladbroke Grove
Watch Haunted London conversation with Jon Kaneko-James