Reading Time:
10
minutes
Legendary paranormal investigator DAVID FARRANT picks his top five haunted places in Highgate, London's most spooky suburb
The ancient hamlet of Highgate in North London, now one of the city's most desirable suburbs, is frequently referred to on paranormal websites as one of the most haunted locations not just in England – but the world over.
Just south of the village lies the sprawling necropolis that is Highgate Cemetery. Its iconic crypts and terraces will be familiar to fans of British horror classics such as Taste the Blood of Dracula (1970) and The Body Beneath of the same year which were shot there on location in 1969/1970.
By 1970 the overgrown cemetery, which had always had a spooky reputation amongst locals, began to acquire an notoriety which it would never shake off. Vampires were very much the 'in thing' at the time, and soon the boundaries between fantasies played out on the silver screen and reality would become forever blurred.
It was the infamous vampire panic of 1970 which placed Highgate on the international map, when a tale about a vampire that inhabited Highgate Cemetery West and latterly a house in Crouch End (an area made famous by celebrated horror author Stephen King's unrelated book of the same name), was taken semi-seriously during silly season and beyond.
On the night of Friday, 13 March 1970, hundreds of people converged on the cemetery hoping to discover and stake this imaginary vampire, resulting in much damage to tombs and to the cemetery's long-dead inhabitants.
But the fact that this absurd tale has become so magnified and distorted over time is also regrettable for other reasons, as Highgate certainly has a rich history of genuine paranormal phenomena which is far more credible, much more mysterious and certainly just as chilling.
I have been researching stories of ghosts and legends in the area for over 45 years; indeed it was my own letter to a local newspaper in which I detailed a sighting of my own in 1969 which was to inadvertently spark off the vampire hysteria.
I described seeing a ghost-like figure through the cemetery gates one night, and within months this had been distorted into a full-blown bloodsucking vampire with which it would forever be confused.
This media manipulation was engineered by certain people with no interest in genuine paranormal research, but a very shrewd awareness of the vampire 'pound' which was such a lucrative form of currency for freelance journalists and publicity seekers back then – and to the present day.
So, if the entity in and around Highgate Cemetery is not a vampire – just what is it? And what else makes Highgate worthy of its reputation as such a paranormal hotspot? Are the many paranormal tales told about the village connected in some way?
It has been posited, not least by myself, that a powerful ley line runs through Highgate Cemetery, The Flask, Ye Olde Gatehouse Public House, and continues north through Hillcrest and onwards through Highgate Woods. Let me take you on a short tour of this small but densely haunted village and you can judge for yourselves …
Ye Olde Gatehouse Public House

This prominent mock-tudor building, standing proudly in the centre of Highgate Village, takes its name from the Gate House at which tolls were taken from travellers heading out of London on the Great North Road.
The arch, long since demolished, through which stagecoaches used to pass, bridged North Road to the old village burial ground which predates the construction of Highgate Cemetery and now forms part of the grounds of Highgate School. A public house has stood on this site for hundreds of years, and it is impossible to gauge just how many thousands of people have passed through it over the centuries.
Three stories high, much of the activity reported in the Gatehouse seems to focus on the ballroom, now a theatre called, appropriately, 'Upstairs at the Gatehouse'. Many live-in publicans and members of staff over the years have reported feeling unwelcome, and even experienced the resident spectre or spectres directly – on one occasion resulting in hospitalisation for shock and on another falling – or perhaps being pushed – violently down the stairs. Visitors to the pub have also encountered an entity in the rooms which encircle the ballroom.
Whilst looking for a public telephone one night in October 1966, having visited the Gatehouse to listen to a jazz band, Mr. Tony Abbott was extremely shaken to see 'as if from nowhere' a tall, black clad figure wearing a Guy Fawkes-type hat moving along the passageway ahead of him and entering a small room which sits directly beneath one of the three apexes of the roof.
Upon entering the room Mr. Abbott discovered that the figure had vanished, and he was about to return to the bar when the electric light suddenly went out and the temperature in the room turned icy cold. Immobilised with fear, he was suddenly overcome by a 'rushing sound', and the sensation that someone – or something – was attempting to strangle him.
It was not until many years later that Mr. Abbott felt able to tell anyone about his terrifying experience, heartened by the discovery that he was far from alone in encountering this seemingly malevolent entity.
The Flask Public House
This coaching house, which dates from at least the 17th century, virtually backs onto Highgate Cemetery. Built into the rolling hills which surround Highgate and by which the village is reached, its ancient and sensitively restored architecture make it one of village's untouched gems.
Indeed, if one ignores the modern pumps on the bar one could imagine the year to be 1713, not 2013. Partially subterranean, at least one of its many nooks and snugs was in the past used for autopsies, and retains a damp coolness today.
In my book, Beyond The Highgate Vampire, I detail much of the psychical activity which this old inn has been host to over the centuries. These include recurrent spates of poltergeist activity, the ghost of a Spanish barmaid who hung herself in the cellar after being rejected by her lover, and the ghost of a cavalier who is still seen disappearing through a pillar today, replete with feathered hat and cape.
But one of the less well known 'ghosts' is that of a tall, darkly clad figure, resembling a monk, who was for many years seen sitting on an old wooden bench observing the pubs visitors with a penetrating stare, only to disappear promptly if approached. The sightings were so frequent in the late 1960s that the bench (now removed) became known as the Old Monk's Bench.
The Hillcrest Estate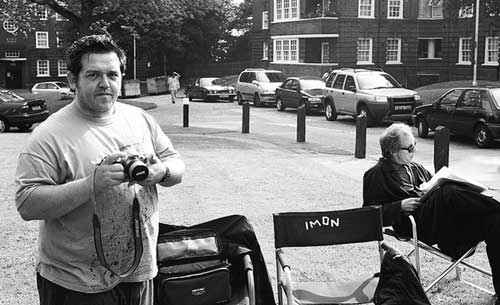 Located slightly north of old Highgate village, Hillcrest, which was built in 1948 as a pioneering post-war housing development, is situated on a large mound, formally the site of a brewery, a possible Napoleonic-era fortification, and Park House mansion which during the Victorian era operated as a home for 'fallen women'. Christina Rossetti, sister-in-law of Lizzie Siddal who was famously disinterred from her grave in Highgate Cemetery in 1869, did charity work here for many years. Falling sharply away to the north, the hill top is the highest point in London. Appropriately, this heavily haunted estate was used as a filming location for the 2004 cult zombie film Shaun of the Dead.
'Cunningham House', which Shaun and his zombie-fighting friends can be seen entering in the film, is, perhaps unbeknownst to the film producers, identical to a neighbouring block which was the scene of a very disturbing – albeit much less bloody – paranormal intrusion throughout the 1970s and 1980s.
Around 1985 I was contacted by Mrs. Betty Goodchild. Mrs. Goodchild was living in Alexander House with her husband and two children, her oldest daughter having moved out to start her own family. For years there had been much talk on the estate about a shadowy figure which had been seen by local children disappearing into various blocks of flats, even in broad daylight. For the Goodchilds and some of their immediate neighbours the negative influence of the figure had reached breaking point – it had come in out of the cold and had been, over a period of years, terrorizing adults and children alike.
The Goodchilds, who moved to Hillcrest in 1970, first realised that something was amiss when their youngest children began complaining about an invisible figure which was entering their bedrooms at night, bringing with it an icy coldness and an intense feeling of intimidation. Soon it wasn't just the children who were aware that the family were not alone in the flat. Often at night Mrs. Goodchild, whilst reading in the front room, would sense someone invisible moving about in the hallway, and both she and her husband experienced someone sitting on the side of their bed.
The entity's presence would often be discernible from the bedroom as being in the front room, which when entered would be unbearably cold and exuding a preternaturally frightening atmosphere.
The entity seemed to feed off the family's fear, and one night when they sought refuge together in the living room it seemed to follow them in there, again accompanied by a dramatic drop in temperature. Similar disturbances were reported to Mrs. Goodchild by a neighbour who lived in a flat above, indicating that the entity – whatever it was – was not particularly attached solely to the Goodchilds or their specific flat. The neighbour was regularly waking up screaming upon finding 'some man' in her room who promptly vanished. The man was dressed entirely in black. As the neighbours of Alexander House began to swap accounts, it emerged that another neighbour in the adjacent flat was also being disturbed by a nocturnal visitor who seemed to be wandering around her home at night.
Mass hysteria perhaps? Perhaps not. Not content with frightening the family with its invisible but very tangible presence, the entity progressed to more physical behaviour.
At one stage a heavy glass-framed photograph was lifted from its hook and smashed on the floor. Then the doorbell began ringing each night at precisely 2am, a disturbance which continued even when Mr. Goodchild removed the batteries to prevent it happening. I have never in all my years of psychical research heard of a proven causal link between mass hysteria and the ability of electrical devices to function with no programming and without power.
I have personally examined photographs which show the Goodchild's granddaughter watching with fascination something moving around the front room which no one else present could see. That the entity was now focusing on the youngest and most vulnerable member of the family was too much for the Goodchilds to bear, and they decided to call upon the services of their local priest, who blessed all the rooms. Apparently his intervention did not help, because the entity's determined manifestations increased, eventually driving the family to leave the flat altogether. To the best of my knowledge, the sightings of the figure in the grounds still occur from time to time, but the Goodchilds, having moved some 60 miles away, were never bothered by the entity again.
Highgate Woods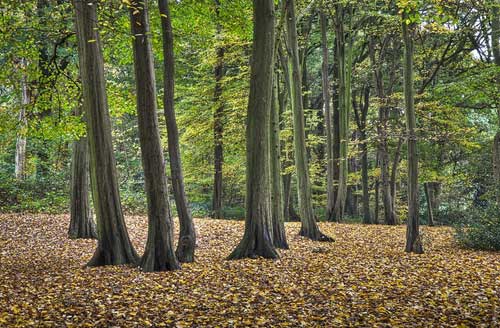 Whether it is the same figure or not is open to question, but a similar entity, tall and swathed in black, has been seen gliding silently among the trees in nearby Highgate Woods by numerous independent witnesses and seemingly causing the temperature in the immediate vicinity to drop. Highgate Woods, which once formed part of the Bishop of London's hunting grounds, are bordered at their southern extremity by Archway Road, but in the past continued much further south and abutted onto the ancient settlement of Highgate.
A roman pottery existed here for some centuries, and during the 1960s and 1970s the woods were frequently used by pagan groups who recognized the potential of the natural energy which is concentrated in this peaceful but highly charged oasis. Photographs taken around one particular beech tree, which is estimated to be over 1000 years old and stands in a small clearing, regularly show orbs or do not develop at all.
Highgate Cemetery West and Swain's Lane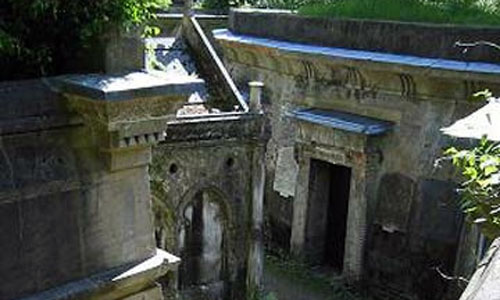 Back to Highgate Cemetery which is where we really started our 'ghostly walkabout'.
It is perhaps worthy to note that, as a rather ridiculous 'finale' to its career, the cemetery's alleged 'vampire' was supposedly tracked down and 'staked' at a gothic Crouch End mansion one cold winter's night in 1973. Despite this intended conclusion, reports about the ghostly (often red-eyed) black-clad apparition at the cemetery still continue. The British Psychic and Occult Society's files are rich with sightings which pre-date my own experience of 1969, and extend pretty consistently to the present day. Many occur in Swain's Lane itself, and some in the cemetery, but most witnesses describe either being physically or psychically harmed by their experience.
Many of these sightings have not yet been published, but one particularly disturbing account which has been made public was relayed to us by Mr. Martin Trent of Oakeshott Avenue, Highgate. Mr. Trent recalled that on his way home down Swain's Lane one hot summer's night in 2005 he was startled to see the figure of a tall man, dressed in a cloak and top hat, standing outside the cemetery gates. As he passed the motionless figure it astonished him by hissing in his ear (despite standing on the other side of the lane) the words "Good evening to you, sir." Having hurried past it, and looking back up the lane, Mr. Trent then saw it glide across the road and straight through the cemetery gates. His account is just one of many detailed eyewitness reports which vary little in describing the height and dark attire of this intimidating entity which seems to move at will along the course of the ley line which links all the sites mentioned above, always returning to the ley's first point – the cemetery.
Since 1994 the BPOS has received no reports of the figure physically assaulting or attempting to physically assault witnesses; many more of it staring motionless in a paralysing fashion as per many of the 1960s and 1970s reports; and, increasingly, reports of it speaking. Perhaps one day it will 'give up the ghost' and actually tell a witness why it is here, and what it wants. But until then, we can only ponder the nature of this solitary and mysterious entity, and its relationship to the supernatural landscape which makes up haunted Highgate.
DAVID FARRANT is the President, British Psychic and Occult Society, which was established in 1967. He prepared this article with the assistance of Della Farrant, BPOS Archivist.