Reading Time:
14
minutes
CHRIS NEWTON takes a look back on the British black comedy anthology TV series, Inside No. 9, starting with an episode guide for series one…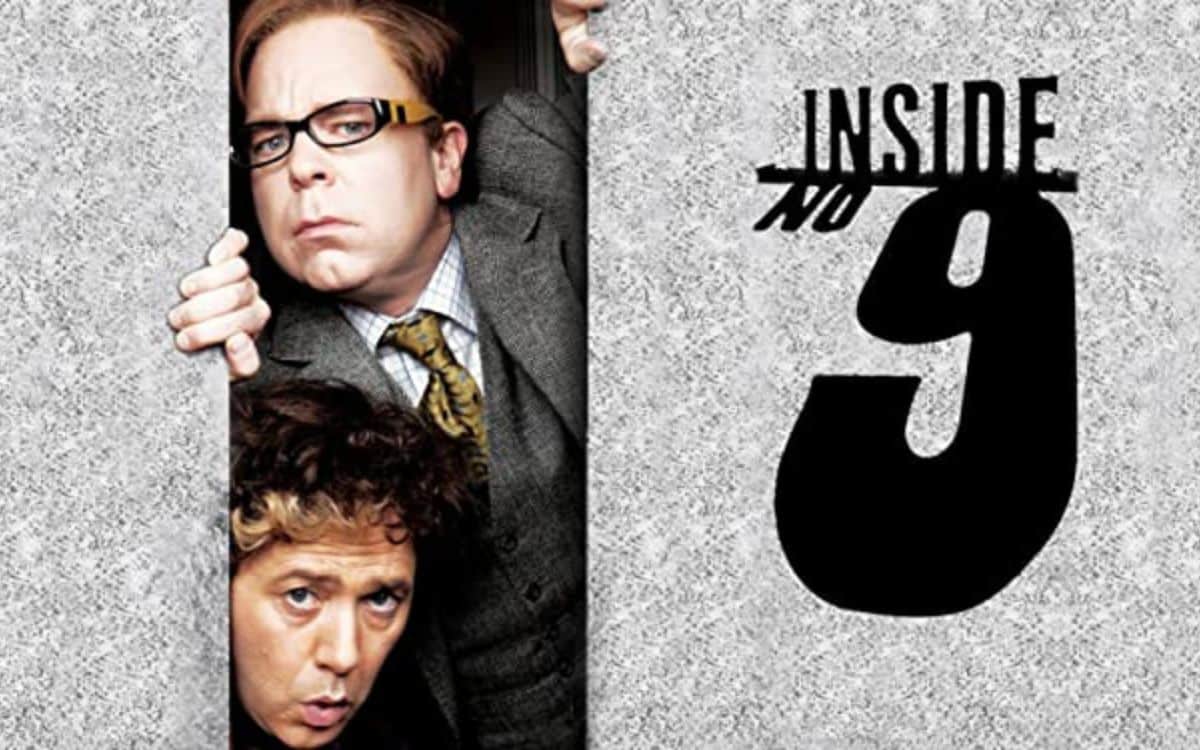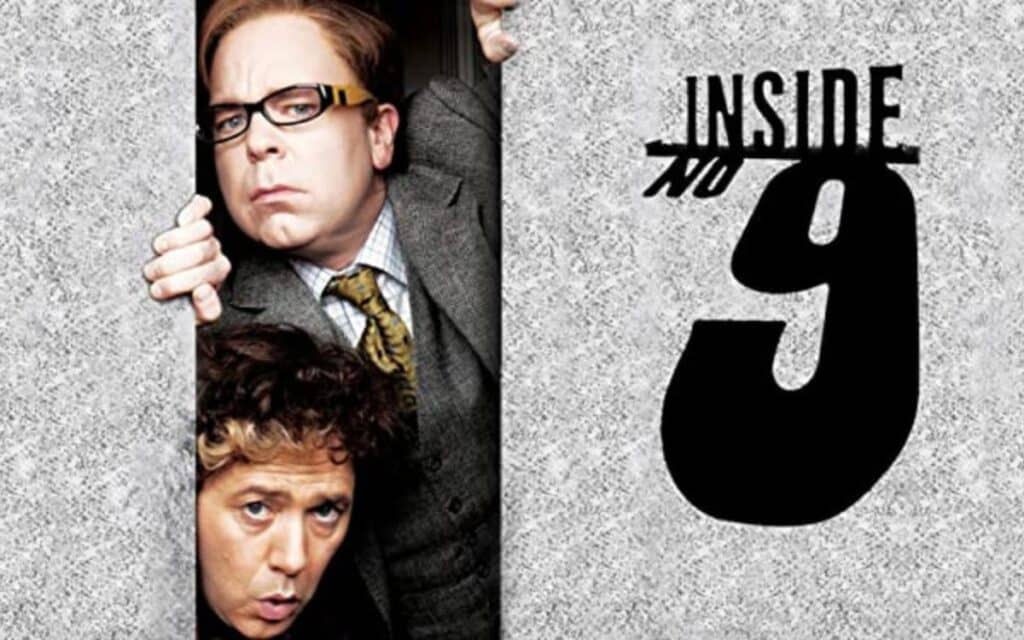 The BBC's award-winning BBC Inside No. 9 first aired in 2014. Written by, and usually starring, The League of Gentleman's Steve Pemberton and Reece Shearsmith, Inside No. 9 has its roots in their 2009 dark comedy series Psychoville.
When asked to produce an extra episode for Psychoville's first series, Pemberton and Shearsmith penned the now-legendary 'David and Maureen': a standalone episode featuring the serial killer obsessed series regulars David (Pemberton) and Maureen Sowerbutts (Shearsmith) and fellow League of Gentlemen star Mark Gatiss in a self-contained, standalone episode.
To save costs, the episode was set in a single location (the home of David and Maureen's murder victim) with minimal cast, props and effects, relying instead on witty dialogue, dramatic tension and, of course, a twist in the tale. Inspired by Alfred Hitchcock's 1948 thriller 'Rope', the events of the episode play out in real time, and it appears to have been filmed in one continuous shot. (In fact, it is two!)
'David and Maureen' proved so successful that, when the BBC asked Pemberton and Shearsmith what was to be their next project, they pitched the idea of an anthology series in the vein of Play for Today and Tales of the Unexpected. If not the original episode of Inside No. 9, 'David and Maureen' can very much be seen as the template for what followed: a self-contained story with a beginning, middle, and end, a minimal cast (including Pemberton and Shearsmith) in a single, claustrophobic location and – more often than not – a third act twist.
Whilst the creators have joked that 'Inside No. 9' has no house style, there is nevertheless a sense of DNA that runs through these very disparate stories. The fact that Pemberton and Shearsmith appear in most of them helps give them a unified feel, and there is also the matter of the hare hidden somewhere in each episode.
The series was almost going to be called 'Happy Endings' and, at one point, 'Curtains'. Other suggested titles included 'Death's Door', 'Play Dead', 'No. 9 Nightmare' and 'Can of Worms', until they thankfully settled on 'Inside No. 9'.
The titular No.9s have often been house numbers, but over the years artistic licence has taken us inside a karaoke booth, a church pew, a police car, a restaurant, a train carriage, and even a shoe. But it all began in a wardrobe in February 2014…
Inside No. 9 Series One Episode Guide
Sardines (Inside No. 9, S1, E1)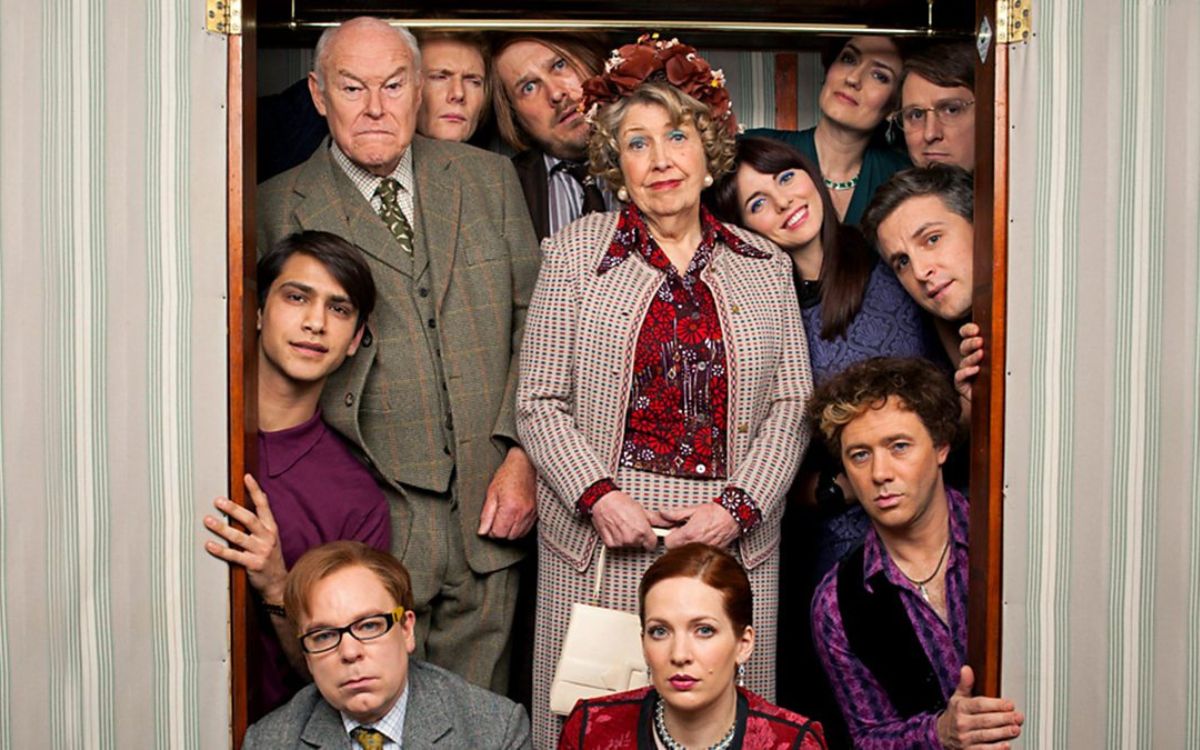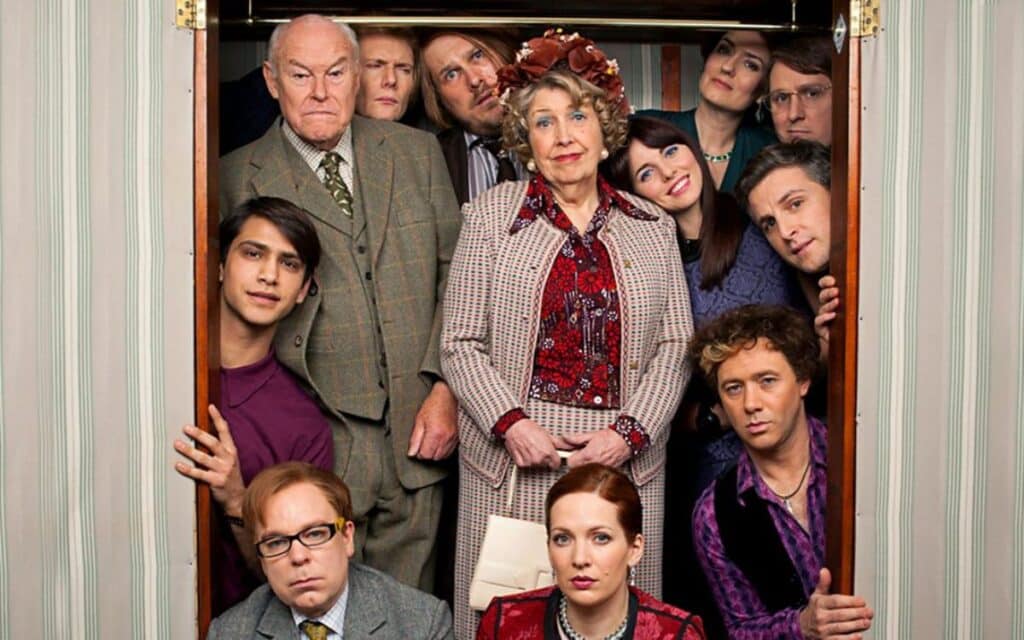 Starring: Steve Pemberton (Carl), Reece Shearsmith (Stu), Katherine Parkinson (Rebecca), Tim Key (Ian), Luke Pasqualino (Lee) Ophelia Lovibond (Rachel), Anne Reid (Geraldine), Julian Rhind-Tutt (Mark), Anna Chancellor (Elizabeth), Marc Wootton (Stinky John), Ben Willbond (Jeremy), Timothy West (Andrew)
Synopsis: A game at an engagement party goes horribly wrong.
Where's the Hare? On the bedside table.
Dialogue Triumph: "Chill out, bitch! … Sorry, that was misjudged."
Trivia:
The first draft ended with Stu's line: "There's no one actually looking for us any more. We're all here." The BBC liked it but asked for it to be darker. When it comes to Steve Pemberton and Reece Shearsmith, you need to be careful what you wish for. They took a throwaway line about Stinky Pete – "Something must have happened to him: he stopped washing" and spun it out into a harrowing subplot about child abuse leading to the eventual shocking revelation.
A Quiet Night In (Inside No. 9, S1, E2)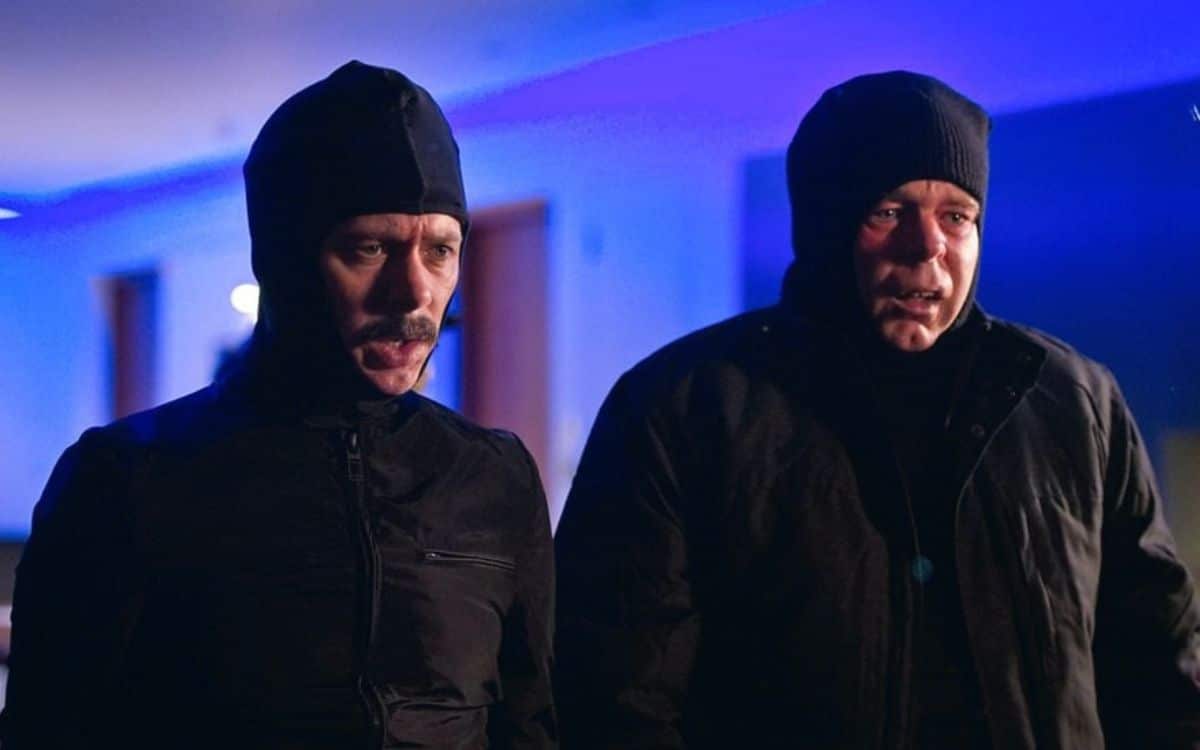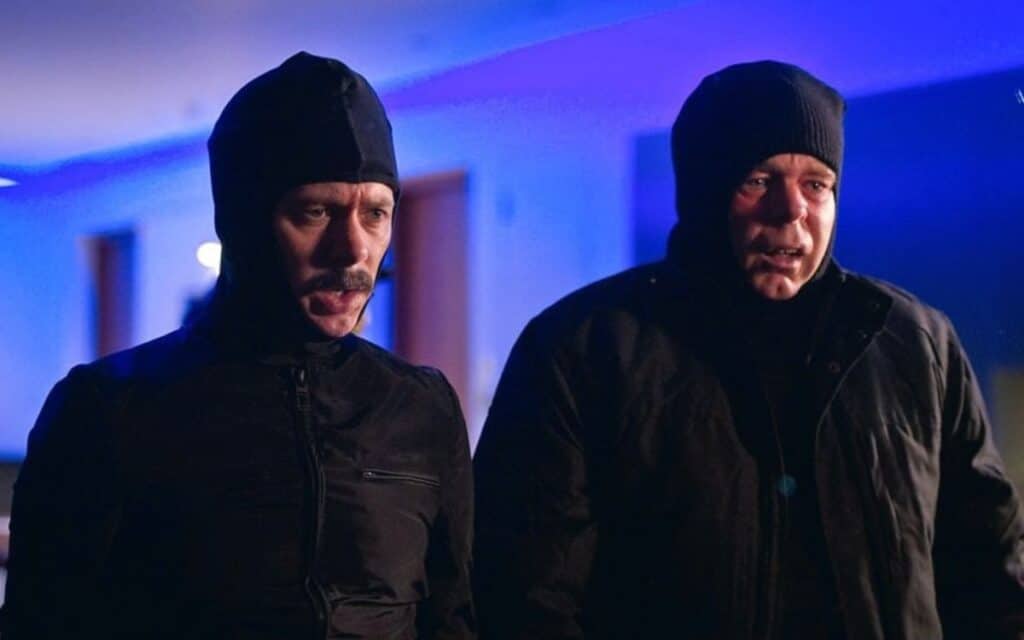 Starring: Steve Pemberton (Eddie), Reece Shearsmith (Ray), Denis Lawson (Gerald), Oona Chaplin (Sabrina), Kyvan Novak (Paul)
Synopsis: Two bumbling burglars attempt to steal a painting from a wealthy couple.
Where's the Hare? On top of the bedroom cabinet.
Dialogue Triumph: With this being an almost entirely silent episode, there isn't much dialogue (only one line to be precise), but if text messages count it's definitely "STOP TEXTING ME YOU STUPID FAT DUCK."
Trivia:
Oona Chaplin is the granddaughter of silent movie star Charlie Chaplin.
Kyvan Novak's single line at the end of the otherwise silent episode is a reference to Marcel Marceau providing the only dialogue in the film 'Silent Movie.' (The joke being that Marceau was a famous mime artist, and Novak's character is pretending to be mute.)
Reece Shearsmith based his character's moustache on Inspector Clouseau's in The Pink Panther movies.
Tom & Gerri (Inside No. 9, S1, E3)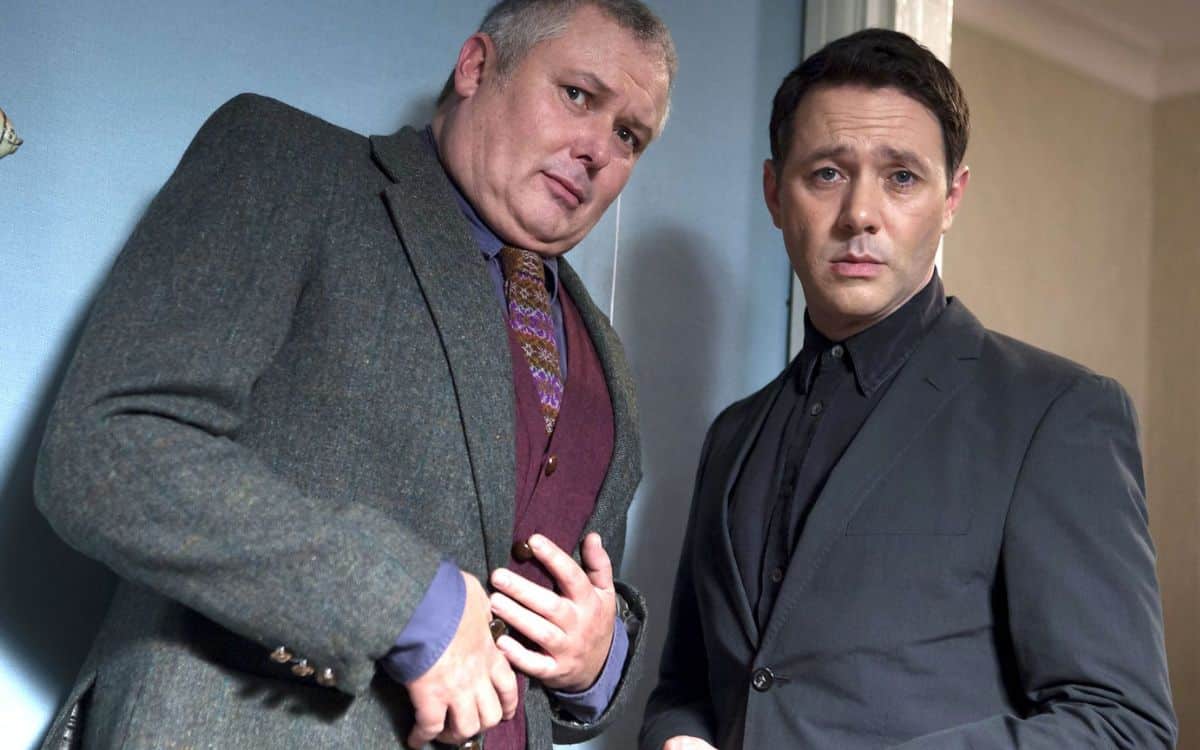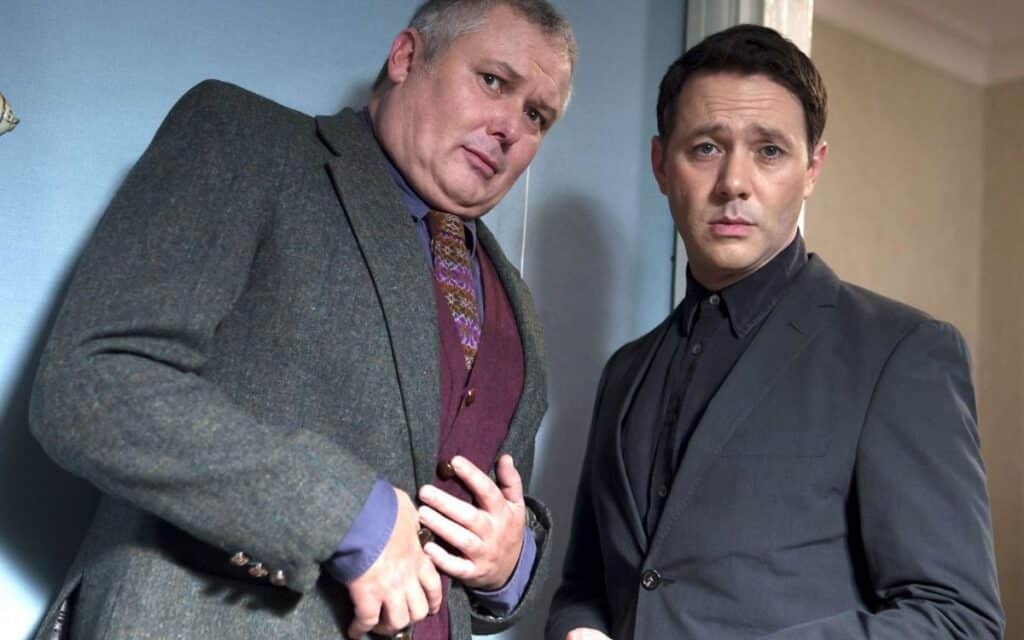 Starring: Steve Pemberton (Migg), Reece Shearsmith (Tom), Gemma Arterton (Gerri), Conleth Hill (Stevie)
Synopsis: A primary school teacher with aspirations of being a writer takes pity on a homeless man and invites him up to his flat.
Where's the Hare? On the mantle piece next to the framed photo of Tom & Gerri.
Dialogue Triumph:
Tom: Cash?
Stevie: Body Shop vouchers. I'll just leave them there. Don't lose it among the… debris.
Trivia:
After pitching the original idea of an anthology series to the BBC, Pemberton and Shearsmith wrote two scripts. One was 'Nanna's Party' (an episode that would eventually feature in series two), which the channel wanted them to spin-off into a sitcom. The second script was 'Tom & Gerri', which was adapted from a play written by Pemberton and Shearsmith when they were both on the dole in the early '90s, pre-League fame. Interestingly, that original version of the story featured a nightmarish restart officer who would eventually become The League of Gentlemen's infamous Pauline.
Gerri lands a part in a play called 'D-Day Doris'. She later mentions that "Ollie's changed the title" to 'Lucy Land Girl'. Pemberton and Shearsmith later revealed that 'Ollie' was none other than The League of Gentlemen's Ollie Plimsolls, and that Gerri was staring in a Legz Akimbo Theatre Company production.
The writers have stated that, beyond it referring to the characters' names, there is no significance to the title 'Tom & Gerri'. It is interesting, however, to note the stylistic similarity to 'David and Maureen', given how influential both of those stories were in shaping what would become 'Inside No. 9'.
Last Gasp (Inside No. 9, S1, E4)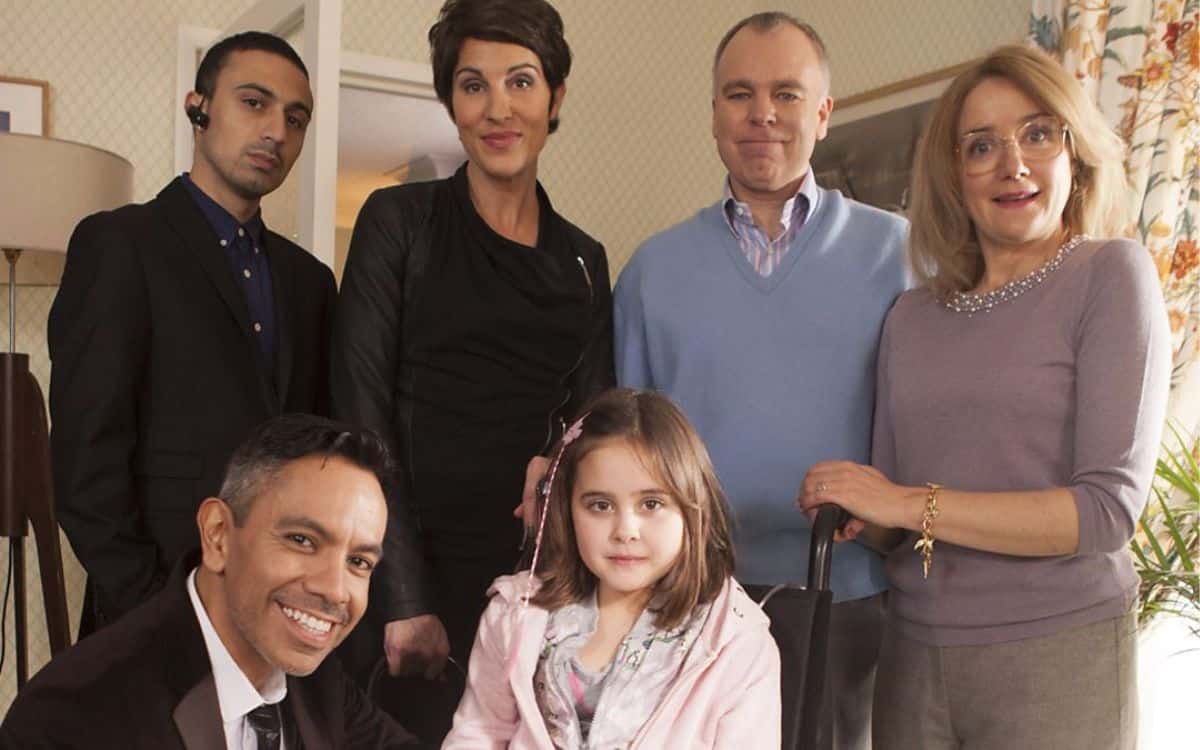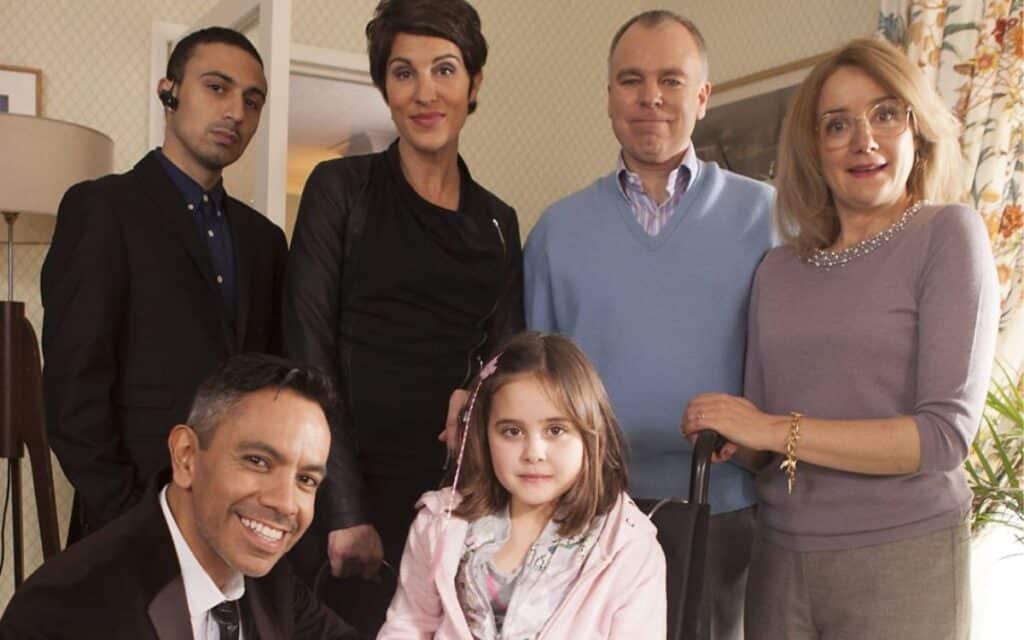 Starring: Steve Pemberton (Graham), Sophie Thompson (Jan), Lucy Hutchinson (Tamsin), David Bedella (Frankie), Tamsin Greig (Sally), Adam Deacon (Si).
Synopsis: When a celebrity dies blowing up a child's balloon, a devious battle ensues over who legally owns the balloon containing his 'last gasp.'
Where's the Hare? On the bookshelves.
Dialogue Triumph: "Then she dropped down dead, right there on the doorstep! So up yours, Nigel! That was my favourite one."
Trivia:
The idea for this story came to Pemberton after watching a television programme about a girl who 'collected' jars of air from each place she visited.
Sting, Tom Jones, and George Michael were among names originally considered for the role of Frankie.
This is the first episode of Inside No. 9 not to feature Reece Shearsmith in the cast. Initially, they thought that having to have each of them to be in every episode would limit them creatively and they did not want to be forced to write two male leads in every story. "It was nice to be behind the camera for the entire week, watching it," says Reece in Mark Salisbury's 'The Insider's Guide to Inside No. 9'.
The Understudy (Inside No. 9, S1, E5)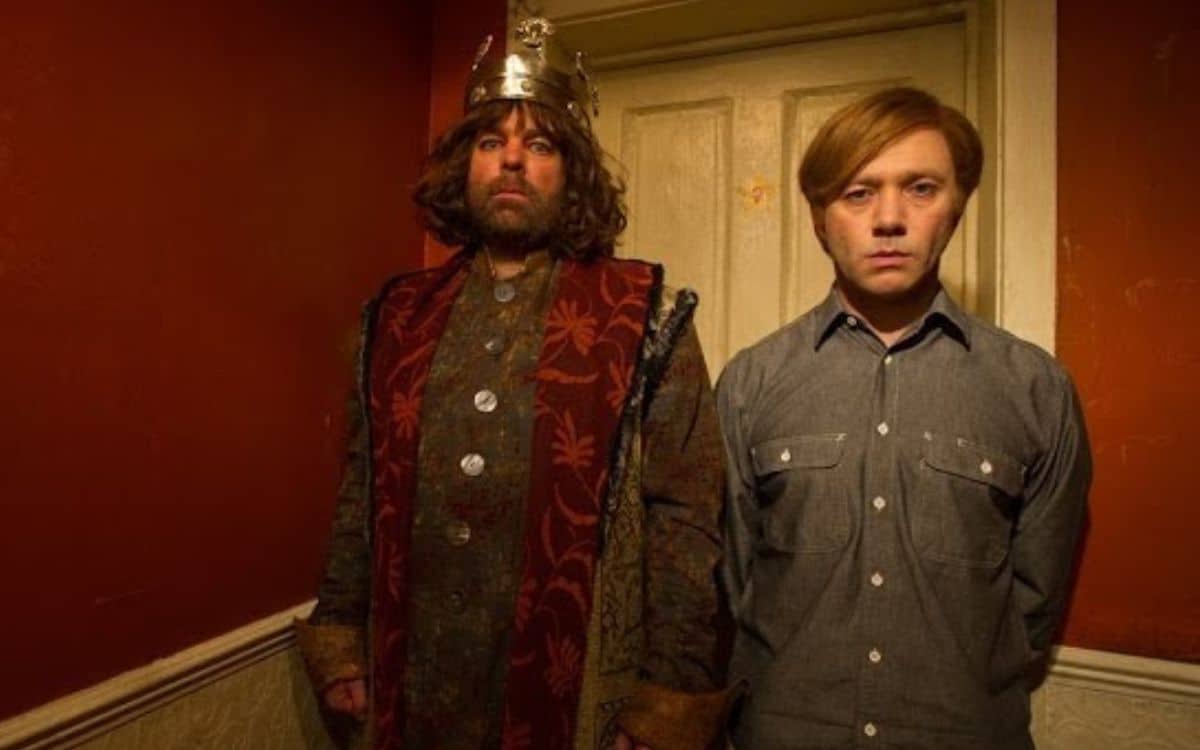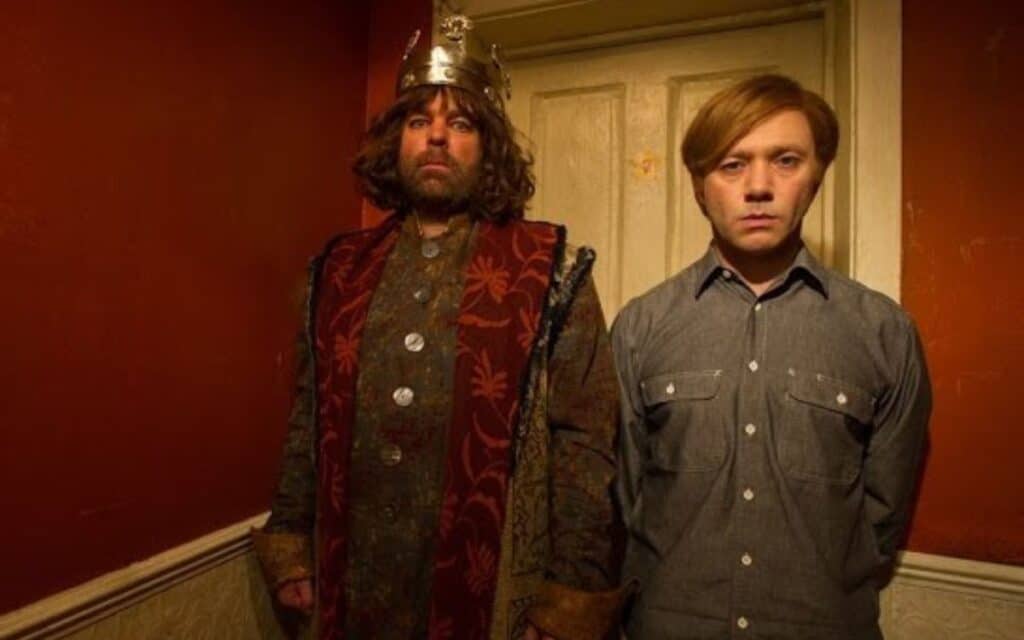 Starring: Steve Pemberton (Tony), Reece Shearsmith (Jim), Lyndsey Marshal (Laura), Julia Davis (Felicity), Rosie Cavaliero (Kirstie), Roger Sloman (Bill), Di Botcher (Jean), Richard Cordery (Nick).
Synopsis: Encouraged by his fiancée, a young understudy becomes the lead in a production of Macbeth in a series of events with a chilling similarity to the Scottish Play itself.
Where's the Hare? On the table in front of the dressing room mirror.
Dialogue Triumph: "… when Banquo came on you said, 'Fuck me, there's a ghost!'"
Trivia:
This story was originally envisioned to feature Psychoville's David and Maureen in an Amateur Dramatics production of Macbeth. Ultimately, Pemberton and Shearsmith decided that they wanted Inside No. 9 to be able to stand on its own and become established as a series in its own right before crossing over with other things. David and Maureen would eventually appear in the series 5 episode 'Death Be Not Proud.'
The Harrowing (Inside No. 9, S1, E6)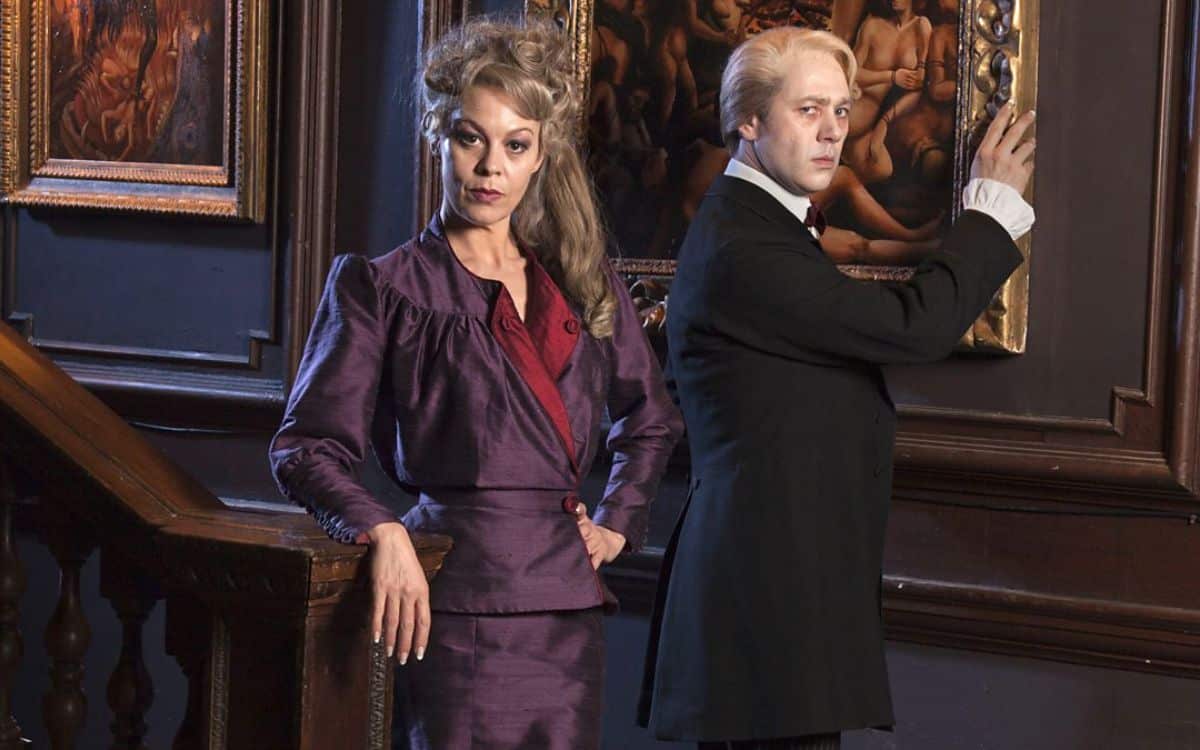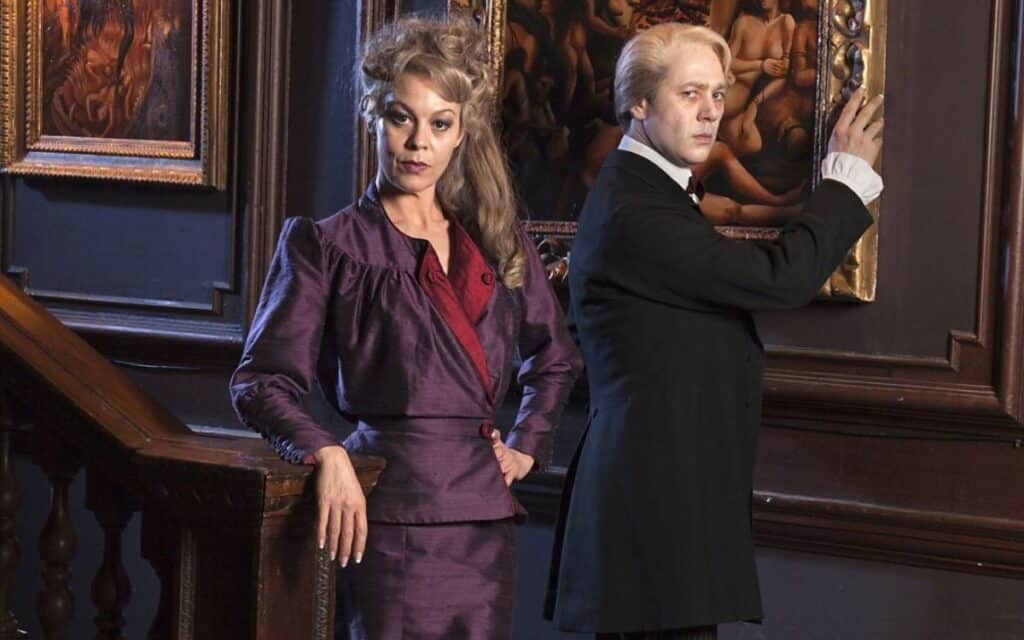 Starring: Reece Shearsmith (Hector), Aimee-Ffion Edwards (Katy), Helen McCrory (Tabitha), Poppy Rush (Shell), Sean Buckley (Andras).
Synopsis: Two wealthy, eccentric, siblings offer a teenage girl £11 an hour to babysit their 55-year-old brother, Andras (who was "born inside out"), in their creepy mansion, and warn her not to set foot upstairs. What could go wrong?
Where's the Hare? By the bedside lamp.
Dialogue Triumph:
Tabitha: That's Andras. Milk and rusks. That's all he can have. He doesn't eat properly, you see.
Katy: The disability?
Tabitha: That. And the fact he doesn't have a mouth.
Trivia:
The exterior location for the mansion was a 19th manor house in Highgate. The interiors, however, were shot at Langleybury House in Hertfordshire which eagle eyed fans might recognise as Oscar Lomax's house from 'Psychoville'.
Tabitha explains that "the house is maintained at three below freezing at all times". This was a reference the Ninth Circle of Hell. According to Dante's 'Inferno', the Ninth Circle is a lake of ice.
This was the first episode not to feature Steve Pemberton in the cast. Shearsmith himself only has a fairly minor role as Hector.
Andras is revealed to be possessed by a demon named Castiel. The name 'Andras', however, also has demonic connotations. According to The Lesser Key of Solomon, Andras is a Great Marquis of Hell with the wings of an angel and the head of an owl.
Inside No. 9 Series Two Episode Guide
In 2015, something eerily familiar flickered back onto our screens. The floating dust motes, the creeping, pizzicato strings, and the elongating shadow of the No. 9 could only mean one thing: Steve Pemberton and Reece Shearsmith were back doing what they did best.
When this BBC dark comedy series first aired in 2014, none of us knew what to expect. Many (like myself) were anticipating something similar to The League of Gentlemen or Psychoville. What we got was something very different: an anthology series in the vein of the '70s and '80s classics (Incidentally, that opening credits No. 9 silhouette was a visual homage to the shadow-fingers in the title sequence of Inside No. 9's spiritual predecessor, 'Armchair Thriller'), which introduced a completely new set of characters each week, the only connectivity being the claustrophobic locations and the hidden hare. By the time Inside No. 9 returned for a second series, we had learned to expect the unexpected.
After the success of the first series, particularly the episodes 'Sardines' and 'A Quiet Night In', creators Steve Pemberton and Reece Shearsmith were concerned they wouldn't be able to top viewers' expectations for the second series. They needn't have worried. Their faith in the anthology format, and the inherent variety it provided, encouraged them to be even more experimental, lifting their self-imposed ban on period pieces to give us the comedy folk horror masterpiece that is The Trial of Elizabeth Gadge, and a quickly written, eleventh hour final script the creators worried wasn't funny enough proved to be an episode consistently listed as 'The Best Inside No. 9 Ever'.
La Couchette (Inside No. 9, S2, E1)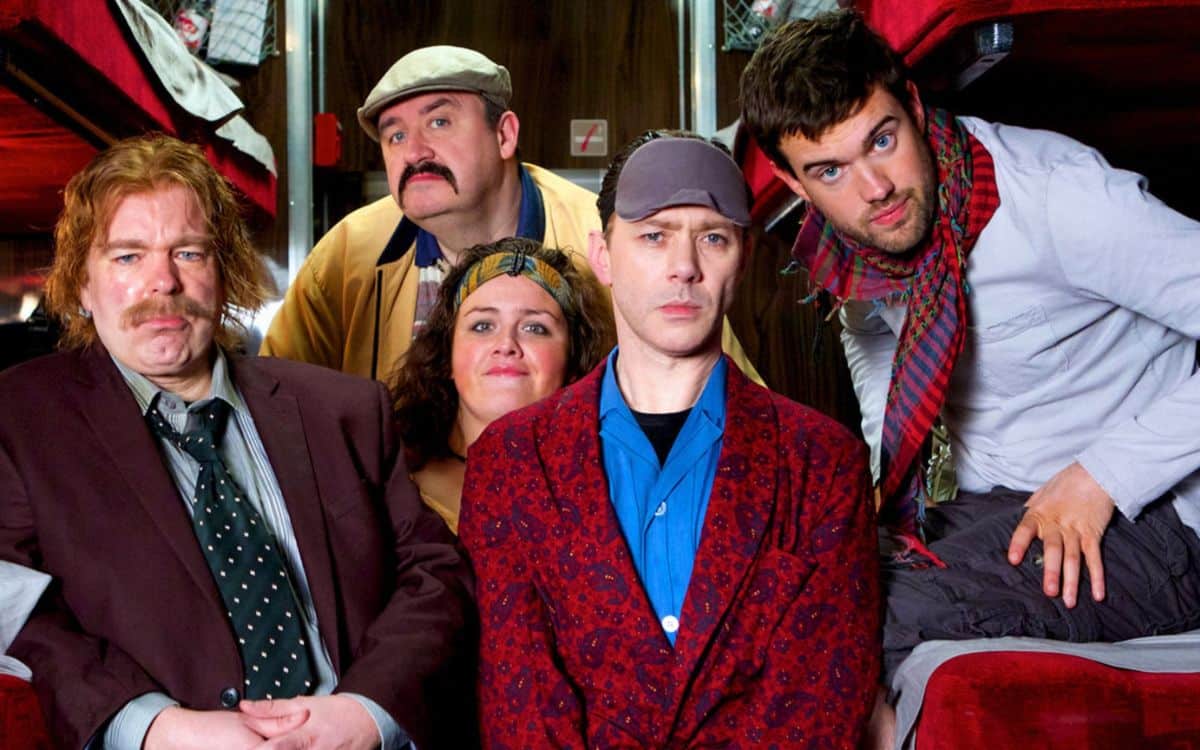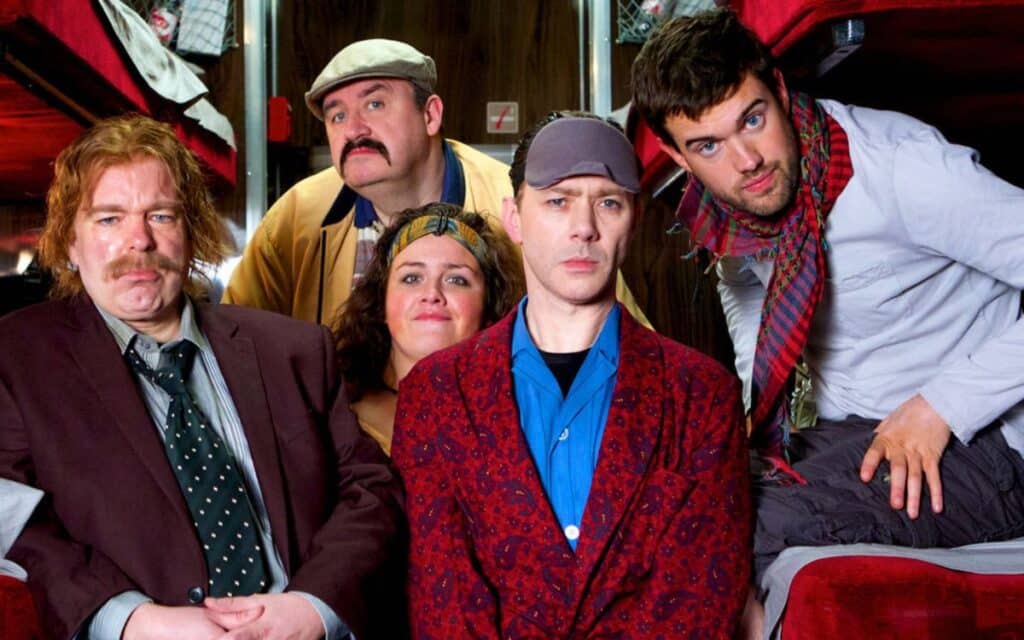 Starring: Steve Pemberton (Jorg), Reece Shearsmith (Maxwell), Julie Hesmondhalgh (Kath), Mark Benton (Les), Jessica Gunning (Shona), Jack Whitehall (Hugo), George Glaves (Yves)
Synopsis: Dr Maxwell is taking a sleeper train in order to get to a job interview in Bourg-Saint-Maurice in the morning. All he wants is a quiet night's rest but a flatulent German, a bickering couple, a stowaway all conspire to prevent him from sleeping. And that's before they discover the dead body…
Where's the Hare? In the background of the photograph of the dead man's family.
Dialogue Triumph:
Maxwell: The WHO are offering a sizeable grant for new research into the degenerative effects of angina. If my bid is chosen it could be life-changing.
Les: Yep, it's exactly like me and my decorating. When I do a quote for a back bedroom, say, I've got to think "what's the other fella coming in at, and can I undercut him without looking like a twat?" you know what I mean?
Maxwell: Yes, it's… similar.
Trivia:
Pemberton and Shearsmith have known Julie Hesmondhalgh since she came to see one of the first performances by the League of Gentlemen at Club Montepulciano. (Which, according to them, went terribly!)
The 'I heart Aussie Boys' T-shirt that Shona gives to Hugo was auctioned off on eBay, along with many other props and garments from this series.
When Shona says "I can see blood," Hugo's line "So can I!" was improvised on the day of filming.
The Twelve Days of Christine (Inside No. 9, S2, E2)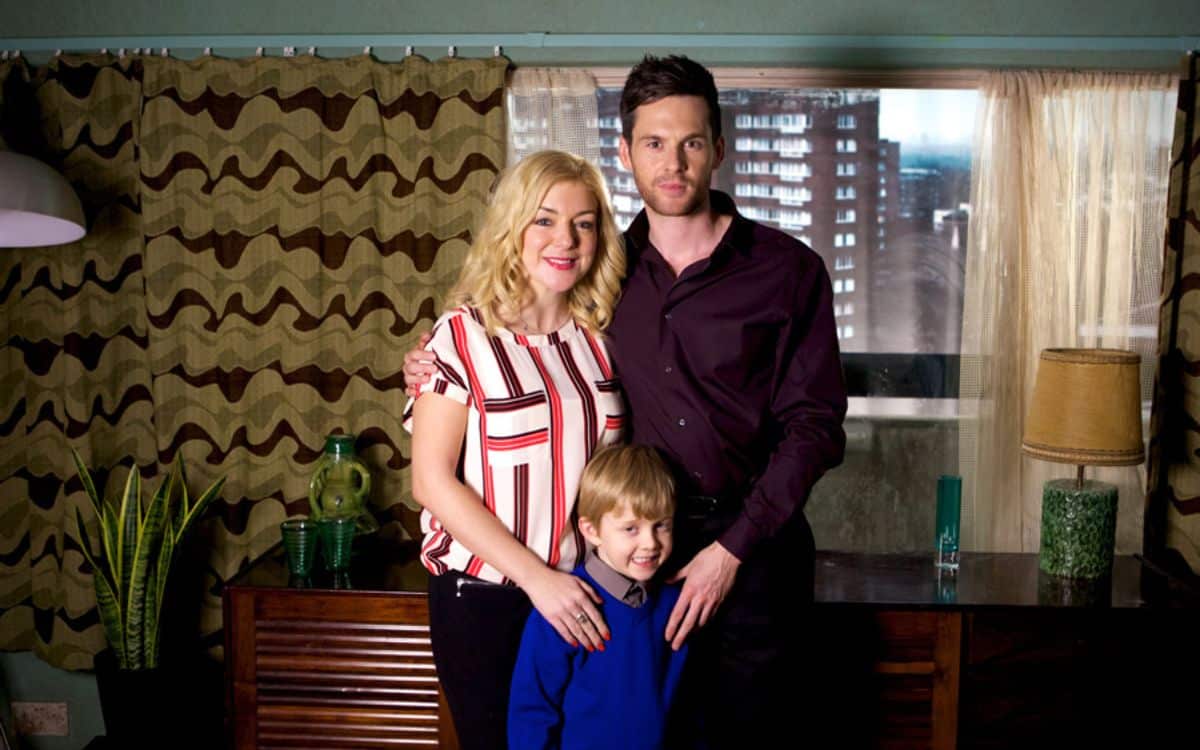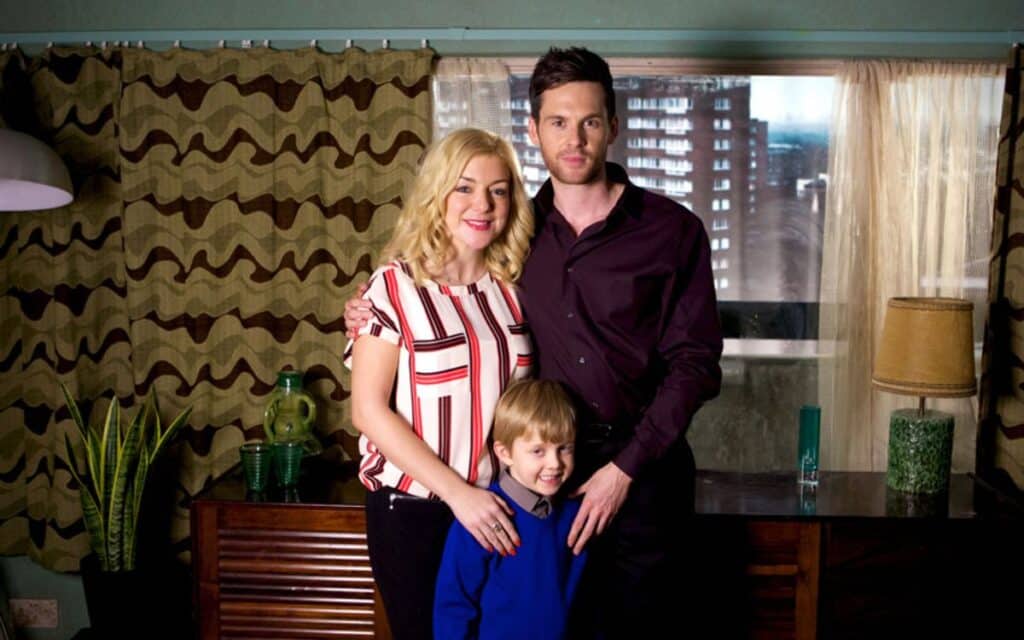 Starring: Steve Pemberton (Bobby), Reece Shearsmith (Stranger), Sheridan Smith (Christine), Tom Riley (Adam), Stacy Liu (Fung), Michele Dotrice (Marion), Paul Copley (Ernie), Jessica Ellerby (Zara)
Synopsis: The story of Christine's life is told over the course of 12 days, each of them a year and a month apart… but she's getting everything jumbled up.
Where's the Hare? Beneath the Mirror.
Dialogue Triumph: "Oh. I think I know what this is now."
Trivia:
The titular twelve days are: New Year's Eve, Valentine's Day, Mother's Day, Easter Sunday, May Day, Father's Day, Christine's Birthday, a day during the August summer holidays, 1 September (Jack's first day of school), Halloween, Bonfire Night, and Christmas Day.
Shearsmith's 'Stranger' character was envisioned as a sinister, Grim Reaper-esque figure in a black hood, but director Guillem Morales insisted that the character's appearance would be more unsettling if he simply seemed "out of place", hence the condensation on his glasses.
Fung actress Stacy Liu also appeared in Psychoville as Oscar Lomax's carer, Jennifer.
'The Twelve Days of Christine' was the final script written for this series and remained relatively unchanged from the first draft.
The Trial of Elizabeth Gadge (Inside No. 9, S2, E3)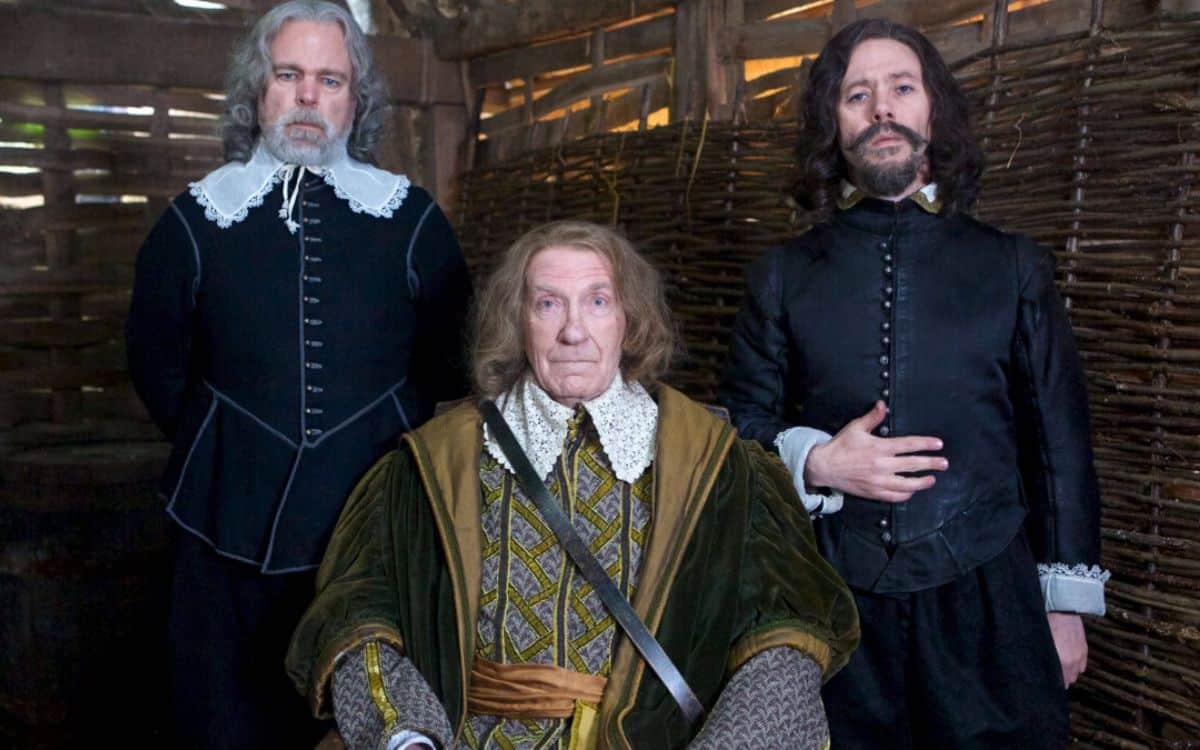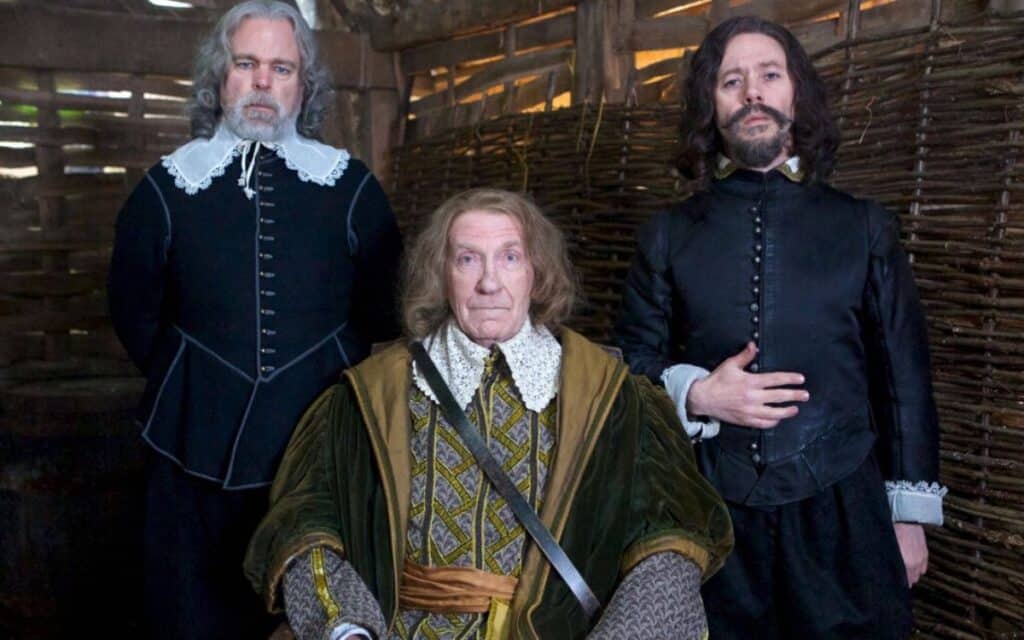 Starring: Steve Pemberton (Mr Clarke), Reece Shearsmith (Mr Warren), David Warner (Sir Andrew Pike), Ruth Sheen (Elizabeth Gadge), Sinead Matthews (Sarah Nutter), Jim Howick (Thomas Nutter), Paul Kaye (Richard Two-Shoes), Trevor Cooper (George Waterhouse)
Synopsis: It's 1649, and two renowned witch-finders have come to the small hamlet of Little Happens to do God's work.
Where's the Hare? On the middle table.
Dialogue Triumph:
Clarke: It can be inserted into any orifice and expanded to the point of…
Pike: Ecstasy.
Clarke: Agony.
Pike: Agony, yes.
Trivia:
In the scripted version of the episode (available from Hodder), the opening scene with the witch-finders talking to Sir Andrew Pike is longer, with Pike explaining that, "Two weeks since I did trip and fall on a step on the edge of the green," and asking, "Could it not be a devil all hunched down?"
This episode was filmed at the Chiltern Open Air Museum.
Horror legend David Warner had previously worked with Pemberton and Shearsmith as Dr. Erasmus Pea (a parody of John Dee) in the 2005 film 'The League of Gentlemen's Apocalypse'.
The production budget could only stretch to hiring the extended cast for two days, which is why the trial is adjourned.
The surname 'Nutter' is, of course, a reference to Alice Nutter, who was accused and hanged as a Pendle Witch in 1612.
The 'pear' prop was put on eBay, prompting a furious article in the Daily Mail about the BBC selling torture props.
Cold Comfort (Inside No. 9, S2, E4)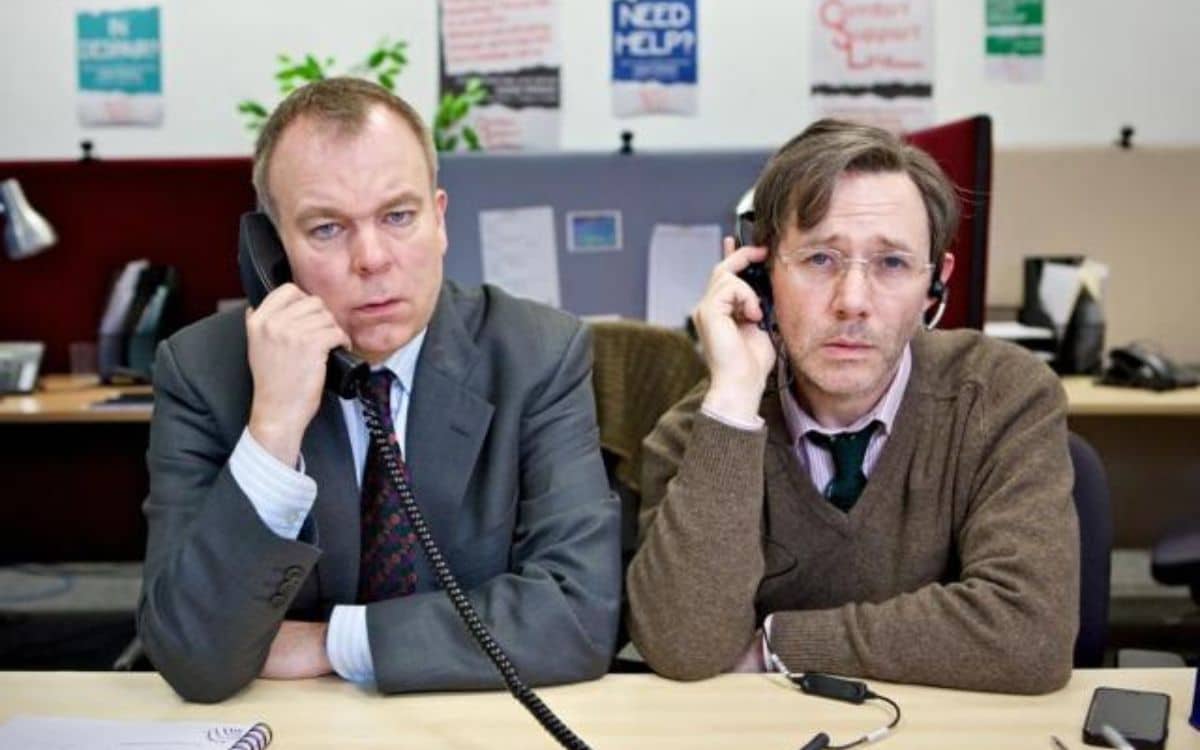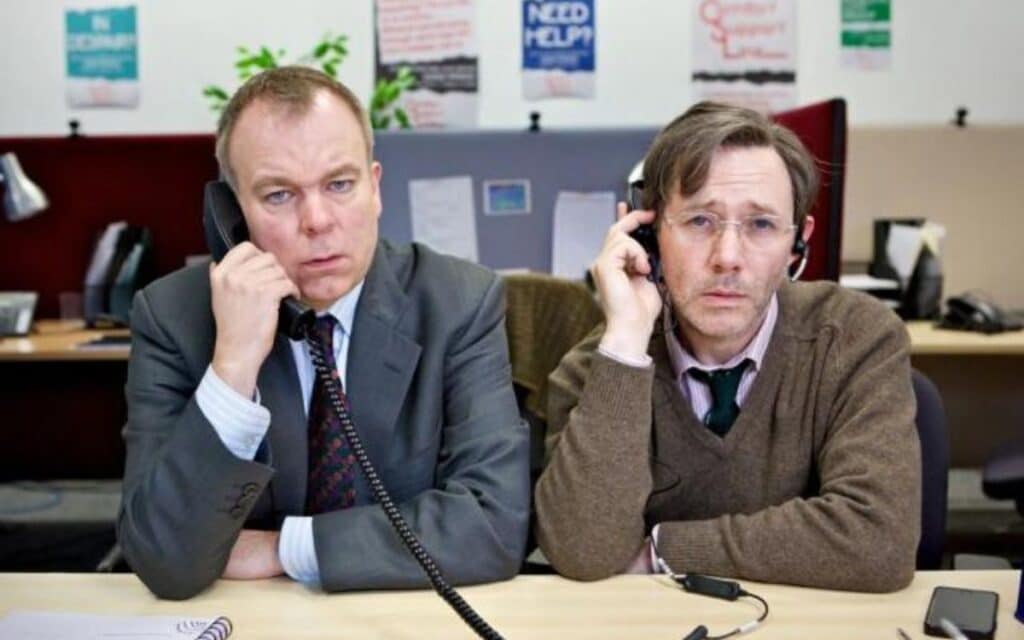 Starring: Steve Pemberton (Andy), Reece Shearsmith (George), Jane Horrocks (Liz), Nikki Amuka-Bird (Joanne), Tony Way (Michael). Callers: Vilma Hollingbery, Edward Easton, Kath Hughes, James Meehan, Vicky Hall
Synopsis: Andy begins volunteering at Comfort, a Samaritans-style support line, and receives a call from a suicidal teenager.
Where's the Hare? On one of the desks beside the computer monitor.
Dialogue Triumph: "I got you one of those drinks you like."
Trivia:
The CCTV format was inspired by footage Shearsmith had seen of Canadian police interviewing a man confessing to several murders.
This episode was co-directed by Pemberton and Shearsmith, thinking that a more experienced director would object to producing something this static. A side-effect of all the footage being presented in real time meant little to no editing, and so there was no room for errors during takes. All of the phone calls were recorded live, with the voice actors reading their lines off-camera.
Vilma Hollingbery, who provided the voice of Ivy might sound familiar to fans of Psychoville. She played Mrs Wren (aka 'Mrs Ladybirdface').
The annoying PPI caller is voiced by series producer Adam Tandy.
The score for Cold Comfort incorporated various 'found sounds', including the hum of a freezer and telephone static.
The episode originally ended with Ivy's son shooting Andy and the camera being covered in blood. However, the executive producer suggested that cutting to the music just before the gun was fired would be more effective.
Nana's Party (Inside No. 9, S2, E5)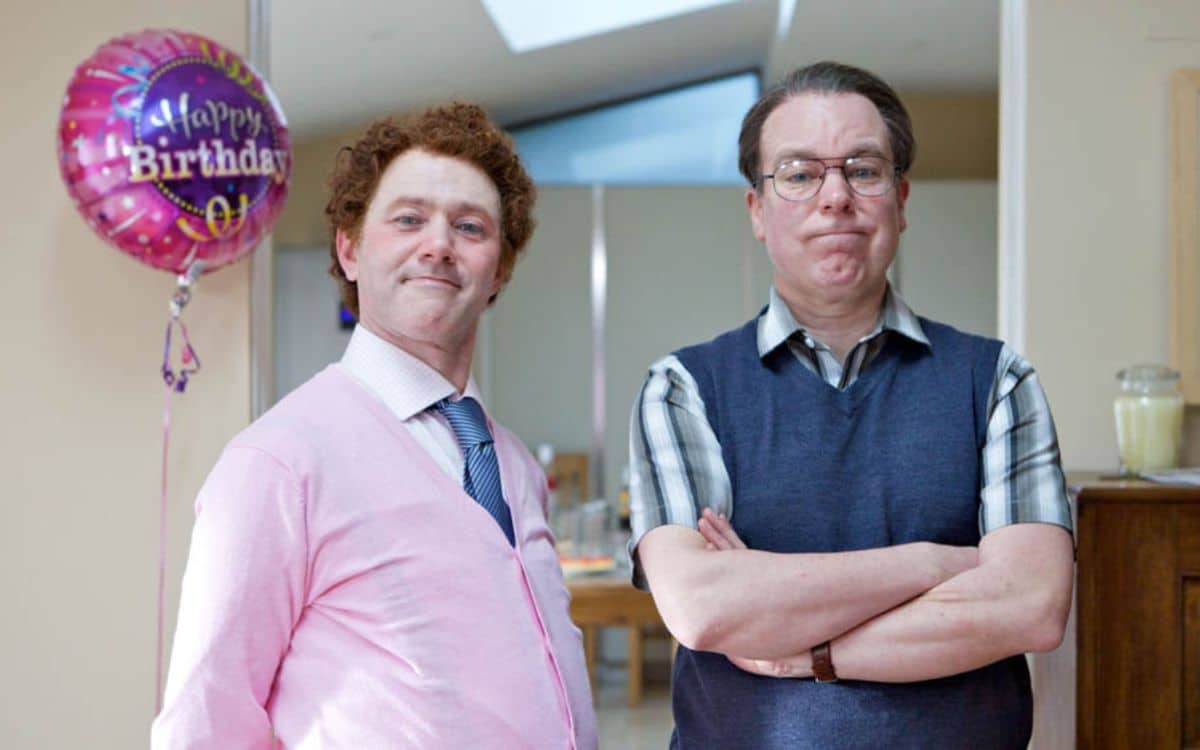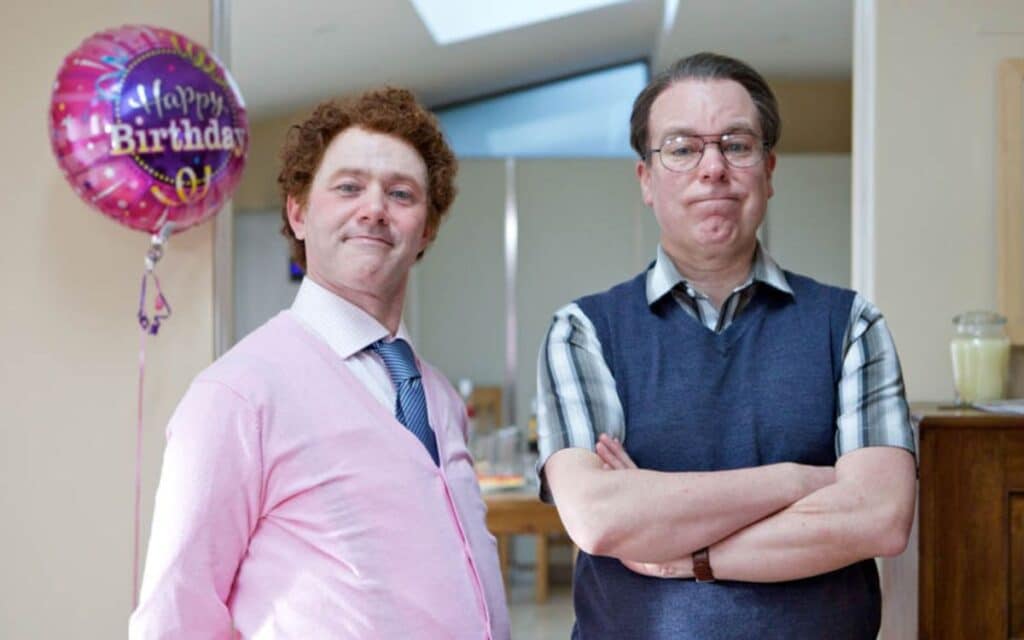 Starring: Steve Pemberton (Jim), Reece Shearsmith (Pat), Claire Skinner (Angela), Eve Gordon (Katie), Elsie Kelly (Maggie), Lorraine Ashbourne (Carol), Christopher Whitlow (Paramedic)
Synopsis: This episode opens with a paramedic rushing into a 79th birthday party with cries of "Please! We need help!" coming from within. We then flash back to earlier that day to find out how Nana's party ended in disaster…
Where's the Hare? On the bookshelf.
Dialogue Triumphs: "I wanted both my girls to talk nice, that's why I sent you to electrocution lessons. You should say 'batcher', Carol. That's how you get on in life."
Trivia:
The title is a reference to Mike Leigh's 'Abigail's Party', starring Alison Steadman. Steadman also plays Madam Talbot/Anne in the series finale, 'Séance Time'.
Pemberton's initial idea revolved around a party for someone called Maggie, who is missing from her own birthday gathering. There was to be a mysterious box on the table which would be revealed to contain Maggie's head. This eventually evolved into Maggie hiding beneath the table with her head concealed by the box, and then to the eventual idea of the hollow birthday cake.
Given than most of the episode's tension revolves the audience – unlike the characters – knowing that there is a person beneath the cake, its tiers were designed to resemble a face with eyes, a nose, and a mouth when shot from certain angles.
Claire Skinner frequented the same café in which Pemberton and Shearsmith wrote, but they never approached her. Only after she had been cast as Angela did Pemberton speak to her in the street one day and said, "You're going to be my wife!"
This was the first episode of Inside No. 9 in which none of the characters died.
Séance Time (Inside No. 9, S2, E6)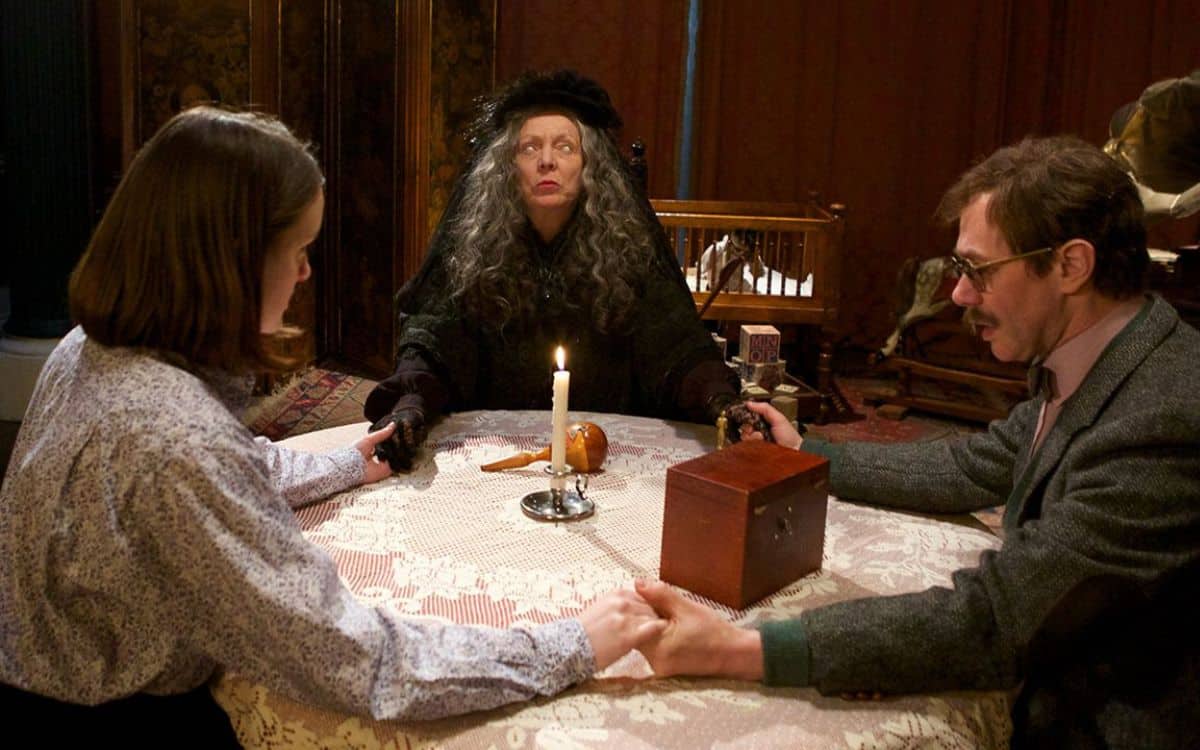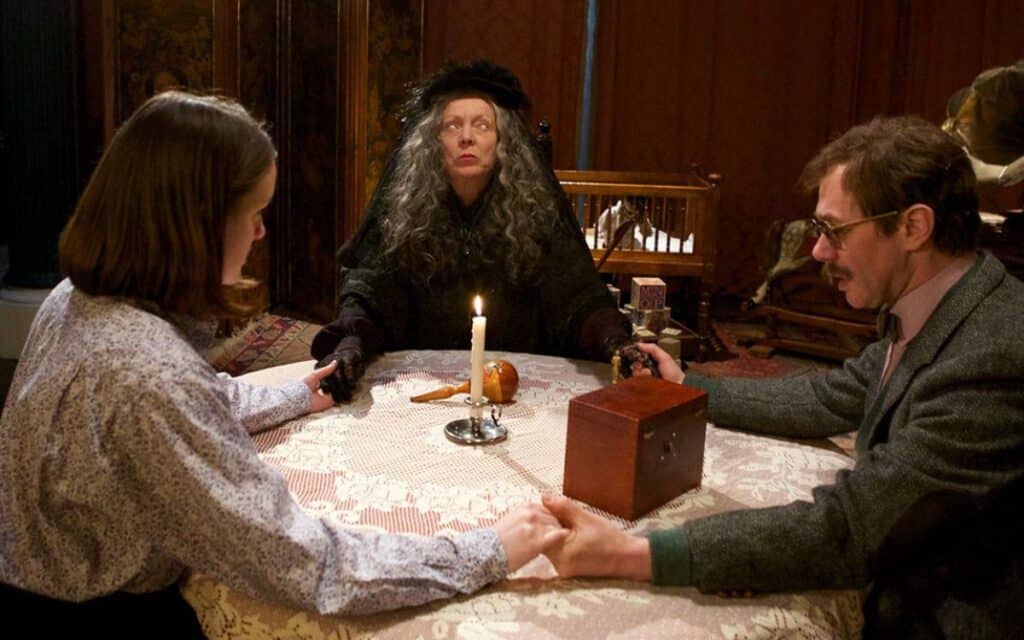 Starring: Steve Pemberton (Pete), Reece Shearsmith (Terry), Sophie McShera (Tina), Alison Steadman (Anne), Dan Starkey (Clive), Cariad Lloyd (Gemma), Alice Lowe (Amanda), Caden-Ellis Wall (William)
Synopsis: Tina visits the renowned medium, Madam Talbot, in a gloomy gothic parlour to see if there are any Astrals looking to communicate with her.
Where's the Hare? In front of the two-way mirror.
Dialogue Triumph: "Did you know I was very nearly Marple? They said I wasn't sweet enough. Fuckers."
Trivia:
The title of the episode is a reference to a line from David Warner's character in the 1974 Amicus portmanteau horror, 'From Beyond the Grave'. Pemberton and Shearsmith are fans of the genre, having produced homages to the anthology-horror format with the League of Gentlemen's Christmas Special, and the Psychoville Halloween Special.
The conceit of Pemberton's character being spooked by the 'blue demon dwarf' and knocking him out was inspired by a YouTube video Shearsmith watched about a Halloween prank gone wrong.
Interiors of Madam Talbot's house were once again filmed at Langleybury, where the series one finale, 'The Harrowing' was shot.
The creators regretted casting Alice Low and Cariad Lloyd in relatively minor roles given their self-imposed ban on recurring actors on Inside No. 9.
The DVD release of this series features commentaries on each episode by Pemberton and Shearsmith. Throughout, Shearsmith becomes increasingly grumpy, especially by critics' and fans' perceived reactions to 'The Twelve Days of Christine' not being funny enough, and to The Trial of Elizabeth Gadge (Shearsmith's favourite episode) being "a dud". He frequently begins the commentaries by wondering if anyone is actually listening and questioning why anybody would want to. By the time they get to 'Cold Comfort', Shearsmith's angry rant about viewers not appreciating the story is abruptly cut off, with Pemberton awkwardly explaining that "Reece is gone." A downbeat Pemberton begins the commentary for 'Nana's Party' on his own, before Shearsmith enters the room and is upset that Steve is recording without him. They continue to bicker throughout the episode, especially in regard to an episode penned by Shearsmith set in a library which Pemberton had not "allowed". During the 'Séance Time' commentary, Pemberton attempts to leave as Shearsmith aggressively restrains him. In the ensuing struggle, Pemberton seemingly kills his co-star and is heard sobbing and vomiting as he disposes of the body whilst attempting to continue the commentary.
More Inside No. 9 Series Episodes Guides Coming Soon!
Tell us your thoughts on Inside No. 9 in the comments section below!