Reading Time:
6
minutes
RICHARD PHILLIPS-JONES commemorates Channel 4's Monster Horrors Season, a great horror season from his youth – 30 years ago this week!
I remember the day well that Channel 4 trailered their forthcoming season of "Monster Horrors" as part of their new line up for 1986.
Shaking off the post-Christmas blues, I'd just finished watching the latest episode of "Treasure Hunt", an interactive game-show of sorts where a studio-bound team would direct Anneka Rice around an area of Britain via helicopter to find clues and prizes. Pretty unusual stuff for its time.
Anyway, show over, and I was about to grab some tea and toast when the sound of Colin Clive proclaiming "It's Alive!" grabbed my attention, and a continuity announcer declared that Monster Horrors were coming to Channel 4, starting on the 11th of January. Cue much excitement and whooping, and a quick grab for the Alan Frank books to see what I could tick off from the index…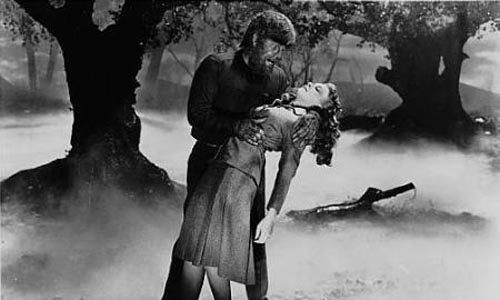 Seasons of horror movies weren't anything new on British TV, of course. BBC2 had pioneered the format with their now legendary double bills between 1975 and 1983, whilst local ITV stations had shown their own Friday-night horrors for many years. However, this particular season would be of great significance to horror fans of my generation, who were just that bit too young to have fully appreciated the BBC2 showings.
For us, this was an amazing opportunity to explore most of the key monster movies of the 1930's and 1940's, in a roughly chronological order, with the season curated by Leslie Halliwell, at that time the channel's chief buyer of vintage US movies. He would commemorate the genre later that year in his book, The Dead That Walk.
A couple of other points were of great personal significance. Firstly, I now had access to a TV upstairs, and could watch the whole lot uninterrupted if the rest of the family weren't prepared to indulge me. Secondly (and crucially), I now also had access to a video recorder, and I was about to purchase enough video tape to buy shares in Maxell, as I built up my own personal collection of the world's finest horror flicks.
Like BBC2 before them, C4 opted for a Saturday slot, at 11:00. Scheduling the films straight after one of my favourite shows (Hill Street Blues) made for a dream line-up as far as I was concerned.
As you can see from the following list, the series mainly featured Universal's great monster cycle, but also found room for a couple of seminal European films, key items from other Hollywood studios, not to mention one or two real curios.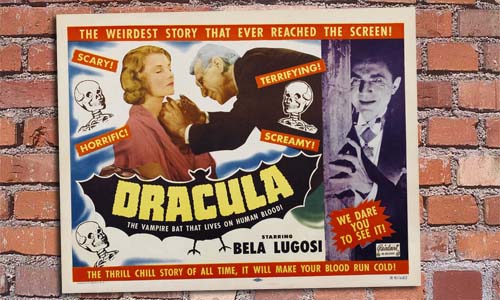 The following is what I believe to be a complete list of the films which were broadcast in this season. I have compiled this using what TV listings I could locate for the period, filling in the gaps from notes made at the time, relating to my now recycled VHS collection. Where I have been unable to ascertain the exact broadcast date, this has been noted accordingly. Corrections and/or personal recollections are most welcome.
More details on individual films can be found in the reviews at Spooky Isles. Where films are not featured elsewhere on the site, I have attempted to add some extra detail. So, dim the lights and let the season commence…
(Original Channel 4 continuity, introducing Dracula and Nosferatu on 11th January 1986)
11th January 1986
11:00 Dracula (1931)
12:15 Nosferatu (1922)
The perfect opening – The film which kick-started Universal's cycle for the sound era, paired with FW Murnau's silent (and unauthorised) treatment of the same work.
18th January 1986
11:00 Mark Of The Vampire (1935)
12:20 Vampyr (1932)
Tod Browning's sound-remake of London After Midnight (1927) for MGM, paired with Carl Dreyer's surrealist masterpiece.
25th January 1986
11:00 Frankenstein (1931)
12:15 The Vampire Bat (1933)
This was probably the first networked UK screening of Frankenstein which restored the sequence where the creature throws a small child into a lake, which had been thought lost, although I have read reports of this version being shown locally on ITV stations before this time.
The Vampire Bat was especially notable as an early attempt by a b-movie factory (in this case, Majestic Pictures) to capitalise on the horror craze. Many poverty-row efforts would follow, but this was one of the better examples, utilising not only great horror talents (Lionel Atwill, Dwight Frye, Fay Wray) but also some of Universal's discarded Frankenstein sets!
1st February 1986
11:00 The Old Dark House (1932)
12:20 Dracula's Daughter (1936)
"Step this way…" Karloff's supposed line from The Old Dark House was all over the place after this screening, at least it was amongst my friends. Trouble was, he didn't actually say it – like the oft misquoted "Me Tarzan, you Jane" or "E.T. phone home", it was one of those apocryphal lines that everyone merely seemed to imagine. Dracula's Daughter caught all of us off guard – we expected a straightforward sequel, but the film turned out to be an unexpectedly strange delight.
8th February 1986
11:00 The Mummy (1932)
12:25 The Mask Of Fu Manchu (1932)
A Karloff double bill, first as the ancient Egyptian and then as the fiendish oriental master villian.
15th February 1986
11:00 Werewolf Of London (1935)
12:25 The Raven (1935)
Universal's first attempt at lycanthropy, starring Henry Hull, followed by a Lugosi/Karloff pairing which liberally adapted ideas from Poe to great effect.
22nd February 1986
11:00 Bride Of Frankenstein (1935)
12:25 Man Made Monster (1941)
Karloff returns as the creature, with Elsa Lanchester as his most impressive potential mate. The second selection, Man Made Monster was an interesting choice – not one of Universal's best remembered entries, it was nevertheless worthy of inclusion to commemorate the cycle of mad-scientist movies which followed in Frankenstein's wake.
1st March 1986
11:00 Son Of Frankenstein (1939)
12:50 Return To Glennascaul (1951)
01:15 The Tell-Tale Heart (1953)
Basil Rathbone carries on the family tradition, as Boris Karloff portrays the creature for the last time in tonight's opening salvo. In breaking with the usual pattern, the opening feature was followed by two short films. Return To Glennascaul is actually a ghost story starring Orson Welles, and made in Ireland. The Poe adaptation was an animated short from the UPA studio (best known for Mr. Magoo), and was narrated by James Mason.
8th March 1986
11:00 The Mummy's Hand (1940)
12:15 The Wolf Man (1941)
Tom Tyler fills Karloff's bandages in what had actually been the first horror film I ever saw in a BBC2 screening in 1979, making this probably my first repeat viewing of a horror flick. Then, Lon Chaney's portrayal of the cursed Lawrence Talbot became an instant favourite – it's still in my all-time top ten.
15th March 1986
11:00 Son Of Dracula (1943)
12:40 Route 66 – Lizard's Leg and Owlet's Wing (1962)
Chaney's turn as the Count was an enjoyable ride, and highlighted how much special effects had progressed in 12 years. The second of tonight's entries was a real curio – an episode of the TV series in which Karloff, Chaney and Peter Lorre guest-star as themselves, developing an idea for a new horror TV series!
22nd March 1986
11:00 Ghost Of Frankenstein (1942)
12:15 Return Of The Vampire (1943)
Cedric Hardwick is the latest addition to the Frankenstein clan, whilst Bela Lugosi returns as Ygor and Lon Chaney Jr. takes on the role of the creature. Lugosi is back in the second part of tonight's bill, Dracula in all but name for this outing from Columbia.
29th March 1986
11:00 Frankenstein Meets The Wolf Man (1943)
12:25 The Mummy's Tomb (1942)
Tonight's first film was always a better film than the sensationalist title indicated, giving us two monsters for the price of one with Lugosi ironically playing the part of the creature he had turned down in 1931. Chaney starred in both of tonight's films, donning the bandages for the second.
5th April 1986
11:00 House Of Frankenstein (1944)
12:20 The Mummy's Ghost (1944)
Universal's franchise began to lose focus, as they bundled as many monsters as possible into one movie for House of Frankenstein and House Of Dracula, although they remained great fun. Rather alarmingly, the poster for the latter referred to a hunchbacked assistant as one of the monsters! Politically correct it wasn't… The Mummy's cloth-wrapped feet were treading the same old ground by now, too.
12th April 1986 or 19th April 1986
11:00 House Of Dracula (1945)
My research hit a brick wall here, as I couldn't track down a TV listing page for either date. However, what is certain is that the season took a break on one of these dates, as it definitely came to an end on the 26th (see next entry). If anyone can add clarification here, please drop us a line.
26th April 1986
11:00 Abbott & Costello Meet Frankenstein (1948)
12:30 The Mummy's Curse (1944)
Appropriately, the season ended with the last gasp of the Mummy series, and the point where Universal's great monsters were played for laughs with the studio's successful comedy double-act. It had been one hell of a way to spend those Saturday nights…
FOOTNOTE: Frustratingly, BBC1 were having their own season of Saturday night horrors at the same time. For example, January the 11th saw Captain Kronos Vampire Hunter competing against Dracula on C4. This led to some tough video recording choices, or finding a compliant friend who could record the other film for you. Perhaps I'll look at this particular season another time…