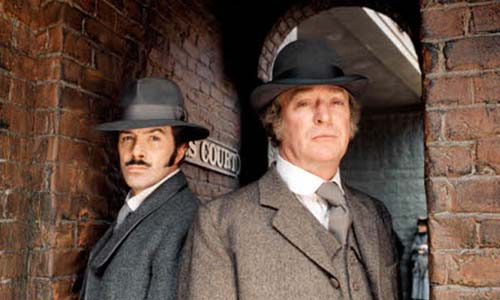 TITLE: Jack the Ripper (TV mini-series)
YEAR RELEASED: 1988
DIRECTOR: David Wickes
CAST: Michael Caine, Armand Assante, Jane Seymour and Ray McAnally
PLOT: In the late 1800s, an alcoholic Scotland Yard inspector investigates the Jack the Ripper murders in London's East End and discovers a conspiracy that reaches the top of British society.
MORAL OF THE STORY: The biggest conspiracy is the conspiracy to cover up the conspiracy.
FUN FACT: Four different endings were originally filmed to throw cast, crew and – most importantly – the world's press off the scent of the real Ripper.
140-CHARACTER MINI REVIEW: Literally Ripper TV mini-series with fine performance by Michael Caine as troubled Inspector Abberline
WIKIPEDIA LINK:  Click here
IMDB LINK:  Click here
OWN IT ON AMAZON: Click here
---
---
You may also like to read: