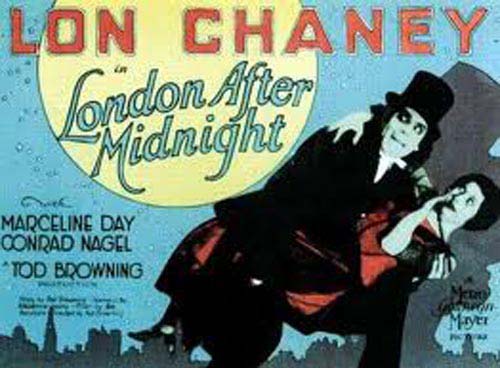 TITLE: London After Midnight (The Hypnotist)
YEAR RELEASED: 1927
COMPANY: MGM
DIRECTOR: Tod Browning
CAST: Lon Chaney Senior, Marceline Day, Conrad Nagel, Henry B. Walthall, Polly Moran, Claude King
PLOT: Sir Roger Balfour is found shot to death in his home and Inspector Burke from Scotland Yard investigates. A suicide note is discovered and the case is closed. But five years later a mysterious man and woman arrive – could it be Sir Roger has returned from the dead?
MORAL OF THE STORY: Nitrate is rubbish film stock.

140-WORD MINI REVIEW: Ignorance is bliss. London After Midnight might be rubbish, but we'll probably never know. We can just sit back and enjoy it for Lon Chaney's vampire makeup.

FUN FACT: Waldemar Young, on the screenwriters of London After Midnight, was the grandson of Mormon leader Brigham Young.
---
LAST night before going to bed, I peeked out of my bedroom window and thought to myself: I'm watching London After Midnight.
This is probably the closest I'm ever going to get to see London After Midnight, which any horror fan knows is the title of probably the most famous and most sought after lost films.
Starring the "Man of a Thousand Faces" Lon Chaney Senior, London After Midnight is not a British film, nor are its stars, writers or director linked to these Isles. Its title and plot are the only tenuous link I have to this blog's raison d'être. But like all Lon Chaney fans I have been obsessed with the film since childhood, so the title is a good enough link for me.
As I said, London After Midnight is probably the most famous lost movie. The last remaining print of the film was destroyed in an vault fire at MGM in 1967 and in the years since it has grown in statue.
There are so many silent films that are lost that no one really gives a toss about, including other Lon Chaney films. London After Midnight star's amazing makeup has set it above the rest.
Lon Chaney went to extraordinary lengths to create dynamic makeup effects in the early days of cinema. His iconic portrayals of Erik in Phantom of the Opera (1925) and Quasimodo in The Hunchback of Notre Dame are masterpieces. Chaney's pioneering makeup skills were held in such high esteem, he was asked to write the entry for movie makeup in the 1923 edition of Encyclopedia Britannica.
The painful animal teeth and wire circles under his eye-lids to create his crazy London After Midnight vampire are classic Lon Chaney. He was long considered a masochist because he endured such pain for his art. This is nonsense though. Back then filmmaking technology was in its infancy and Chaney was just making do with whatever got the job done. If he had to wear wire under his eyes to make them bulge and endure a 20-pound hump to play a crippled hunchback, so be it.
Lon Chaney was one of the biggest names in Hollywood in the 1920s. Today, Chaney may not be as recognisable as say Charlie Chaplin or Rudolph Valentino but his film, The Miracle Man was the top film at the Hollywood box office in 1919 and by 1928 and 1929, he was the top box office star overall.
London After Midnight grossed almost $500,000 at the box office, becoming the most successful collaborative film between Chaney and Browning.
It's been said that Lon Chaney Senior would have taken the title role of Universal Picture's Dracula had he not died in 1930 of throat cancer (the role made Bela Lugosi a star under Tod Browning's direction). So it has been suggested the makeup in London After Midnight may have be the precursor to Chaney's portrayal of the Transylvanian Count.
I've always wondered whether there was anything special about London After Midnight other than Chaney's incredible make up. Those who did see it before it was lost, including famed film historian William K. Everson, said it wasn't Chaney or Browning's best film. So maybe the destructive MGM fire did London After Midnight a favour by helping create an aura of mystique around the film it did not deserve.
In 2002, Turner Classic Movies commissioned a 45-minute restoration of London After Midnight using photographs. It's a rare insight into an even rarer film and definitely worth watching.
London After Midnight – which premiered in the US 84 years ago this month – is the holy grail of lost films and we can only hope that one day a copy will be discovered under hay in a barn somewhere or in a mislabelled canister in an Eastern European film library one day. It is probably not the greatest horror film ever made but if it is ever discovered it will be the most popular.
AFTERNOTE: Interesting, a man accused of murdering a woman in Hyde Park, London, tried using the film as part of his defence in 1928. He claimed Chaney's performance drove him temporarily insane. The plea was rejected and he was convicted.
You may also like to read: