The Viaduct Tavern is one of London's most haunted pubs. Guest writer ALISON TOPP describes a spooky visit there.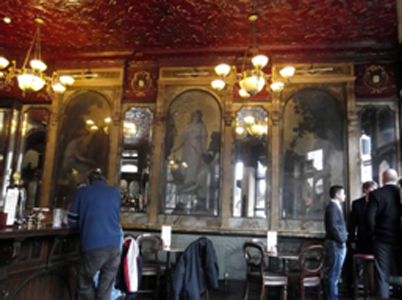 Back earlier on in the year, my other half and I had the pleasure of visiting The Viaduct Tavern, opposite the Old Bailey in London.
We had looked online and time and time again the Viaduct had popped up as one of the most haunted pubs in London. The cellars downstairs, which were originally part of the old Newgate Jail, were said to be a spine tingling place to visit and the pub apparently is host to a few spirits upstairs as well as many behind the bar.
The Viaduct Tavern itself has an 'old school' appeal. It hasn't changed to one of the plastic pubs that we are so used to seeing around now. Small booths are littered around the outside walls of the main bar and small tables and chairs on the inside wall. It has a homely and comfortable feel to it, we liked it straight away. The main inside wall to the right as you walk in is filled with a beautiful piece of artwork, covered by glass to keep it safe. Even this has a story behind it.
Staff happy to show us haunted Viaduct Tavern cells
We visited on a Friday morning around 11.30am. The Viaduct Tavern was quite quiet which is a rare occurrence apparently. The staff were welcoming and my partner made the decision to ask the barmaid if we could go down into the cellar. Some reviews of the pub say the staff are rude and un-cooperative, this is complete nonsense, they couldn't do enough for us and eagerly took us down (although she did go a bit quiet on the way down the stairs).  The stairs down to the beer cellar are steep and old, the smell of the cellar along with the old musty smell hits you first, but it actually adds to the experience. At the bottom you go across the beer cellar, negotiating the barrels, to a door (which is kept locked) at the far side.
What hits you when the door is opened  is the cold. It's like walking into a dark, miserable, musty deep freeze! The barmaid wouldn't come in, she stood at the door. I asked her if she would shut the door behind her, she said rather resolutely 'No'!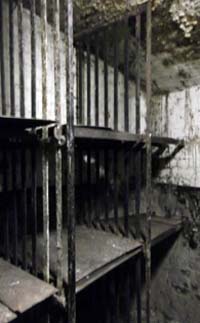 The cellar of the Viaduct Tavern itself is small, I would say roughly 12 foot by 6 foot and it contains a row of 'cells' on the opposite way to the door and another row to the right as you walk in. To the left of you is an alcove which is home to another few cells. The small light illuminates the area and it is hard to believe that anything survived down here. The 'cells' are no more than 3 foot square each and stack up one on top of each other.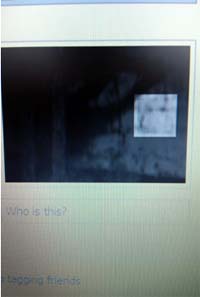 There are probably 18 cells in the cellar itself. Apparently, a guest of the establishment was put in each of the squares and basically left there to rot or until they were lucky enough to get a trial. All they could do was sit hunched up on their knees, minimal movement could be achieved and they were fed and watered in their cells. I feel really sorry for the inmate at the bottom. It must have been a horrid place to be.
Above you in the ceiling is a hole. This is now sealed with a plug of Perspex or similar. It lets in a some light but again, its minimal. This really is a depressing place to be and you actually start to feel the pain of the people kept here.
At this point, the barmaid took a photograph of my partner and I, then she turned closed the door and turned the light off!  You can hear muffled voices from the world outside, the darkness is oppressive with only a small shaft of light above you and the hairs on the back of your neck stand up and the room feels like its closing in around you. We don't suffer from claustrophobia but it was extremely uncomfortable in there at this moment. The barmaid realised this, they obviously do it to people on a regular basis, she giggled turned the light on and opened the door. It was a relief to be honest.
We had a good old poke around in the cellar, the walls are as cold and they feel damp. We took some pictures and left, feeling quite happy to be going back to the real world. Back to the light, so to speak!
We sat in the pub for another couple of hours, met up with relatives, then left to catch our train home.
When I got home and uploaded the photographs to Facebook, the face recognition system picked this up in the cellar ….  Make you own mind up on this one…  is it a face, my imagination or maybe a guest –  who knows? All I know is that we had a brilliant time there and we are going back to the Viaduct Tavern again!
ALLISON TOPP is 44 yrs old lives with here partner Chris in Southampton: "We try to visit London every other month and absolutely love old school pubs, especially those with character and a tale to tell! I have two grown up children, Dan is 21 who has his own band and Gabbie is 19 and about to leave home to start her university course at Farnham. My other interests include: music, shoes, handbags, drinking, sun worshipping, Guinness and I'm also an animal lover. Currently we have three cats, a hamster, a rabbit and zebra finches.  I laugh and smile a lot: life is way too short to be miserable!"