GREGOR STEWART continues his series looking at the Most Haunted Scottish Castles with Burleigh Castle in Perth and Kinross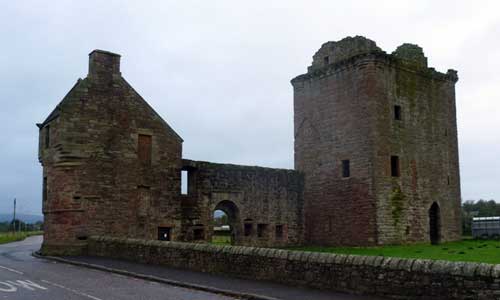 Burleigh Castle, just outside the village of Milnathort, consists of a square tower house on one side and a circular tower house on the other, both joined by a lower connecting building, giving it an unusual appearance.
The square tower is the oldest part and is all that remains of the original castle, constructed in the late 15th century for Sir John Balfour, and it stayed in his family until the unsuccessful Jacobite rebellion of 1715.
The then Earl of the castle had supported the Jacobites and as a result had his lands and titles were seized by the Government.
As with so many grand castles of the time, Burleigh became nothing more than a source of stones to build nearby buildings.
Spooky Burleigh Castle haunted by 'Grey Maggie'
The castle is said to be haunted by a Grey Lady, who is seen walking through the grounds of the former rectangle.
Although her identity is not known, she is known locally as 'Grey Maggie', linking her to Margaret Balfour, the wife of Sir John Balfour, whose initials can be seen carved into the wall of the circular tower along with John's initials and the date 1582.
Check out GREGOR STEWART'S other Most Haunted Scottish Castles
Watch Burleigh Castle Video