REVIEW: The Last Werewolf by Glen Duncan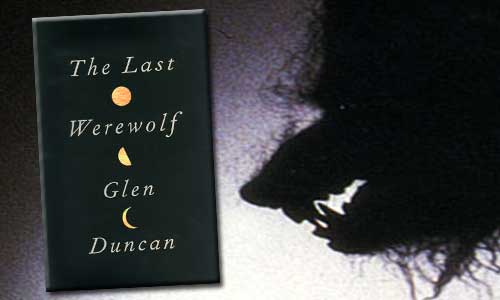 ---
REN ZELEN reviews The Last Werewolf by Glen Duncan
---
While Vampires and Zombies have been jamming the highway to the bookshelves and multiplexes, Werewolves have largely been left to idle by the side of the literary road. With Glen Duncan's protagonist, Jacob Marlowe, you get more than you bargain for: not just a man but a werewolf, not just a werewolf, but an existentially philosophical one. The novel is, ostensibly, a diary. The tale begins after a 'feed' "Two nights ago I'd eaten a 43-year-old hedge fund specialist," Marlowe states with what will be his trademark insouciance, "I've been in a phase of taking the ones no-one wants." We learn his backstory, a 19th-century costume tragedy, by means of his journal entries, composed in breaks between violent action and meaningless fornication. Two centuries of living have endowed him with a vast reserve of cultural expertise and a linguistic style that moves between the wisecracking cynicism of his noir namesake and the syntactical flourishes of the 19th century literary gentleman. Marlowe imparts the contents of his inner life and his impressions of the modern world in a series of dryly succinct verbal morsels: the topography of Wales is a "stack of vowel-starved hills: Bwlch Mawr; Gyrn Ddu; Yr Eifl, "a gold tooth is a "dental anachronism"; the point of civilization is "so that one can check in to a quality hotel".
The first half of the book (I think it's fair to describe this as a book of two halves) presents us with an interesting premise: If one embraces the bestial part of one's nature, does human morality cease to be relevant? Duncan partially exonerates his (anti) hero by making this path necessary to his survival – he has to kill to live, he's helpless in the face of his 'animal instincts', he must accept predatory murder and cannibalism as a fact of continued existence etc… Yet, it is when the 'human' element re-asserts itself that things become more morally ambivalent and more interesting. Jacob Marlowe is inured to his condition, to his bestial nature taking control once a month. He has accepted his choice to kill mercilessly in order to live, rather than commit suicide in self-disgust. So, the question is, how is one's 'humanity' able to deal with the full consciousness of its 'amorality'? The Werewolf condition becomes a vehicle for moral inquiry. How does one deal with human moral accountability when out of the wolf 'persona'?
We might say that certain people in human history, dead and alive, seemed to have been able to overcome the niggling persistence of a moral compass. Some may have the excuse of being 'sociopaths' deficient in empathy and human feeling, but Jacob Marlowe can't claim these as a mitigating circumstances. Insist as he might that he has come to terms with his murderous lifestyle, he still seeks redemption – giving generously to charity out of his huge reserves of money (cunningly accumulated over an unnaturally long existence) and he makes a decision to live his long life 'without love' as a punishment for his first and most appalling murder.
It is that initial transgression, a horrific initiation into the bestial, that provides the next interesting question. The idea that deep attachment and passionate sexual love results in the desire to 'know' the deepest recesses of the beloved, to be one with them and, ultimately, to consume them into oneself. Which is literally what Jacob Marlowe does. Despite his many protestations as to his beloved Arabella's individuality, strength of character and independence, his guilt at his crime cannot quite hide the satisfaction of having her entirely in his possession, in the most fundamental way. At the moment of decision, his 'instinct' is to take her, because he can – it is a capitulation to his momentary power over her that proves irresistible.  Apart from being a disturbing scene in itself, is was too close a reminder, for me at least, of those suicidal fathers who insist on murdering their wives and children before they kill themselves, as though those others are 'property' over which they have the power of disposal – a sick exercise of dominance.
Related Posts via Taxonomies