Reading Time:
6
minutes
Cardiff is arguably the most haunted city in Wales. With more than 1000 historic listed buildings, the capital city of Wales is steeped in legends. One building still standing is Cardiff Castle, and writer CLAIRE BARRAND explores 10 creepy accounts of the terrifying hauntings within the Cardiff landmark.
Cardiff Castle has a history that spans back to 55AD when the first Roman occupation of South Wales began, and a fort was built on this site to serve as a naval base until the early 5th century, protecting the Empire.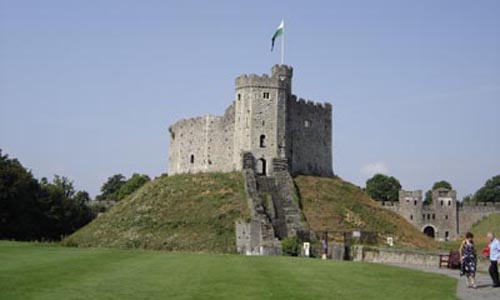 In 1093 The Normans erected a castle with a Motte (mound) which stood at 40 feet high surrounded by a moat. It was then to go on and live through generations of honorable families and has seen many lives and deaths. Many noble families lived here, such as the de Clare's, the Tudors, and the Butes. Today it stands as a site of international significance and legend has it that many of its previous occupants still roam the opulent rooms and castle grounds.
Cardiff Castle itself is an incredible example of Neo-Gothic architecture thanks to the Third Marquess of Bute who, rumoured to be the wealthiest man in the world, transformed the castle with architect William Burgess over the course of 16 years, using the finest Welsh craftsmen. Lavish gothic towers, murals, stained glass and marble, and elaborate wood carvings were installed. This castle became part of the great Gothic Revival of the Victorian era. Is it any wonder that the ghosts of these walls don't want to leave their magnificent home?
1. The Phantom Coach and Horses
Said to haunt the gateway to Cardiff Castle this spectral vision has been seen manifesting by many people. In a newspaper article in 1956, a man named David Brecon said: "Passing the walls of Cardiff Castle on a frosty night, I heard a faint jingle of harness, the clatter of horses hooves, the sound of bells and an Irish coachman cry from the direction of Canton Bridge. A second later a coach and four passed me at a steady trot, swung left-handed through the castle gate doors, and all was gone from view."
Mr. Brecon discovered that in November 1886 a man named Boyle had a similar experience. As he sat in the castle library one day, he heard a coach and horses arrive, only to be informed by the butler that no coach had come. The sighting has been said to herald an impending death, as some that see it have experienced a family bereavement shortly afterward.
2. 2nd Marquess of Bute
The 2nd Marquess of Bute was John Crichton Stuart, a wealthy aristocrat who developed coal and iron industries across Wales and built Cardiff Docks. His family owned Cardiff Castle for over 6 generations, and he died in 1848 suddenly after a banquet while in his dressing room, which was a small chamber behind the library. This area afterward was converted into a chapel. His bust stands on the spot where he died, which helped the custodian that saw his ghost recognise him instantly! He is said to appear wearing a red coat and to walk through the fireplace and through the six-foot-thick wall.
3. The Grey Lady of Cardiff Castle
It is unclear how many female ghosts have been seen at Cardiff Castle. Indeed, there are more than one! A mysterious woman who remains an unknown figure is seen silently gliding past the castle in a long grey dress and on the bridge over the River Taff where she stops and waves or signals in the direction of the castle. Her face is looking at one of the towers, she has been seen in daylight, but more often she is seen at dusk.
4. "Sarah"
Another ghostly female figure has been said to haunt storerooms rearranging objects and another faceless woman in a flowing grey skirt is spotted around Cardiff Castle building, a familiar name that visiting psychics have picked up is that of "Sarah."
5. Lady Sophia
The second wife of the 2nd Marquis of Bute's wife, Lady Sophia, is also rumored to haunt the grounds. She was said to be an obsessive and difficult woman to please and did not get on well with her husband's family. He was buried with his first wife Maria after his death.
6. The Clock Tower Ghost
The Clock Tower is also reported to be haunted. One witness commented on a recent newspaper article that "When it was a music college it was also well known to be the home of a female ghost."
7. Ghostly Footsteps and Eerie Atmospheres
I found an interesting discussion in the forums of website "Unexplained Mysteries," where a guest had shared a story. Apparently, a custodian of Cardiff Castle, a Mr. Edwards, took up the post of Custodian in the footsteps of his father-in-law, Mr. Edgar Donne, who looked after the interests of Cardiff Castle for more than 40 years. It was claimed that several odd things happened to both him and his family since he came to live there.
"One night, about 12 o`clock. I went upstairs with a friend to show him the Banqueting Hall. Our wives were downstairs when suddenly we heard footsteps in the passage. We thought they were playing a practical joke on us, so to teach them a lesson we switched off the lights.When nothing happened, and the footsteps ceased, we went back downstairs. Both my wife and my friend's wife swore they had not left the sitting room".
"We searched the upstairs apartments but found no-one."
Sometimes the family at Cardiff Castle experienced what they called "bad nights." Nights when Yvonne, Mr. Edwards wife, his four children or himself cannot get to sleep. Mr. Edwards says they all experience an eerie feeling that is difficult to describe, but it feels as though a wet blanket was cloaking them.
8. Grey Mist and Shadowy Forms
Mr. Edwards Alsatian dog sometimes refused to enter the Banqueting Hall or the castle`s library on some nights when accompanying Mr. Edwards. "Several times he has refused to go into the library with me," says Mr. Edwards. "He starts shaking at the room entrance with his back up, and his fur stands on end, he looks completely terrified."
Asked whether he had ever seen a ghost, Mr. Edwards replied, "I have never seen what could be described as a "ghost," but I have seen shadowy forms. One night, my wife and I were in the guest room, I wasn`t asleep and suddenly noticed a form by the bed. I thought it was one of the children who had perhaps come to us because they were feeling unwell. I looked up and saw a grey form, it had no clear features, and before my eyes, it seemed to dissolve slowly into the air.
We never know when this sort of thing is going to happen and I certainly don`t worry about it. I suppose it comes with the job" he said.
9. Ghostly Soldier
Another post replying to the forum was from a person named midlands jack in 2016 who said: "I was there about 23 – 24 years ago and had done the tour & found a part of the castle with all military uniforms & equipment on display. While in conversation with a member of staff & a friend of mine, I noticed someone to the far left of me.
"On glancing to my side, I saw who I can only describe as a member of staff dressed in an army uniform standing there all kitted up with a great big smile on his face. I said to my friend "look at this guy" & on turning again he was no longer there & the staff member we were talking to said that no members of staff dressed up & she hadn't seen him. The good experience made me smile."
10. The Giant
Amongst other ghosts said to haunt the Cardiff Castle, a three-meter tall giant has been reported to walk around the grounds! .Wales has its own folklore stories of giant humans in many regions, and it is possible that this is one story that was circulated to terrify any would-be trespassers.
In 2016 Desperate Housewives star Eva Longoria visited the Cardiff Castle and talking of the stories of the 2nd Marquess of Bute's ghost she said the following during a Snapchat video to her followers: "So, we've just been told that sometimes a guy from the castle comes back as a ghost and sits in this dining room, I'm freaking out that the place is haunted and that he comes back for dinner every night!."
Have you seen a ghost at Cardiff Castle? Tell us about it in the comments section below!