GREGOR STEWART tell us about the ghosts of the creepy Balnagown Castle in the Highlands, once own by Mohamed Al-Fayed.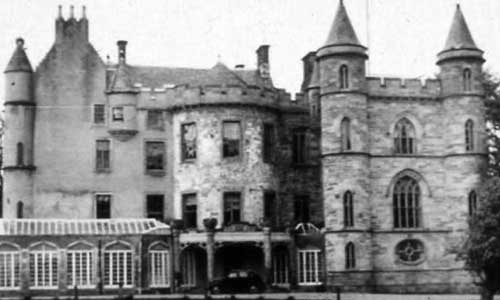 The earliest part of the castle was constructed in the 14th century for the Ross family.
The original castle was extensively extended and remodelled over the following centuries, with a new wing added to create an 'L' shaped building along with turrets.
In 1760, the space between the two wings which created the 'L' shape was filled, creating a square building again, and the East Tower, constructed in the Gothic style to try to fit in with the rest of the castle, was added in 1838.
Haunted Scottish Balnagown Castle owned by Mohamed Al-Fayed
The castle is now a private residence owned by Mohamed Al-Fayed, the Egyptian businessman perhaps most famous for being the owner of Harrods of London, who purchased the property in 1972, after it had lain empty for 30 years, and has since completely restored the building.
Two ghosts are said to haunt the castle, one being a young girl with bright, green eyes.
She is believed to be the spirit of a princess who, according to legend, is buried within the walls of the castle. She is described as a pleasant ghost, who smiles fondly at those who see her.
The second ghost, believed to be that of 'Black' Andrew Munro, is far from pleasant. Black Andrew was described as an evil man who terrorised the local community.
He did not live at Balnagown Castle, but rather at the Castle of Milton, a nearby estate, where he is said to have forced his female servants to work naked.
He was also said to have committed rape, several acts of murder, and even buried some of his victims alive.
It would be correct to question why Black Andrew haunts this haunted Scottish castle that was not his home.
After his death in somewhat questionable circumstances, his ghost was seen at the Castle of Milton, but when that was demolished, his spirit appears to have taken up residence in neighbouring Balnagown Castle, former home of the Laird who many believe was really responsible for Black Andrew's death.
Encounters with his ghost have terrified those who witnessed it, with his figure being seen menacingly staring at female guests and others hearing the sound of footsteps thundering down the corridor, as though someone is racing towards them.
Have you seen a ghost at Balnagown Castle? Tell us about your experience in the comments below!
Watch Balnagown Castle Video