Roald Dahl was one of the greatest British writers of the macabre – SELENE PAXTON-BROOKS celebrates his amazing career…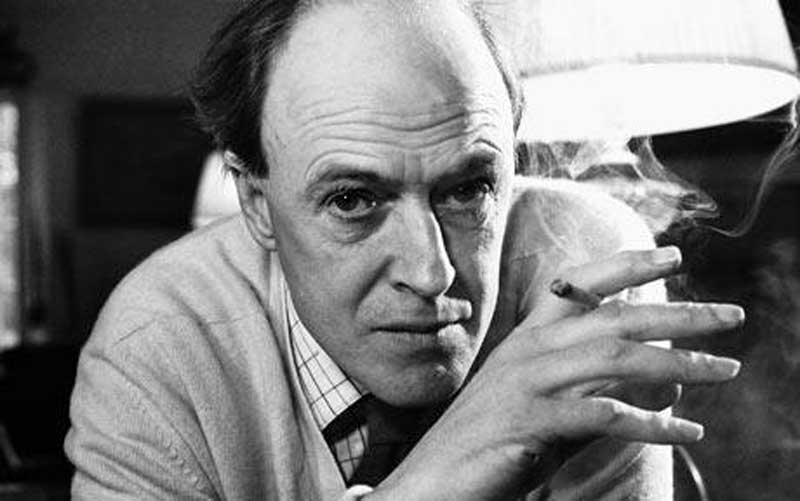 Today, Friday the 13th September 2013 will be the anniversary of Roald Dahl's 97th birthday, and what better way to celebrate the official Dahl Day's 'Mystery and Mayhem' than to take a look at the author who has had both children and adults on the edge of their seats for over 60 years!
Nowadays, when we think about Roald Dahl, images of Charlie's chocolate factory, marvellous medicine and giant peaches come to mind, but before he set out with HB pencil to pit down-trodden, unfortunate children against evil and sinister adults he focused on macabre screen plays and film scripts to thrill, chill and unnerve even the most seasoned horror viewers.
Who was Roald Dahl?
Dahl was born in Llandaff, Wales, on 13th September 1916 and his early life wasn't always an idyllic or carefree one, as his two autobiographies, BOY: Tales of Childhood (1984) and GOING SOLO (1986) reveal. Dogged by family tragedy at an early age and a series of boarding schools that he hated, Dahl's reminiscences revolve around homesickness, wicked schoolmasters, and the delights of leaving a dead mouse in a gob stopper jar.
In GOING SOLO, Dahl tells of his life as a pilot in the Royal Air Force during the WWII, where a cook's wife is carried away by a lion, Dahl comes face-to-face with the fatal green mamba and all manor of wartime escapades are recounted with humour and suspense.
After leaving the RAF in 1942, Dahl moved to America to work at the British Embassy in Washington. Here he met the author C.S. Forester, who encouraged him to write up his wartime experiences for the local newspaper, The Saturday Evening Post. Forester was impressed with his writing, and Dahl's was encouraged to write more.
Dahl's first story book was published by Walt Disney in 1942. Called 'The Gremlins', it is nothing like the Gremlins portrayed in Steven Spielberg's 1984 film, these little mischievous creatures set about sabotaging British aircraft and Disney was keen to create an animated film to tie in with the book. Unfortunately, the film was never made which probably didn't bother Dahl as he had said that he didn't really like the book at all.
Around this time Dahl was writing quiet prolifically for adults and his work was published in various American magazines. Already Dahl was being labelled as inventive, imaginative and spine-tingling, and his first book of short stories based on his own experiences, 'Over to You' was published by Reynal & Hitchcock in 1946.
After returning to England for a few years, Dahl once again joined the celebrity parties of New York City where he met his wife to be, Patricia Neal. Dahl's writing was becoming more successful and well known, he now began to contribute several of his short stories and screen plays to the TV programme 'Hitchcock Presents' (1958-61) where his talent for clever, macabre twists started to disturb and delight viewers.
Of the six episodes penned for the show, one, 'Lamb to the Slaughter'(episode 106), was nominated for an Emmy award in 1959. Hitchcock is reported as saying that it was the best half hour show of the series, and it certainly is a mixture of tension and horror with a twist of humour: Mary Maloney (Barbara Bel Geddes) beats her husband to death with a frozen leg of lamb and then feeds him to the policeman who comes to question her about her husband's disappearance – Dahl thought it hilarious!
In 1961 Dahl was given his own fantasy TV show, "Way Out', emulating Hitchcock's show, Dahl would begin and end with a unsettling monologue designed to create an atmosphere for the chilling stories being told. The CBS programme was meant to be a companion show for 'The Twilight Zone', and aired weekly it ran for one season of nine episodes.
As well as hosting the show Dahl contributed the first story of the series, 'William and Mary', an odd and disturbing story about a doctor who tries to convince William to keep his brain in a jar after his death. The series got brilliant reviews at the time, but due to its focus on the dark side of human nature, uncomfortable humour and strangeness it was deemed to not have enough appeal for the general public. This series is now more-or-less lost in the annals of the horror genre, and from what I have seen, mores the pity.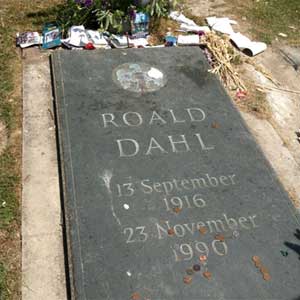 Dahl was now living back in England, in Great Missenden, with his growing family, and enjoyed nothing more than making up fantasy stories for his five growing children, as his mother had done for him when he was a child. However, Dahl's life was again plagued with misfortune: his baby son Theo was involved in an accident which caused him major head injuries, his daughter Olivia, aged 7, died of measles encephalitis and Patricia suffered several strokes.
Dahl's first famous children's book 'James and the Giant Peach' was published the same year as "Way Out', giving us the evil Aunts Spiker and Sponge, and parents trampled to death by a rhinoceros. The book has since been targeted by censors in the US, saying that it is unsuitable and too frightening for children, and was later made into a film produced by Tim Burton in 1996.
After writing screenplays for 'Chitty Chitty Bang Bang' and Bond's 'You Only Live Twice' in the 1960s, Dahl adapted the novel 'Nest in a Fallen Tree' by Joy Crowley into a psychological British thriller, starring his wife, Patricia Neal, called 'The Road Builder' ('The Night Digger' US title) in 1971.
Set in a gothic style crumbling mansion, the story is woven around an elderly blind lady, her housekeeper (Patricia Neal) and a serial killer who buries his victims under the road. I've not seen it, but the trailer gives us a taste of what looks to be an atmospheric and creepy film, pretty typical of British horror movies at the time. Filmed at Twickenham Studios and on an estate near Winsor, it seems to be a must for any '70s Horror addict!
Dahl's final gift for the lover of the strange and macabre was the now classic 'Tales of the Unexpected', produced in the UK for Anglia Television between 1972 and 1984. He hosted the show for the first two of nine seasons, reworking many of his original stories, including 'William & Mary' and 'Lamb to the Slaughter'. Of the 112 episodes Dahl was involved with 33 as writer and host, and his introduction to the first episode tells us a huge amount about the writer:
"I ought to warn you, if you haven't read any of my stories, that you may be a little disturbed by some of the things that happen in them. When I'm writing a short story, I'm haunted by the thought that I've got to hold the reader's attention for literally every second, otherwise I'm dead. The one you're going to see now is the first of a series based on stories that have taken me thirty-five years to write. I find them difficult to do well, so I work slowly. About two a year. This one was filmed in its real setting: Jamaica. I hope you like it."
As a child I loved to be unsettled and thrilled by the title music and the image of flames, dancing woman, and tarot cards; ready to be taken into a world of the unknown and unexpected, seeing Dahl seated in that leather backed chair telling me about the story I was about to experience, drawing me into the world of horror I both loved and dreaded.
Dahl left this mortal coil on 23rd November 1990 and was buried with his snooker cues, a good burgundy, his favourite chocolates, HB pencils and a power saw, in Great Missenden's church of St Peter and Paul. Today, Roald Dahl is one of the best known, and well loved, author of children's books. He now has a day all to himself where if you wish you can dress as an evil witch or a BFG (Big Friendly Giant). So take my advice, don't be a Twit and settle your self down with a Wonka bar or two, and watch one of Dahl's splendiferous offerings, and make Friday the 13th a seriously odd celebration of a dark and inventive mind.