Reading Time:
4
minutes
A Grecian urn and a gallery of historical portraits have a strange effect on a teenage girl. RICHARD PHILLIPS-JONES looks at Shadows: The Eye.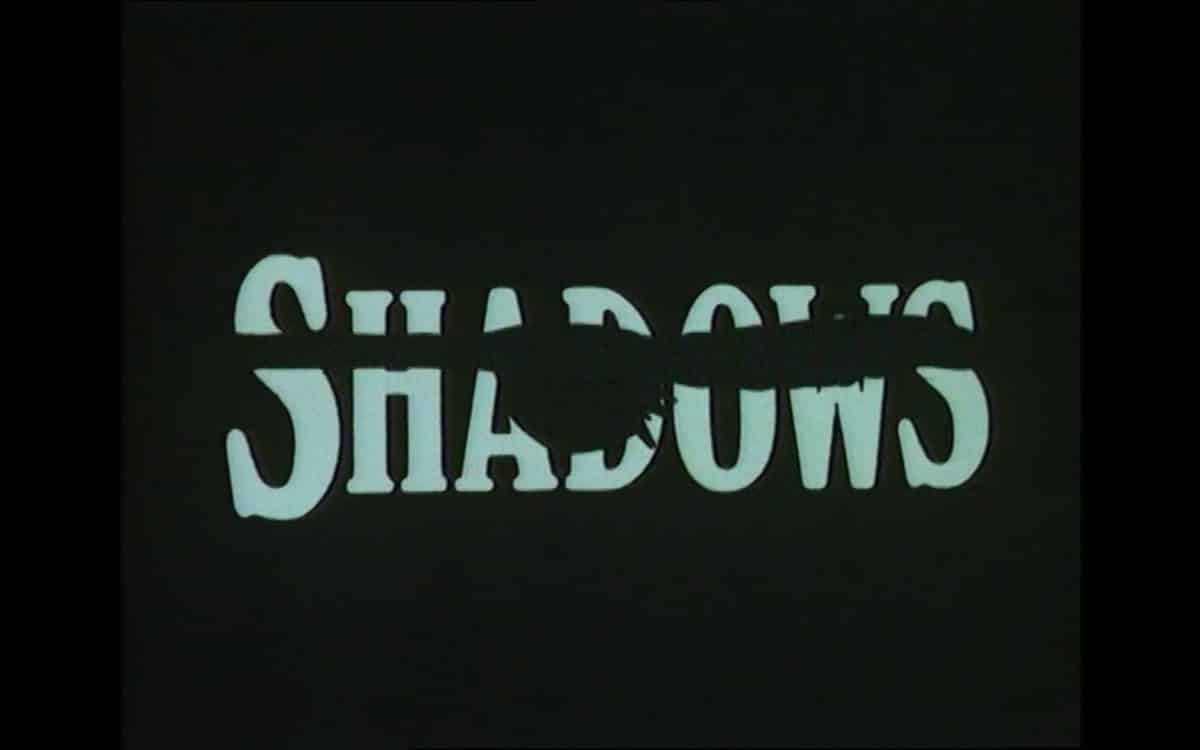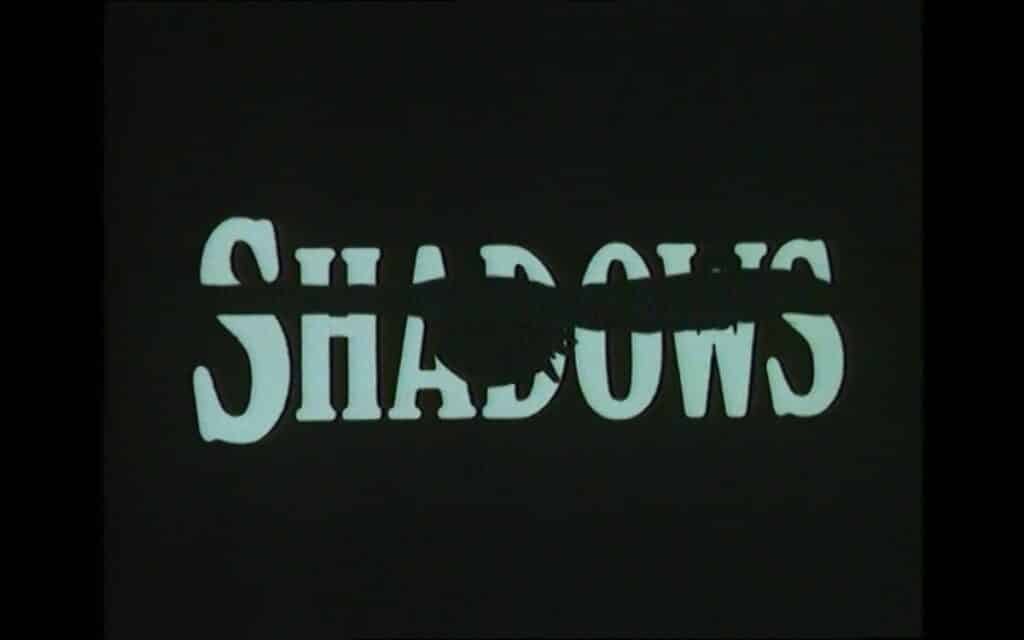 BROADCAST: 1 September 1976
STARRING: John Sanderson, Julia Lewis, Murray Brown
WRITER: Ewart Alexander
DIRECTOR: Neville Green
Shadows: The Eye Review
George (Lewis) is entranced by a wall of pictures she has in her bedroom, of historical figures. She also has an attachment to an imitation Grecian urn placed at the bottom of the stairs.
Both obsessions baffle George's brother, Steve (Sanderson) who tries to pull her out of her trance-like state long enough to help him clean the place up before their father gets home. "I'll be down," she says and when Steve asks when, she simply states, cryptically, "when the time comes…"
It's an enigmatic opening to a puzzling episode of Shadows, for The Eye is difficult to pin down, veering between the kind of strangeness one would encounter in one of Doctor Who's more eerie outings of the period and pure absurdism.
The Eye was the second Shadows episode to be penned by Ewart Alexander and (like his series one contribution After School) it's a very insular piece with a small cast, focusing on two child protagonists and the interplay between them carries the bulk of the episode, as unexplained noises and apparitions manifest themselves while the urn turns itself to reveal a painting of Stratus, another of George's obsessions from mythology who was said to have stared too long at the sun and was left to wander the earth without sight for eternity.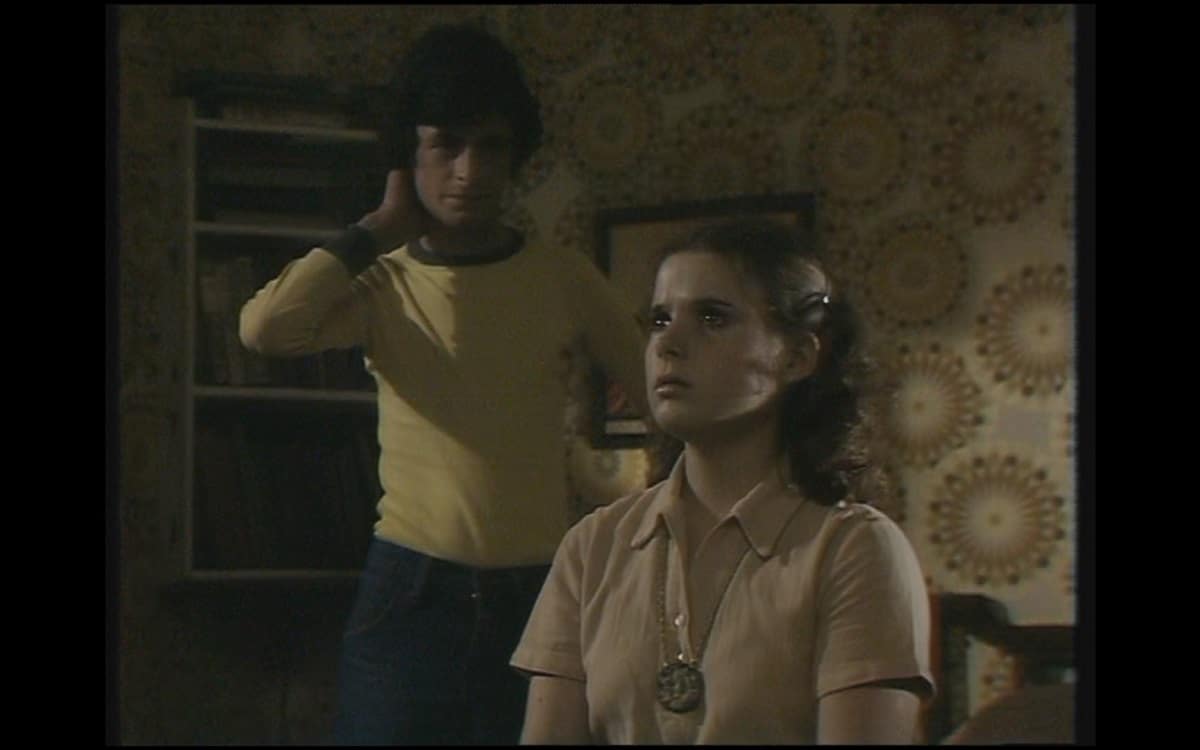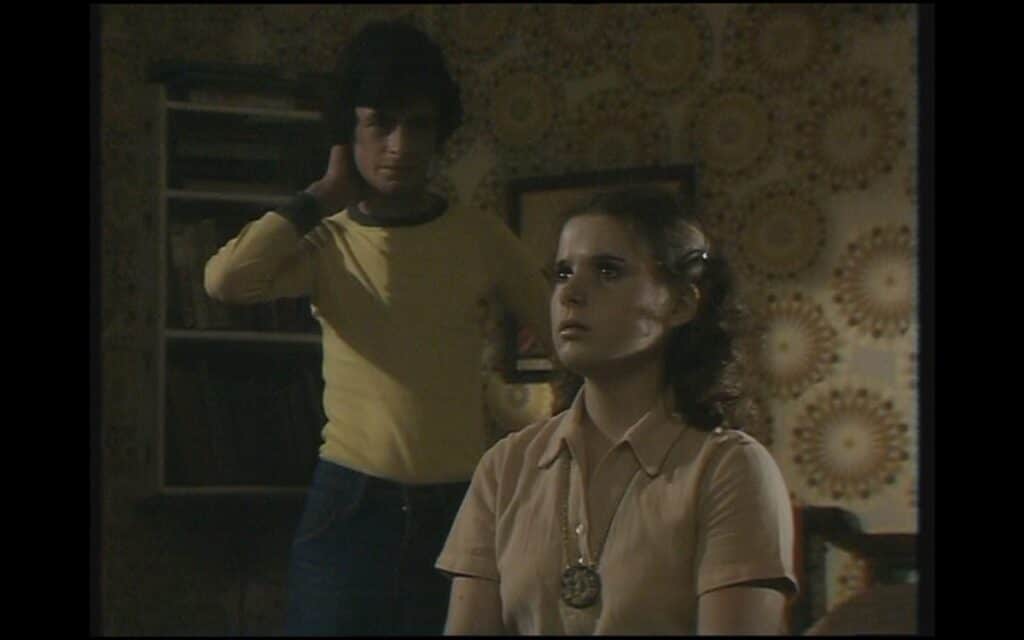 Further compounding George's odd behaviour is her penchant for smashing crockery and using the pieces to create oblique pieces of art, working through the night. All the while, George and Steve seem to be under the watchful gaze of a strange presence – a scarred figure clad in motorcycle leathers and helmet…
The Eye is certainly intriguing and has plenty going for it, but the story isn't quite developed enough to really hit the mark and this is one case where a bit more running time might have helped. Still, whilst not a series classic it is certainly a bold attempt to throw something different in the mix.
Whatever its flaws along the way, the second run of Shadows should at least be applauded for its eclecticism and The Eye brought it to a respectably creepy finale after the misfire of previous episode Peronik. The show would take a break the following year but would return for a final batch of episodes – I'll see you there next time, in 1978.
TRIVIA POINTS: Julia Lewis would star in the BBC's Katy (1976) and Rebecca Of Sunnybrook Farm (1978) but, following a series of roles through the 1980's subsequently disappeared from screens.
John Sanderson's screen career was even shorter lived, with no recorded credits after 1977. As ever, any info on what became of The Eye's two young stars is welcome.
Tell us your thoughts about Shadows: The Eye in the comments section!
Read more about Shadows TV series here.
EXTRA: A previous review of The Eye…
Previously published on Spooky Isles 26 December 2016.
Back in the 2016, Spooky Isles editor David Saunderson penned a singular Shadows review on The Eye, well before Richard Phillips-Jones started his mammoth journey reviewing the entire series. Here is that review:
Shadows The Eye, a eerie tale of a girl, a vase and dead people on posters, review by DAVID SAUNDERSON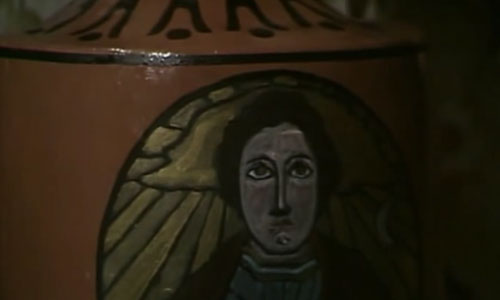 Shadows was a children's supernatural anthology series that was produced by Thames Television for ITV between 1975 to 1978. The Eye, which originally aired on 25 August 1976, starred John Sanderson, Julia Lewis and Murray Brown.
I remember watching The Eye as a little kid back in Australia. It must have been on telly during school holidays and I was terrified by it. For years, I only remembered bits of it that were etched in my mind and it's only recently I worked out the show's name and that it was part of Shadows.
The story of The Eye is about a young girl, who is obsessed with figures from history like Napoleon, King Henry VII, Shakespeare etc. She has pictures stuck up on her bedroom wall and seems to be in a constant dream state.
Now, I've got to say from the outset of this review, I thought The Eye was verging on rubbish. It obviously scared the poop out of me as a child but it did nothing for me now.
I've seen other episodes of Shadows and they were really good, great even. This wasn't one of them. Children's supernatural horror shows are usually the best – they have to rely on the story and music to create the terror – clearly killing people with gore and mature themes to shock you isn't going to make it on a show for kids.
For years, I remember this show as being creepy and drove me mad trying to discover its name. I could only remember a mosaic and a Greek vase in it.
I discovered from watching this now – probably 30 plus years later – that the story concerned a house haunted by a ghost of a Greek man called Stratos, who has something to do with the vase. But even now I'm not sure. It was all a bit muddle and mundane in parts.
The acting is probably the worse I've seen on the show but I'll give it credit for creating a haunting atmosphere. And it is a kid's show after all, so being a bit over the top is okay at times.
After 30 odd years waiting for The Eye, I'd have to say it was an anti-climax. Shadows is a fantastic series but this was a bit dull and just a bit too stupid for my liking.