Reading Time:
3
minutes
Non-musical Sweeney Todd The Demon Barber of Fleet Street 1936 flick is a throat-slashing classic, says DAVID SAUNDERSON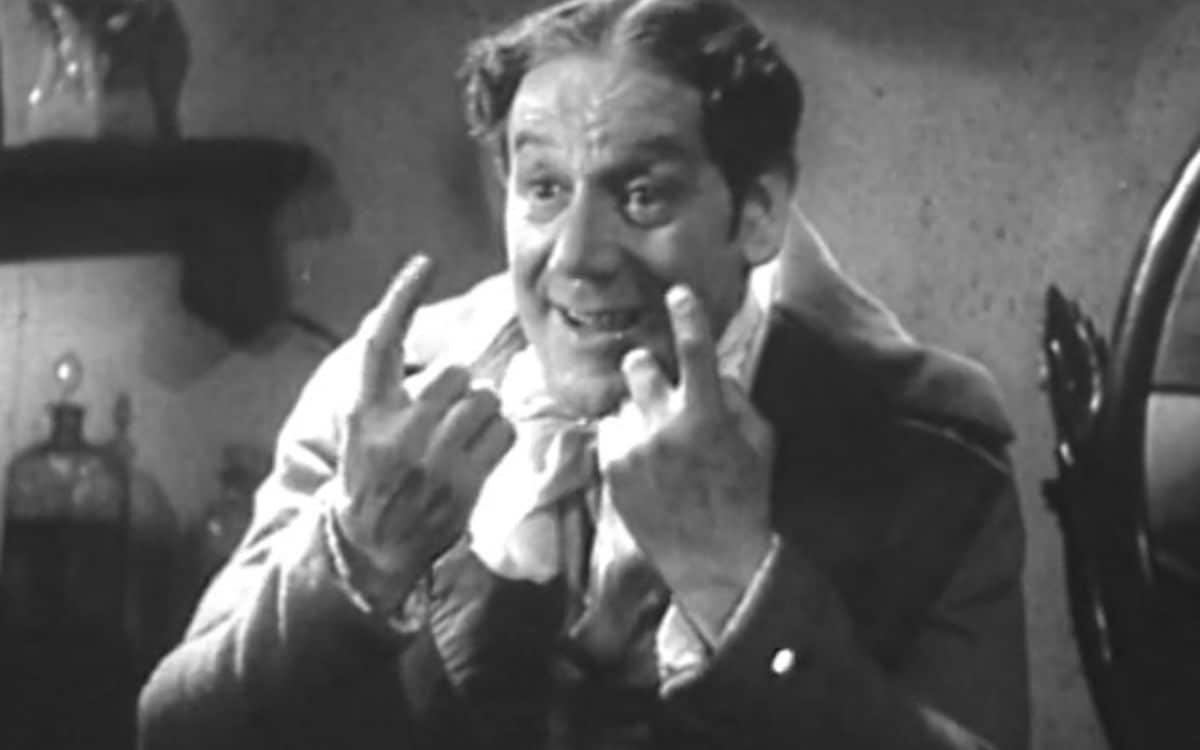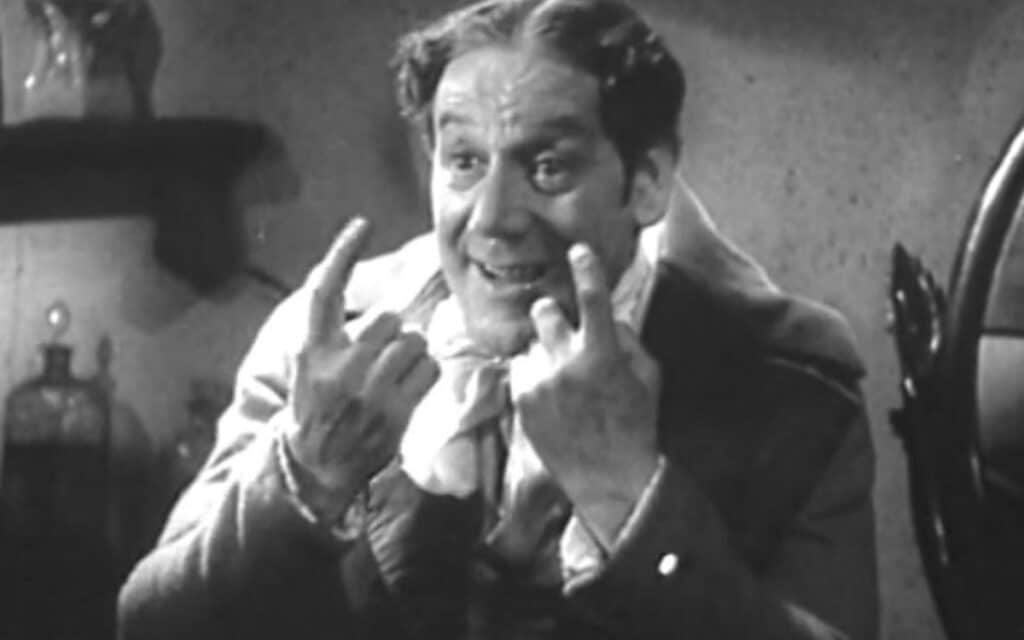 TITLE: Sweeney Todd The Demon Barber of Fleet Street
YEAR RELEASED: 1936
DIRECTOR: George King
CAST: Tod Slaughter, Stella Rho and John Singer

PLOT: A London barber in the 19th cenutury lures rich and lonely men into his shop to cut their throats and steal their money. He dump them downstairs via his mechanical chair where his accompliance, a baker, can turn them into pies!
MORAL OF THE STORY: Always be wary of someone who asks to "polish you off"!
FUN FACT: This was the first talkie of Sweeney Todd. Two silent versions had been released in 1926 and 1928.
Sweeney Todd The Demon Barber of Fleet Street 1936 Review
Tod Slaughter and the 1936 film version of Sweeney Todd The Demon Barber of Fleet Street both deserve better recognition. One of the best horror films of the 1930s in my mind now having watched a very scratchy version on You Tube this week.
Sweeney Todd is nowadays mostly known as a Stephen Sondheim musical, famously made into a film by Tim Burton starring Johnny Depp and Helena Botham-Carter in 2007.
But the story goes back to Victorian times, where the demon barber featured in penny dreadfuls cutting up his clients and having Mrs Lovett baking them into pies for purely monetary reasons. Todd was an evil bastard and this 1936 film recognises the badness in the Demon Barber of Fleet Street.
In the Wikipedia entry for the film, it says that Todd returned to barbering after spending 15 years in prison. But this is not mentioned in the film. Maybe I had a different copy but the Sweeney Todd I saw was all about the cash and power. He might have spent time in gaol, but this is no bitter, broken-hearted Johnny Depp Sweeney Todd.
The Sondheim musical, while fantastic with lots of great sing-a-long songs, gave the Demon Barber a reason for his murder, whereas Tod Slaughter is simply a slimy psychopath.
In these politically-correct days when there must be reason behind horror, Sweeney Todd is just bad guy, murdering and blackmailing his way into power and prestige.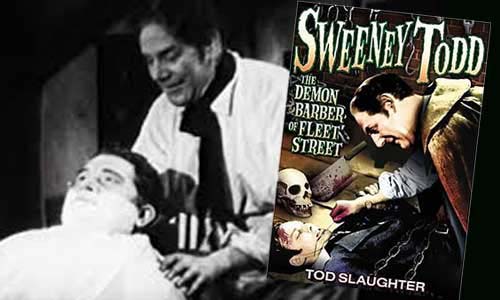 Tod Slaughter (1885-1956) was born Norman Slaughter and made his name playing the villains in theatrical melodramas. I was really taken by Slaughter's performance. Of course, over the top with wonderful evil laughs aplenty, there was nothing much too serious about it. Todd dropped the handle on the mechanical chair and his customer fell backwards to his death. Simple as that.
No one asks why he has lost eight apprentices in eight weeks. His new apprentice, Tobias, looks like his can barely contain the contents of his bladder as the creepy Todd leers at him with all the apparent intent of a paedophile. "Are you afraid of me Tobias?" Todd asks him in a manner which can only be compared to Hannibal Lecter. Tod Slaughter's wonderfully-insane laugh was the perfect cackle for a melodramatic villain.
But his performance went beyond that. He was man with a plan, making vast amounts of cash by killing his clients and disposing of their bodies in meat pies.
Despite all the references to razors, the deaths happened through breaking necks when the victim fell backward not slashing throats. Not surprisingly as this is 1930s Britain and I cannot really be sure if there was any mention of Mrs Lovett baking the victims into pies. It may have just been inferred as the story is so well known.
The film is available on You Tube and only goes for a little over an hour – the perfect time to become acquainted with evil without getting bored. Check it out!
READ: Teeny Todd, The Demon Barber Of Queer Street: Two Ronnies TV REVIEW
Watch Sweeney Todd The Demon Barber of Fleet Street 1936
Tell us what you think of Sweeney Todd The Demon Barber of Fleet Street 1936 in the comments section below!