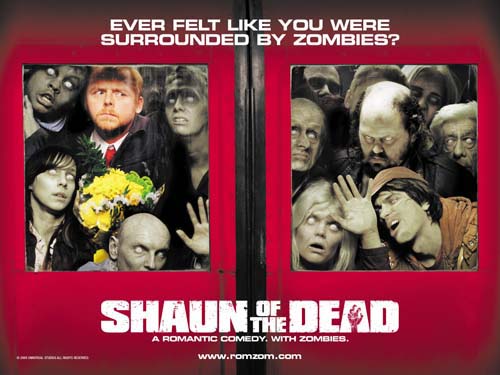 TITLE: Shaun of the Dead
YEAR RELEASED: 2004
DIRECTOR: Edgar Wright
CAST: Simon Pegg, Kate Ashfield, Lucy Davis, Nick Frost, Dylan Moran, Bill Nighy
PLOT: Shaun, a salesman with no direction in his life, finds purpose flung at his front door when he must battle a zombie apocolypse – and deal with his faltering love life at the same time!
MORAL OF THE STORY: Zombies can make great pets.
FUN FACT: Shaun of the Dead's soundtrack used music directly taken from George A. Romero's Dawn of the Dead (1978)
140-WORD MINI REVIEW: First Zom-Rom-Com take a cricket bat to the head & knock sense into the faltering zombie genre – now everyone is getting laughs off the undead.
INTERESTING WEBSITE: Shaun of the Dead filming locations
You may also like to read: