Reading Time:
3
minutes
JANET QUINLIVAN hunts down the most haunted sites in Newtownards and Comber in County Down, Northern Ireland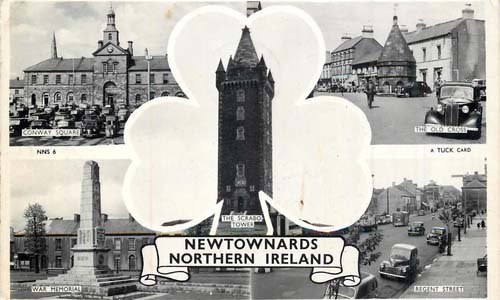 The history of Newtownards dates back to 545 AD when St Finnian founded Movilla Monastery.
Since then the townland has gone through many battles with Vikings and Normans and eventually Hug Montgomery was given the land in 1605 and he started a new settlement called Newtown which extended to Newtownards in later years.
Comber was an early settlement for the Scottish that moved to Ireland in the 17th century.
It was well known for its Comber whiskey which was booming in the 1800s. You can't fail to see the memorial to Rollo Gillespie a local war hero known for his victories in India.
There were 50 masonic lodges present at its unveiling which is the largest known gathering of masonic members in Irish history.
Also home to Thomas Andrews the designer of HMS Titanic, and who could forget the humble Comber spud!
Scrabo Tower, 203a Scrabo Rd, Newtownards BT23 4SJ
Newtownards most famous landmark is the Scrabo tower, built in 1857 it stands at 540 feet tall and have views as far as the eye can see.
It was built in memorial of Charles Stewart who was one of Wellingtons Generals in the Napoleonic wars.
There have been reports of whispering and banging and some people have even claimed to see a woman in period clothing walking down the narrow curved stairs.
Movilla Abbey, Newtownards, County Down
Movilla Abbey was founded in 540 AD was turned into a school in 543, but it was unfortunately raided by Vikings at around 825 and burned down.
The outline of the building is all that remains however the graveyard still stands and contains many Norman graves as well as newer graves such as Colonel Paddy Maine and Ottillie Patterson the Blues singer who was born in nearby Comber.
There have been reports of lights that float around the graveyard at night.
War Memorial, Newtownards
Newtownards War Memorial is said to be haunted by a man dressed in Victorian clothing. Many locals have seen him standing waiting by the memorial for some time.
It's said that he was there one-night waiting on someone when he was beaten and robbed. He died a few minutes after the robbers fled the scene.
Comber Ghost Hole, Comber
There is an area known as the 'Comber ghost hole or ghaist hole', there are several stories that surround this strange place.
The most popular is that back when Comber was a long row of mill houses a beggar that had no legs used to frequent the area.
He would start at the first house and that person would carry him to the next house and so on.
At the last house that homeowner would have to carry him some distance across the road and over the railway line to the first house at Ardmillan.
One day in a fit of temper the final home owner dragged the beggar down to the water and threw him in.
Now it is said that the beggar haunts the water's edge and has been seen a few times trying to get out of the water.
Mahee Island, Comber, Newtownards BT23 6EP
A few miles south of Comber is Mahee Island home to Mahee Castle and also Mahee Abbey.
It's believed to be founded by St Mochaoi in the 5th century. Excavations and annalistic records show more occupation in the 7th century.
The abbot of the monastery Setna Ua Deman was burned to death in his home around 976 presumably as the result of a Viking raid.
Occupation records are then blank until 1177 when John de Courcey gave it to the Benedictine monks, however, in the 15th century it was abandoned until it's excavation in 1922 by H.C.Lawlor.
It's claimed that the removal of several holy items from the places has upset many of the spirits. Mostly monks have been seen around the little island but it's said to be the home to up to 9 spirits in total.
There are only three miles or so between each of these small towns, they are packed full of very ancient history and they are well worth taking a stroll around.
Maybe you will hear the ghost train, maybe you will see the old monks of the Abbey's or perhaps an ancient Viking will let himself be known.
Have you seen a ghost in Newtownards or Comber? Tell us about it in the comments section below!