TITLE: The Haunted Curiosity Shop
YEAR RELEASED: 1901
DIRECTOR: Walter R. Booth
The Haunted Curiosity Shop is a 1901-made silent short film about an old curio dealer is alarmed by various apparitions that appear in his shop.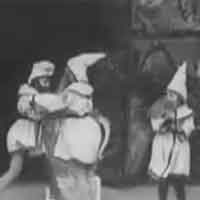 It is classed as one of the first British-made horror films.
And while it is described as a horror film, The Haunted Curiosity Shop is more a cute fantasy, using vintage cinematic tricks to create effects like floating skulls and people disappearing into thin air.
It was clearly made to showcase the filmmaker's camera trickery and is a lot of fun.
The short, which goes for less than two minutes, was produced by scientist Robert W. Paul's Animatograph Works and directed by magician Walter R. Booth.
The duo had previously made the ghost film, The Miser's Doom, in 1899.
Booth (1869-1938) and Paul (1869-1943) are both considered pioneers of the British film industry.