Reading Time:
4
minutes
BARRY McCANN looks at the legend behind the first Dracula film – Drakula halála (1921) – which even predates FW Murnau's Nosferatu, eine Symphonie des Grauens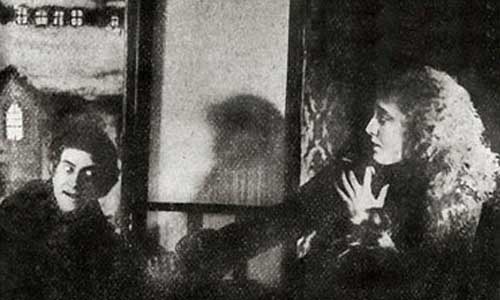 TITLE: Drakula halála aka Dracula's Death
YEAR RELEASED: 1921
DIRECTOR: Lajthay Karoly
CAST: Paul Askonas (Drakula), Margit Lux (Mary Land), Elemer Thury (Doctor), Lajos Rethey, (Fake doctor), Aladar lhasz (Assistant), Karl Gotz (Funny man), Dezso Kertesz (George), Lajos Szalkay, Zoltan Dezso, Hatvani Karoly, Oszkar Perczel, Karoly Hatvani, Anna Marie Hegener, Paula Kendc, Lene Myl, Magda Sonja, Bela Timar
Nosferatu (1922) may have been an unauthorised derivative, but it still remains the first screen version of Dracula, right?
Well, scholars of the Hungarian film industry may have something to say about that.
For a good year before Max Schreck was haunting the German screen with his cadaverous Dracula double, Graf Orlok, the original Count himself made his big screen debut in Vienna, 1921, personified by actor Paul Askonsas in the film Drakula halála; also known as The Death of Dracula. Or did he?
What happened to Drakula halála?
References to this now lost Hungarian gem have been increasingly turning up in textbooks and websites during recent years, with just a credit list, film poster and a handful of stills to prove it even existed. Earlier references actually dated the film as being released in 1923 – the year after Nosferatu – and credited it as an adaptation of Stoker's novel.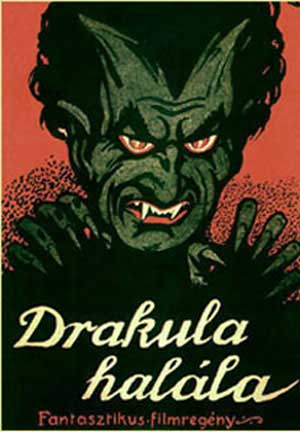 However, information gleaned from the Budapest National Library has shed new light on the project, confirming its year of release as 1921, but questioning its legitimacy as a "Dracula" film in the first place.
Its narrative had nothing to do with that of the novel.

The brief synopsis of Drakula halála tells of the orphaned Mary (Margit Lux) who is sent to a psychiatric hospital against her will. One of the inmates (Paul Askonsas) believes himself the undead Count Dracula, and somehow begins to haunt Mary's dreams.
Although she escapes from the hospital and eventually marries a noble forester, visions of the Dracula inmate still plague her mind. She remains unsure whether all that happened to her was some awful dream or terrible reality.
On the face of it, Drakula halála bears greater resemblance to The Cabinet of Dr. Caligari than Nosferatu, and Askonsas is certainly a reminder of Conrad Veidt if the film's stills are anything to go by.
The screen story draws on the then popular melodramatic archetype of the Svengali who hypnotise innocent girls to succumb to their will. It seems clear that in the context of this film, Dracula is a fictional character of the undead who the mysterious inmate claims he is.
Not a genuine vampire, but someone with the power to invade Mary's psyche. Whether we would call this a Dracula text may be debatable, but it certainly appears one of those filmic holy grails that scholars of cinema would give their eyes teeth to uncover.
The film was directed by Lajthay Karoly, who had an acclaimed reputation for atmospheric thrillers, though Drakula halála.
It opened in Vienna in February 1921, where it had also been partly filmed, suggesting it could have been an Austro-Hungarian co-production.
Contemporary reports of the 1921 opening refer to the lead actress as being Lene Myl.
When the film played in Budapest during 1923, the lead actress was named as Margit Lux. Although this might be simply the result of a marketing decision designed to promote different actresses, there is the possibility that Lajthay re-edited the film to put Margit Lux more in the spotlight, making the 1923 release an alternative version.
So given the profile that the film evidently enjoyed in its day, what happened to it?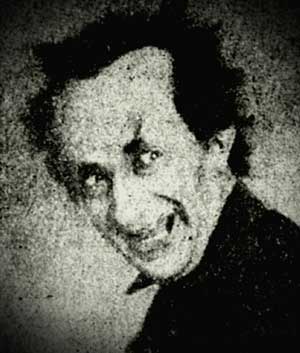 Out of 600 films made in Hungary between 1912 and 1930, only 45 survive complete and Drakula halála appears to be one of those casualties.
Internet rumours suggest the existence of a 16mm print containing a 13-minute fragment, but no substantiation has been offered to support this claim.
It seems only the artwork poster and a few tantalising stills are the only visual representations of the film to survive.
The Hungarian silent film industry suffered greatly under the country's political turmoil.
Having seized power in 1919, the revolutionary Bela Kun set up a Communist government, only to be replaced by the oppressive military regime of Miklos Horthy just months later.
Horthy despised the film industry and persecuted many involved, including Mihaly Kertesz (Michael Curtiz), who is credited as the co script writer of Drakula halála.
It is not surprising then that Hungarian film archives of that time should have become so decimated, yet strangely ironic that this same persecution should deliver to Hollywood the actor who would become the screen's first official legitimate Dracula: Bela Lugosi.
So, check your attics and outhouses, and keep those car boot sales perused. Who knows, maybe one day someone will get lucky and Dracula's first silver screen representation will rise again.
Note: In researching this article, I have come across a couple of references to Drakula halála also being known as The Twelfth Hour. This is probably confusion with the 1930 re constructed version of Nosferatu entitled Die Zwolfte Stunde (The Twelfth Hour). For those not familiar, this was a re issue of Murnau's 1922 silent classic with an added soundtrack including dialogue. It was produced by Dr. Waldemar Rogers, who also re edited the film to incorporate previously discarded footage, along with some newly shot scenes and characters, and a happy ending. Perhaps because of the litigation that dogged the original movie, character names were also changed, Graf Orlok becoming Furst Wollkoff. Another rare curiosity to track down, perhaps.
BARRY McCANN is a writer, speaker, performer and broadcaster. He regularly writes short stories for the Lancashire Evening Post and was recently included in the anthology His Red Eyes Again, published by The Dracula Society (and available on Amazon.) He regularly appears on BBC Radio Lancashire and is the Folklore Correspondent on BBC Radio Cumbria. He has also hosted two Ingrid Pitt – Queen of Horror Festivals in Hastings, having previously worked for the legendary actress as her researcher.