Reading Time:
3
minutes
Guest writer JASON D. BRAWN pays a touching tribute to Hammer Horror legend Jacqueline Pearce, who passed away this week aged 74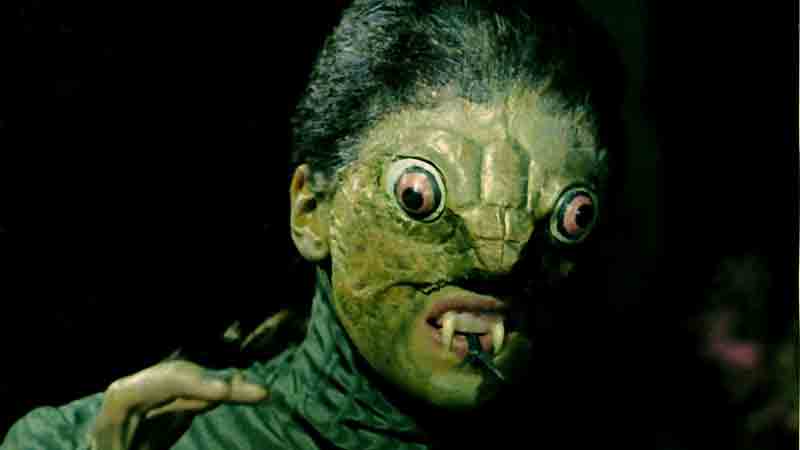 As a lifelong horror fan, visiting countless conventions, film fairs and film festivals, I have enjoyed meeting the guests, while collecting their prized signatures and posing for photographs.
I've met the likes of Sir Christopher Lee, Veronica Carlson, Barbara Ewing, Caroline Munro, Wes Craven, John Carpenter, Rob Zombie, George A. Romero, James Bernard, Ingrid Pitt, Tobe Hooper, Guillermo Del Toro, Norman J. Warren and Dame Joan Collins.
But there is one sci-fi/horror legend that I have met not just once, but twice, and on both occasions she had always been mighty nice to me. Her name is Jacqueline Pearce.
Let us go back to Jacqueline Pearce, the Hammer Horror legend (The Plague of the Zombies and The Reptile – both 1966) and in Dr Who's The Two Doctors (1985) was widely remembered for her role as the ruthless and glamorous Supreme Commander Servalan in Terry Nation's Blake's 7 (1978–1981).
Her depiction of Servalan was flamboyant, eccentric and sometimes seductive.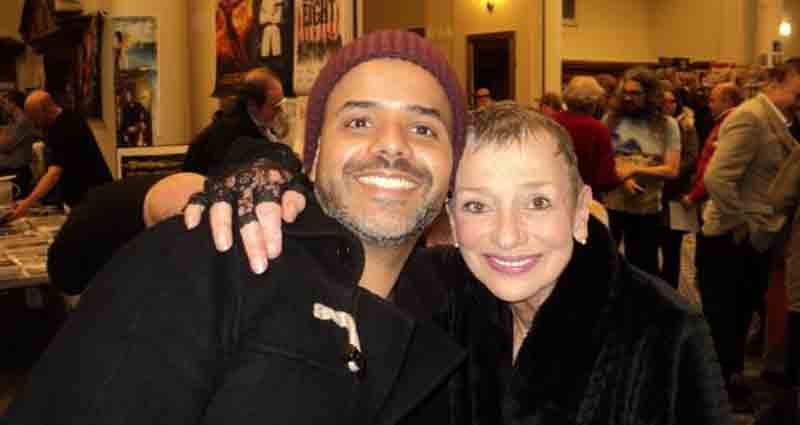 But watching her, as a child, soon became one of my early crushes, and when I had the opportunity of meeting her, in 2001 at a book launch at the Cine Lumiere, organised by Donald Fearney, I was totally star-struck and painfully shy.
Back in 2001, I was an incredibly shy person, matching the stereotype of an anorak, and it was the year I was brave enough to ask Christopher Lee for a photo, during a Q&A/book signing, which he kindly obliged.
There was a long line of rabid Hammerheads, waiting for signatures of many Hammer representatives like Jimmy Sangster and Brook Williams. But there she was amongst the guests, jolly and chatty. A very delightful person, who seemed to be treating life great.
I patiently waited my turn and when our eyes met, her beaming smile made me completely nervous.
I handled Christopher Lee very well, but she was somehow different. She was my first childhood crush, still looking the same and always carrying that same flamboyance. The same villainous flamboyance that was later appropriated for the character of Alexis Colby in Dynasty. Sorry Joan, but Jacqueline got there first.
Seconds later, she was still smiling and asked who should she sign this to, which I replied 'Jason'. She did and I walked away, shocked.
As years passed, I learned that she was suffering from cancer and had beat it years later. That was when I had regrets of not chatting to her and sharing a memorable photo with her. I did beat myself up about it many times.
Then in 2015, when my childhood idol Sir Christopher Lee died, my world came tumbling down. But then, in the British Horror film fair in Westminster, the organisers announced that Jacqueline Pearce was going to be a guest. I had to jump at the chance, and what a memorable day it was.
I waited for half-an-hour for her and, with a lot of confidence and a lot slimmer, she recognised me and greeted me with a loving smile. We chatted for ages, and having a photo of her would be something that I would prize more than a signature. As I described in my recent Facebook about her, she was a wonderful and beautiful human being.
Jacqueline Pearce, thank you so much for playing a major part of my childhood and we, as horror/sci-fi fans, have united to pay our tributes.
Rest in peace,
Jacqueline Pearce (20 December 1943 – 3 September 2018)
Tell us your memories of Jacqueline Pearce – like what was your favourite film/tv show appearance of hers – in the comments section below!
Watch Jacqueline Pearce discuss cult films