Reading Time:
3
minutes
REVIEWED BY IAN STEPHEN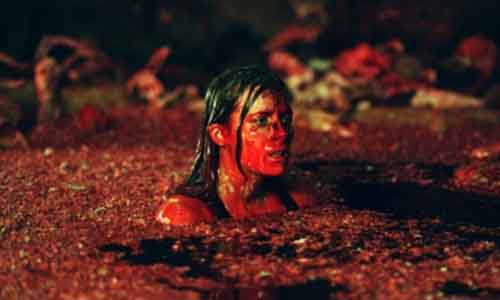 TITLE: The Descent
YEAR RELEASED: 2005
DIRECTOR: Neil Marshall
CAST: Shauna Macdonald, Natalie Mendoza, Alex Reid, Saskia Mulder, MyAnna Buring, Nora-Jane Noone.
PLOT: A group of friends go on a seemingly simple caving trip in North America. But when the women get lost, they find that finding the exit is the least of their worries.
MORAL OF THE STORY: Maps are your friend.
FUN FACT: At no point in the film is there a shot of a real cave. All caving scenes took place at Pinewood Studio
Review of The Descent 2005
In 2002, Dog Soldiers pushed Neil Marshall into the British Horror spotlight. Working on a low budget, but with clearly a vast knowledge of horror films, Marshall produced a gem. So in 2005, when his second film The Descent was released, people were expecting … and he delivered.
The premise of the film is a simple one: Group of friends go on a caving holiday, get lost, unspeakable horror ensues.
While the group in Dog Soldiers was a squad of male soldiers, this time round the story revolves around a group of women.
As with most low budget films, the cast is made up of relative unknowns, which makes it fun guessing who will make it to the end.
Although my guess is that you'll be to busy taking deep breaths and cowering in your seat to play guessing games.
You see, while the premise may be simple, it is handled expertly by Marshall (who also wrote the script). He delivers big scares and creates an atmosphere of such intense claustrophobia, that the experience of watching the film, is a draining one.
The network of caves, in which most of the film takes place, were created in Pinewood Studios by production designer Simon Bowles and his team, and Marshall cranks up the tension by squeezing his cameras in to every nook and every cranny, following the characters around the maze like caves.
While you may struggle to watch the woman crawl their way through the tight gaps and even tighter tunnels, covering your eyes won't do you much good as the sound of their helmets scraping against the cave walls, the short breaths and their hands clambering to find something to grip on to are genuinely terrifying.
Alongside this, the only light in the underground scenes comes from head torches, glow sticks and flares and the occasional glimpse through a video camera using its night-vision mode. One of the reasons this film is so scary, is that all this happens before things start to go wrong for our group of friends.
In the moments the group aren't crawling and clambering their way through the film, we get the full grasp of the group dynamic thanks to well written parts and a solid cast.
Juno (Mendoza) is leading their trip, but thanks to her thrill-seeking attitude and the recklessness of Holly (Noone), the rest of the group is put in danger, previously tight friendships become fraught and Sarah's (Macdonald) sate of mind diminishes rapidly.
With this tension coming to a head, the group starting to turn on each other, the film takes a different direction (you'll have to watch to find out) and the blood begins to appear. And there's a lot of it, it's a Neil Marshall film after all.
This truly is a British horror classic. Bone shattering, intense and extremely terrifying, this film drags you with it on its descent to hell and never lets you go.
Read 10 fun facts you didn't know about The Descent (2005)
IAN STEPHEN, a lifelong film fan and eternal dreamer, was born and lives in Scotland. He spends his time trying to realise his dreams. Otherwise can be found moaning on twitter @I_am_IanStephen
Tell us your thoughts on The Descent 2005 in the comment below!
Watch The Descent 2005 Trailer