RICHARD PHILLIPS-JONES looks back at Mel Brooks' horror-comedy classic, Young Frankenstein 1974.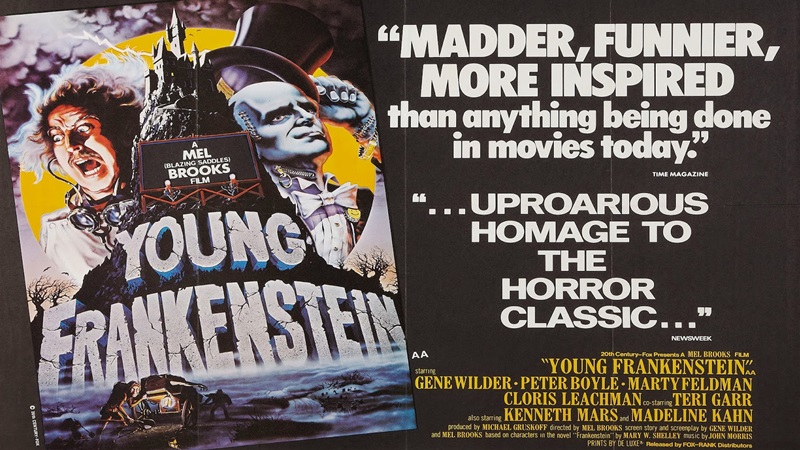 TITLE: Young Frankenstein
YEAR RELEASED: 1974
WRITTEN BY: Gene Wilder and Mel Brooks
DIRECTOR: Mel Brooks
CAST: Gene Wilder (Frederick Frankenstein), Peter Boyle (The Monster) , Teri Garr (Inga), Cloris Leachman (Frau Blücher) , Marty Feldman (Igor), Madeline Kahn (Elizabeth)
Whilst taking a class at an American training hospital, brilliant doctor Victor Frankenstein (or is it Frahnkensteen?) is visited by a solicitor, who informs him that he has inherited the family estate in Transylvania. Upon travelling there to sort out his affairs, the doctor is greeted by hunchbacked servant Igor and assistant Inga, who take him to the family castle, where he meets sinister housekeeper Frau Blücher.
Upon discovering a secret passage leading to his grandfather's laboratory, the younger Frankenstein discovers journals detailing the reanimation of dead tissue, and the creation of life…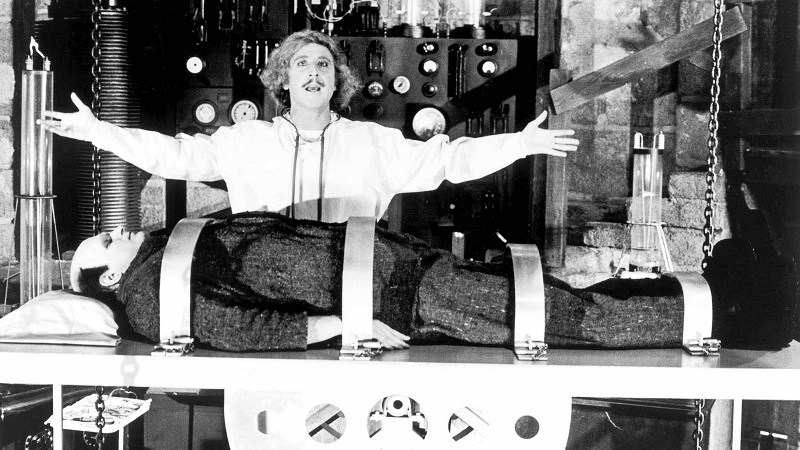 So far, textbook Gothic-horror stuff. However, we're in the hands of Gene Wilder and Mel Brooks here, so this isn't going to be your typical trip to Transylvania. The comedy of Brooks can be divisive – people seem to either love him or not, yet even if Brooks' humour is not to your taste, if you're a horror fan you can't help but love what he and Wilder achieved here.
Is it silly? Unquestionably, but it knows to keep a straight face at the points where it matters. It's a very fine balancing act that feels like it could fall into disaster at any point, yet somehow just keeps itself on the line. This is a film which pokes plenty of gentle fun at its inspirations, but never mocks them. Unlike innumerable so-called horror-comedies which have failed miserably, this hasn't just been thrown together from half-baked ideas.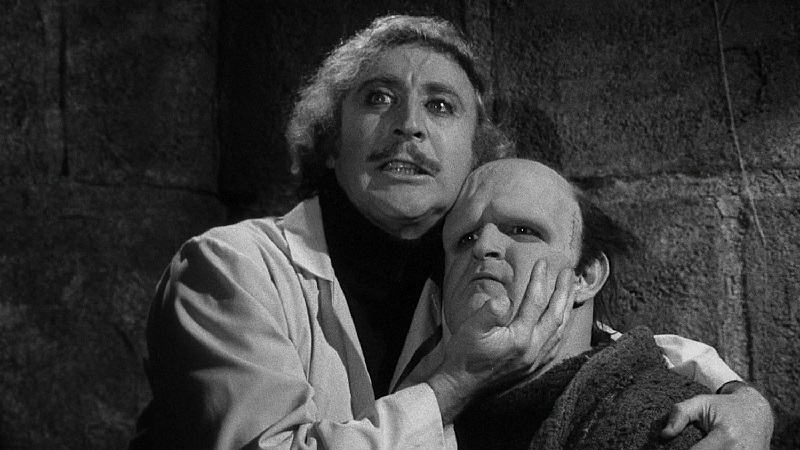 The love and care which has gone into the art direction, cinematography and set design is such that you occasionally have to pinch yourself to remember that you're not watching a genuine Universal horror which just happens to have been invaded by comedians. When Mary Wollstonecroft Shelley is given screen credit in the opening titles, this is no mere lip-service. It's a sincere nod to Frankenstein's creator.
READ IT NOW: 10 things you didn't know about Young Frankenstein
Whilst clearly the creation of Wilder and Brooks, a great deal of the film's success is down to Peter Boyle's portrayal of the creature. Yes, he's hilarious, yet in his bullying from a young girl, accidental assault from a blind hermit (an uncredited Gene Hackman) and his pathetic attempts to sing the main line in "Puttin' On The Ritz", there is also considerable pathos, evoking strong memories of and parallels with Boris Karloff's legendary characterisation.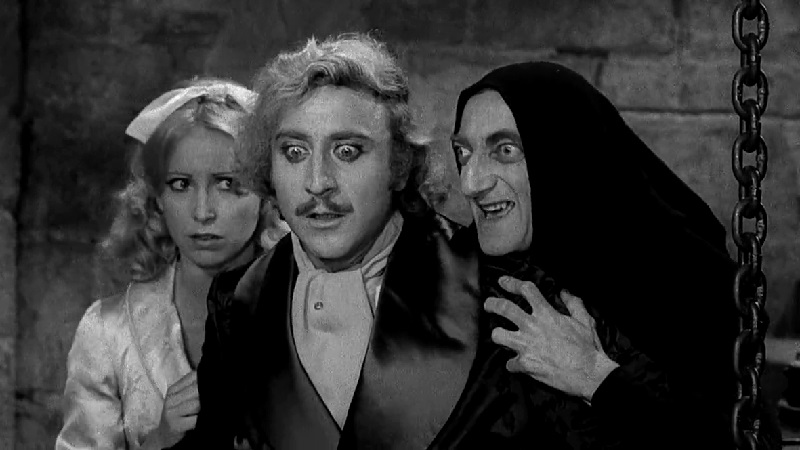 This is a real group piece, though. Marty Feldman channels the ghosts of endless mad scientist's assistants through cinema history, whilst Teri Garr does likewise for a long lineage of studio supporting-role starlets. Kenneth Mars takes Lionel Atwill's police inspector from Son Of Frankenstein (1939), and sends him up mercilessly. Cloris Leachman strikes fear into all (especially the horses), and Madeline Kahn remodels Frankenstein's fiancée as a vacuous, self-obsessed socialite who eventually… oh, you'll just have to see for yourself.
At the time Young Frankenstein was made, Universal's original Frankenstein was 43 years old. As I write this, Young Frankenstein itself is 43 years old. Its own longevity is testament to the skill with which its makers produced a work which is somehow as timeless as the films it homages. With Brooks' stage musical adaptation set to make its London debut, this old monster has plenty of life left in it yet.
Tell us your memories of Young Frankenstien 1974 in the comments section below!
Watch Young Frankenstein 1974 trailer