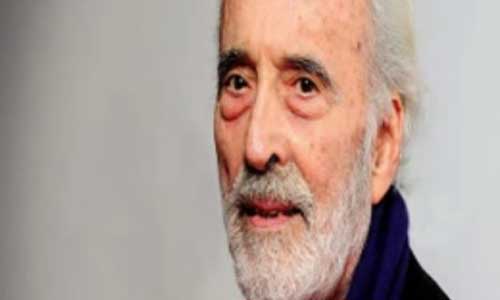 In  continuing Spooky Isles tributes to Christopher Lee, our associate editor ANDREW GARVEY remembers the Hammer Horror legend
Growing up in the 1980s involved a lot of time loitering inside the local video shop and aided by my friend's mum who would happily get us any video we wanted, no matter what the certificate, I saw my fair share of gory, violent '18 certificate' films, mostly swords and sorcery stuff, or martial arts.
Most of the horror I watched in those days was late night showings of Hammer films on television, recorded on blank videos. And of course, I liked Christopher Lee. I've always thought of him as Dracula and no one else has really been able to shift him from that position.
But over the last few years I've become an ever bigger fan, and not just for the immediately obvious stuff like his Dracula films or the Wicker Man or even Saruman. I happily saw in the first hour or so of 2011 watching him play Rasputin in the 1966 Hammer film. In 2013 I wrote gushing Spooky Isles reviews of his contributions to the Two Faces of Dr Jekyll and City of the Dead.
And as much as his height, his incredible stare, the sheer commanding-ness (not a word really, but I don't care) of his very presence onscreen, and the costuming and make-up of his most famous characters stand out, for me it's always been about the voice. I imagine his dialogue in scripts being written in capital letters, like Terry Pratchett's Discworld Death. His readings of some of Edgar Allan Poe's short stories and poems, while not as dramatic as Vincent Price's, are great, great fun to listen to.
The last I saw of him onscreen, he was the valiant Saruman, battering ring wraiths in the third Hobbit film. It's one of my favourite scenes from the series, partly because even though you know Saruman is on a path to being Sauron's servant and raising an army of Uruk Hai, at that stage he's still the hero. He's also kicking the crap out of those ghostly kings like a man a third of his age. The magic of cinema. And the absolute brilliance of Christopher Lee. I'll miss him.
You may also like to read: