Reading Time:
4
minutes
JON KANEKO-JAMES tell us the Pendle Witch executions were the result of the testimony of a little girl, Jennet Device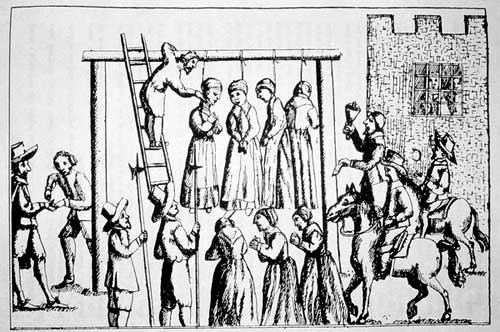 Child witches have probably killed hundreds.
As a working historian I can attest that I know of who were killed by child witches.
Not only that, but out of the 40,000 to 60,000 killed during the era of the witch trials, hundreds were put in their graves by witch children.
This is not to say that the children themselves were really witches, or that the lurid Sabbats they described ever really took place. The issue is that those in charge witches believed these children's testimony well enough to send witches to the noose.
James VI, the Scottish King who inherited Elizabeth's vacant throne, wrote the book Demonology in 1597, calling Christians to arms against witches. In it, he writes, "Children, women and liars can be witnesses over high treason against God," writing of witches that, "…they should be consumed by fire – yet in every country according to the law and custom thereof, but regardless of sex, age or rank."
Even a hundred years later, James Hutchinson, the minister of Kilallan, preached to judges that a young girl should still be considered a witch because of the 'covenant' she had made through her parents with the Devil.
Who was Jennet Device?
Jennet Device (probably pronounced 'Devies' or 'Davies') was the nine-year-old daughter of Elizabeth Device.
When her mother had met a pedlar, John Law, on the road and remonstrated with him the unfortunate man had suffered a terrible illness – paralysis, blindness and a crippling inability to speak.
Modern medicine might call it a stroke, but the for the citizens of Early Modern Pendle Forest it was the last straw in an ongoing war of antisocial behaviour and feuding between Elizabeth 'Demdike' Southerns, and Anne 'Chattox' Whittle.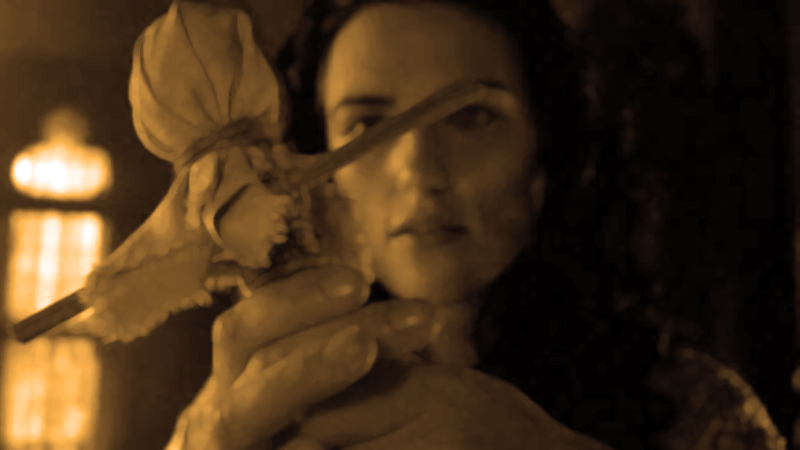 Both women were the matriarchs of local families with reputations for witchcraft – years earlier a neighbour, Robert Nutter, had accused Chattox of bewitching his father.
It was, however, the testimony of Jennet Device that was to prove key. After the initial wave of witches – Demdike, Chattox, Anne Redfearn and Alizon Device – had been arraigned to the Lancashire Assizes the case at Pendle could have ended. The local magistrate, Roger Nowell, had done his duty by interrogating the suspects and securing a confession that included black magic and familiar spirits.
The deaths in the Pendle area could have ended with just these four women, if not for a gathering at the Device family home that brought Jennet Device and her brother to the attention of the law. For Roger Nowell, the two youngsters represented a rich vein of new evidence.
Sabbat at Malkin Tower
A few days after the four women were committed to Lancaster for trial at the county Assizes, Nowell became aware that the Device family and some friends had held a gathering at Malkin Tower, a cottage that was the Device family home.
Henry Hargreaves, the parish constable, took Elizabeth Device's son James to the house. Under the constable's supervision, he unearthed a wax figure and some teeth. Sufficient evidence of witchcraft.
Jennet Device, just nine years old, was present at the gathering in Malkin Tower. During an interview with Nowell and his fellow magistrate Nicholas Bannister, she told of how her brother had stolen a sheep because the Devil had been unable to find them meat for their feast.
From here the confession becomes the fancies of a child under pressure, aided by the semi-coherent confessions of her brother James, who the authors Edgar Peel and Pat Southern feel to be mentally challenged.
Jennet Device told of how the meeting at Malkin Tower had been a witch's Sabbat: plotting to blow up Lancaster Castle and release their family members; to name Jennet's sister's familiar spirit, and to bring down the Lister family of Gisburn.
This led to a huge number of arrests, with friends and neighbours infected by the accusation of witchcraft. It also sealed the fate of the four women facing trial at the Assizes in August.
In the three months between her questioning and trial, Jennet Device seems to have become the perfect witness.
Jennet Device 'the perfect witness' at Pendle Witch trial
The pamphlet writer Thomas Potts reports her testimony: "[it] pleased God to raise vp a young maide her [Elizabeth Device's] own daughter, to discouer all their Practices, Meetings, Consultations, Murhters, Charms and Villainies."
Elizabeth cursed her daughter when she saw her, and Jennet was reduced to tears, but the judge ordered her led away and the girl placed on a table so that she could continue her testimony: confirming that her mother was a witch of three or four years experience, and that she had a spirit in the from of a young dog called Ball that had killed various members of the local community.
The judge, however, doesn't seem to have taken Jennet's evidence at face value.
Another trial featuring defendants from nearly Salmesbury had fallen apart when the child accuser was discredited, and Judge Bromley arranged an identity parade to test Jennet, who effortlessly identified the women she had identified in her deposition.
Even when the judge tried to draw Jennet on her accusations, attempting to get her to condemn fictional people whom he had invented, the girl refused to be tricked, holding that Joan a Style and Joan a Downe were not present at the feast, and that she had not heard of either of them.
Whether Jennet Device's testimony was the result of her some malevolent wish to destroy her family, or (more likely) the expert coaching of the Pendle Magistrates, her testimony, along with her learning challenged brother, certainly killed the majority of the Pendle Witches.