Reading Time:
2
minutes
Simple yet provocative, The Whip and the Body 1963 with Christopher is one of Mario Bava's best!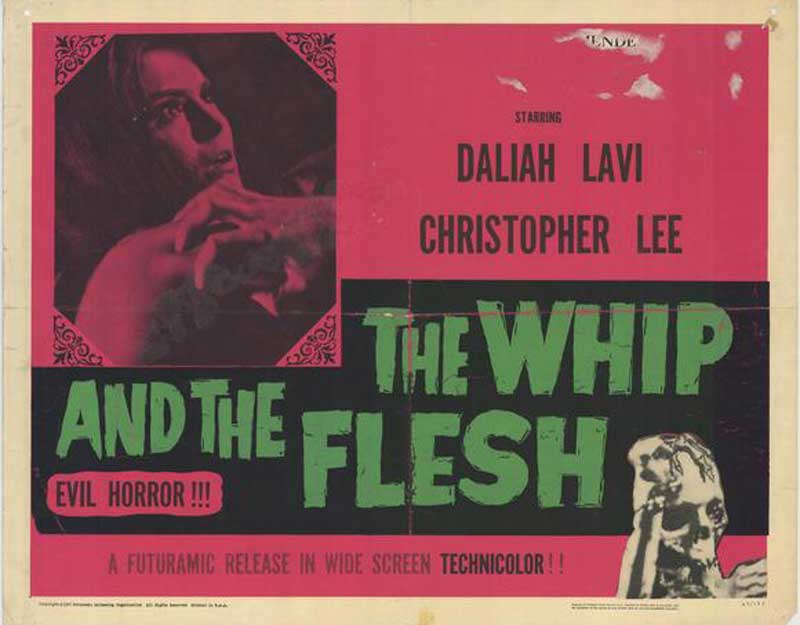 TITLE: The Whip and the Body aka The Whip and the Flesh aka Night is the Phantom
YEAR RELEASED: 1963
DIRECTOR: Mario Bava
CAST: Daliah Lavi, Christopher Lee and Tony Kendall
The Whip and The Body 1963 Review
The Whip and the Body 1963 is a Gothic horror film that takes place in an isolated castle on the Eastern European coast.
The story revolves around the Menliff family, a group rife with secrets and tension.
At the centre of it all is Kurt, played by horror legend Christopher Lee, who is the outcast of the family. Upon his return to the castle, Kurt brings a dark energy that further upsets the already unstable family dynamic.
His past actions and relationships have left emotional scars on those he left behind, particularly his ex-lover Nevenka (Daliah Lavi), who is now married to Kurt's brother Christian (Tony Kendall).
Christopher Lee's portrayal of Kurt brings a captivating yet ominous quality to the film. He masterfully conveys the sexual and emotional complexity of the character's sadomasochistic tendencies. Lee's acting prowess is evident in his seductive scenes with Nevenka, where he exudes a dark sensuality.
As the film progresses, Lee gradually unveils the danger lurking beneath Kurt's seductive facade.
Director Mario Bava's ability to create a pervasive sense of dread and suspense is evident in the film's setting, isolated castle, haunting music, and striking visuals.
The Whip and the Body 1963 was shot on a tight budget and a six-week schedule with an additional week for special effects. However, despite the financial constraints, Bava's visual style lifts the gloomy atmosphere of the film, showcasing his signature atmospheric style.
The film's sadomasochistic themes caused controversy with Italian censors, leading to charges of obscenity and seizure of the film.
Despite the censors' demand for no cuts, it was given a V.M. 18 rating, making it forbidden for minors. The film's production companies appealed and made some cuts, receiving a V.M. 14 rating upon re-release. Despite the censorship, the film grossed 72 million Italian lire.
All in all, The Whip and the Body 1993 is a classic horror film that owes its lasting impact to Bava's creative vision, Lee's exceptional performance, and the film's haunting atmosphere.
What did you think of The Whip and the Body? Tell us in the comments section below!
Watch The Whip and the Body 1963 trailer