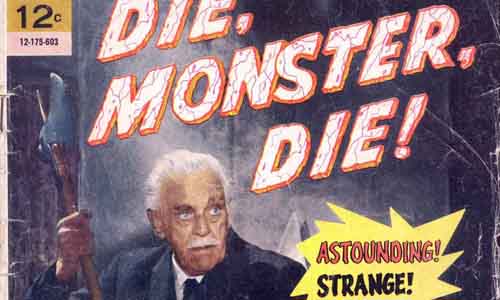 TITLE: Die, Monster, Die! aka Monster of Terror
YEAR RELEASED: 1965
DIRECTOR: Daniel Haller
CAST: Boris Karloff, Nick Adams and Freda Jackson
PLOT: A young man visits his fiancée's estate to discover that her wheelchair-bound scientist father has discovered a meteorite that emits mutating radiation rays that have turned the plants in his greenhouse to giants. When his own wife falls victim to this mysterious power, the old man takes it upon himself to destroy the glowing object with disastrous results.
FUN FACT: The film is a loose adaption of HP Lovecraft's story, The Colour of Outer Space.
140-CHARACTER MINI-REVIEW: Boris Karloff saves this poor Lovecraft hit and miss.
WIKIPEDIA ENTRY: Click here
IMDB ENTRY: Click here
BUY FROM AMAZON: Click here
---
---
You may also like to read: