Reading Time:
2
minutes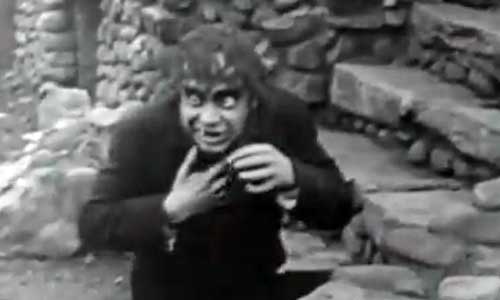 TITLE: Dr Jekyll and Mr Hyde
YEAR RELEASED: 1912
DIRECTOR: Lucius Henderson
CAST: James Cruz, Florence La Badie and Henry Benham.
Dr Jekyll and Mr Hyde 1912 REVIEW
The Strange Case of Dr Jekyll and Mr Hyde, written by Scotsman Robert Louis Stevenson in 1886, has been filmed no less than 120 times. The 1887 novella tells the tragic tale of a good doctor who experiments on himself and becomes a vicious beast through chemical engineering.
The horror story was most famously filmed in 1920 with John Barrymore, in 1931 with Fredric March (who won the Best Actor Oscar for his performance) and Spencer Tracy in 1941.
While it is not the first version, the 1912 Thanhouser version, which celebrates its 100th anniversary this year and can be watched above, is the earliest surviving take on the split personality horror.
Dr Jekyll and Mr Hyde was previously filmed in the US and Denmark but this 1912 version was the first to film the famous Thomas Russell Sullivan play starring Richard Mansfield. You might remember Armand Assante played the historical figure of Richard Mansfield in the Jack the Ripper TV film starring Michael Caine. The character actor Mansfield was drawn into the Ripper case, when the idea of split personality is suggested as the reason they can't find the mysterious murderer.
Directed by Lucius Henderson in the US, the 1912 film stars James Cruze in the dual role. Later in his life, silent film actor Henry Benham said he shared the role of Edward Hyde in some of the scenes with Cruze. The film, like most little silent horror films, is great fun – very melodramatic, with over -the-top makeup and all over in a few minutes.
What do you think of this film? Tell us in the comments section below!